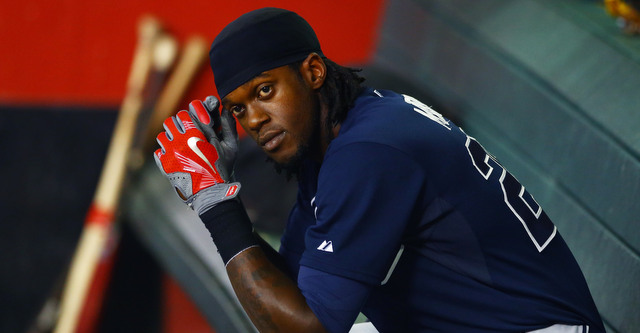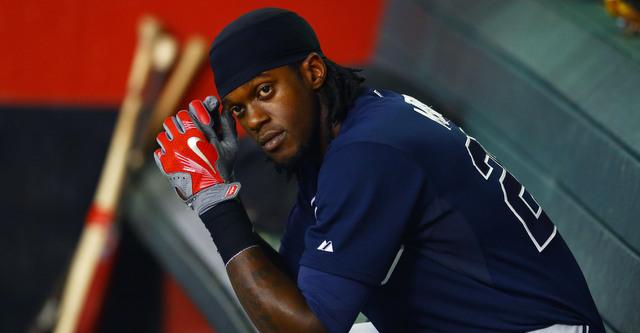 According to George King, the Yankees "turned down overtures" from the Braves regarding a deal that would have sent catcher prospect Gary Sanchez to Atlanta for outfielder Cameron Maybin before the trade deadline last week. The Yankees made their top prospects off limits in trade talks but it's unclear whether Sanchez was included in that group alongside Aaron Judge, Luis Severino, and others.
First of all, Sanchez for Maybin doesn't make a whole lot of sense for the Yankees. Maybin, 28, is having a nice year, hitting .280/.332/.380 (100 wRC+) with eight home runs and 17 steals to go along with strong center field defense, but where does he play? The Yankees are locked into their three starting outfielders and they already have a quality right-handed hitting fourth outfielder in Chris Young, who's been awesome.
I suppose the Yankees could have picked up Maybin and then looked to flip Brett Gardner for a pitcher or whatever, but that seems like a lot of work, doesn't it? Maybin doesn't fit the 2015 Yankees at all, and paying him $8M to be the fourth outfielder next season — and then another $1M to buy out his $9M option for 2017 — just doesn't make sense from a baseball standpoint. I don't see how that trade helps.
As for Sanchez, he is in the middle of a big year offensively, hitting .266/.333/.489 (136 wRC+) with 17 doubles and 15 homers in 309 plate appearances with Double-A Trenton and Triple-A Scranton. Lots of people seemed to get Sanchez fatigue waiting for a season like this. He is still only 22 though, plus he's never actually been bad, and the bat is often the last thing to come around for catcher prospects because they spend so much time focusing on defense.
Now, that said, I do think the Yankees were willing to trade Sanchez at the deadline and will be willing to do so again this offseason. Just not for someone like Maybin though. The Yankees prioritize defense behind the plate and Sanchez simply doesn't offer it, plus Brian McCann is signed for another few seasons and John Ryan Murphy has been crazy impressive this summer. Catcher isn't a pressing need. That all makes Sanchez a prime trade chip.
I could see the Yankees moving Sanchez this winter as part of a package for a high-end player with a year or two left on his contract or a younger, less established guy with multiple years of team control remaining. Not someone who would only be a spare part like Maybin. Sanchez has rebuilt his prospect stock in the eyes of some this year but I don't think it ever took a hit. He's taken a step forward this year and is having the big offensive season lots of people have been waiting to see. If nothing else, Sanchez has boosted his trade stock.