Thank goodness for the Twins, huh? After starting this ten-game homestand with a sweep of Minnesota, the Yankees had to settle for a split. Five wins, five losses. They dropped three of four to the Indians over the weekend and two of three to the Astros this week. Houston won Wednesday afternoon's series finale by the score of 6-2.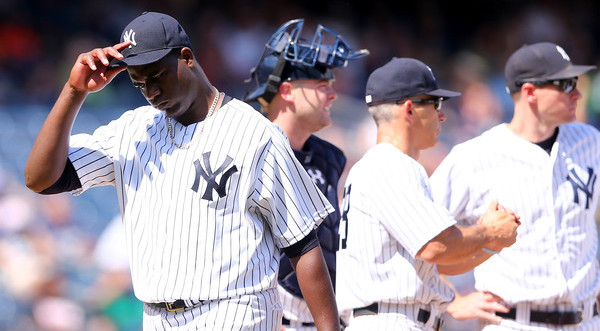 The Return of Big Mike
Michael Pineda's first start back from his forearm injury didn't go too well. Not a total disaster but not good either. He allowed five runs in 4.1 innings — Pineda threw 71 pitches and was limited to 80-85 pitches in his first start off the DL — and the first run was kinda silly. Evan Gattis tomahawked a high fastball other way for a short porch solo home run. Look at the pitch location: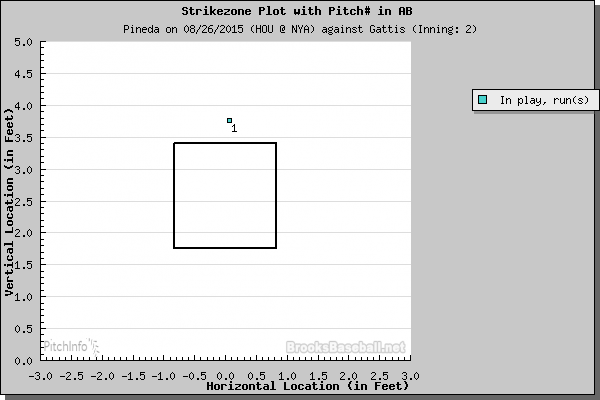 As master of this here blog, I hereby absolve Pineda of any and all blame for that dinger. Gattis went up and got it, and, to be fair, he has a knack for doing that. Here are the pitch locations for his 63 career home runs coming into Wednesday. Gattis likes very high pitches, got one, and smacked it out. So it goes. A solo homer isn't the end of the world. The second run scored on two singles and a squeeze bunt single. The out wasn't recorded at first because a) the play developed slowly, and b) Stephen Drew didn't make it over in time to cover. Sums up the state of the team well.
The fifth inning didn't end after the bunt. Pineda walked No. 9 hitter Jason Castro to load the bases with no outs, and Jose Altuve ended Pineda's afternoon with a sacrifice fly to center. (Chasen Shreve came in and allowed both inherited runners to score.) Pineda yielded those five runs on six hits (five singles) and one walk. He struck out three and got seven swings and misses. Pineda's stuff looked fine — his fastball averaged 92.9 mph — but it did seem to hit a wall in that fifth inning. He was missing his spots consistently by the end of the outing.
One thing that stood out: Pineda threw a lot of changeups. He said he wanted to emphasize the pitch more while on his rehab assignment and he did just that, throwing 14 changeups out of 71 total pitches, or 19.7%. This was only the third time in his career he threw at least 18% changeups. Pineda did it Wednesday, once in April, and once last year. It's good Pineda's working his changeup, but winning games is more important right now, and the Yankees haven't done much of that lately.
Two Token Runs
The Yankees scored just two runs on the afternoon — they doubled their runs total for the series! — and both came on one swing of the bat. Didi Gregorius hammered a hanging Collin McHugh breaking ball into the second deck in right field for a two-run homer in the seventh. I didn't know Didi had that in him. Greg Bird drew a walk prior to the homer.
Unfortunately, the homer came when the Yankees were already down five runs, so all it did was close the gap for a struggling offense. Aside from the two-run rally, the offense had four singles and three walks. Carlos Beltran had a single and two walks. He's pretty much the only guy in the lineup who is doing more than nothing these days. It's kinda the opposite of April, when you think about it.
All told, the Yankees scored four runs in the three-game series and had 15 hits total. In three games! Thirteen of 'em were singles, the other two a double and Didi's homer. Probably safe to say this is more than a slump now. The Yankees have scored 64 runs in their last 21 games (3.05 per game), so this isn't a one or two-series thing. Three weeks for an individual player is a slump, but three weeks for an entire offense? There has to be concern right now. How much is up to you.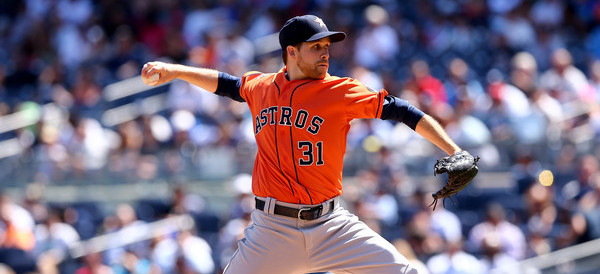 Leftovers
The last best chance to get back into the game came in the eighth, when Beltran and Chase Headley drew walks. Bird, who is 3-for-23 (.130) with nine strikeouts since his two-homer game, flew out to the right-center field warning track. He just missed it. Hopefully Mark Teixeira comes back soon. The Yankees really miss him both at the plate and in the field.
Shreve allowed the two runners he inherited from Pineda to score on a hit, a walk, and a wild pitch. Branden Pinder walked the first man he faced then retired the next six to chuck two scoreless frames. Adam Warren allowed a solo homer to Gattis in the eighth inning and the just called up Nick Goody tossed a scoreless ninth.
The Yankees had five hits — single and homer by Gregorius and singles by Beltran, Headley, and Chris Young — and have been held to six hits or fewer in each of their last four games. It's the first time they've had no more than six hits in four straight games since last September.
And finally, the Astros had been 1-11-3 in their last 15 road series coming in this series. The Yankees are now 7-9 with a -12 run differential at home in August, which is no bueno. They should be dominating at this ballpark. Alas.
Box Score, WPA Graph & Standings
Here are the box score and video highlights for Wednesday's game, and here are the updated standings and postseason odds for the 2015 season. Also check out our Bullpen Workload and Announcer Standings pages, which are updated daily. Here's the win probability graph:

Source: FanGraphs
Up Next
The ten-game homestand is over and the Yankees have an off-day Thursday, their first in more than two weeks. They'll head to Atlanta for a three-game weekend interleague series with the Braves after that. I'm guessing Brian McCann will get quite the ovation from the hometown fans. Masahiro Tanaka and Williams Perez will be the pitching matchup in Friday night's series opener.