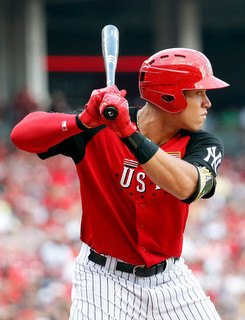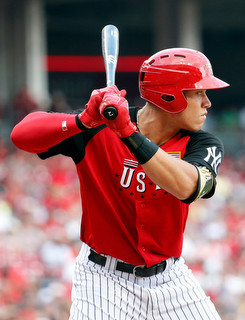 As I said over the weekend, I think it was quite risky for the Yankees to let the trade deadline pass without adding some kind of pitching depth. They could always add a pitcher in an August waiver trade, sure, but they won't have access to the high-end arms. Guys like Jeff Samardzija and Hisashi Iwakuma figure to be claimed on revocable waivers long before they get to New York.
The Yankees did not acquire a pitcher but not because of a lack of effort — they were reportedly out there talking to everyone about their available pitchers, including the Reds (Johnny Cueto, Aroldis Chapman, Mike Leake) and Padres (Craig Kimbrel, etc.). The issue for them was cost. They didn't want to surrender their top prospects, and in many cases, teams traded their top prospects at the deadline. J.J. Cooper notes six top 50 and nine top 100 prospects were traded within the last week or so.
The reluctance to surrender top prospects was not necessarily a case of blind prospect hugging, which happens often. It's only natural. Prospects are like kids, everyone loves their own more than than everyone else's, and they're more willing to overlook their shortcomings. The Yankees held on to their top prospects partly because of their proximity to MLB — these guys are in Triple-A and producing, which means they aren't far off from helping the Yankees.
"I've been in the position in the past where we've had a strong system, but it was down low and you had to wait it out," said Brian Cashman to Chad Jennings following the trade deadline. "Well, we've done the waiting. We've done that hard part in waiting it out, and now these guys, we probably have one of the youngest and also productive and high-profile rosters at Triple-A."
Cashman admitted to having four untouchable prospects: Luis Severino, Aaron Judge, Greg Bird, and "in most cases" Jorge Mateo. Judge, Severino, and Bird are all in Triple-A right now — well, Severino is technically still in Triple-A, but he's being called up to join the rotation tomorrow — while Mateo is still all the way down in Low Class-A. That's why he was untouchable "in most cases" and not all. The Yankees were reportedly ready to deal Mateo for Kimbrel, but it didn't happen.
Severino, Judge, and Bird are valuable to the Yankees in both the short and long-term because they're obviously very good prospects, and also because they fill positions of need. Severino's a pitcher and everyone needs pitching. Judge and Bird have a clear path to the long-term right field and first base jobs, respectively, since both Carlos Beltran and Mark Teixeira will be free agents after next season. The Yankees won't have to wait years to see them in the show. They could be up and in the lineup everyday next year if there's an injury.
Success in Triple-A does not guarantee success in MLB, that couldn't be more obvious at this point, but success in Triple-A does make success in MLB somewhat more likely. Minor league performance matters less and less the further away you get from the big leagues. Double-A is usually the big separator — most suspects are weeded out from the actual prospects at that level. Judge, Severino et al have succeeded in Double-A and are now doing it in Triple-A.
Did the Yankees make a mistake by not adding pitching depth at the trade deadline? Oh sure, it would be extremely easy to argue that. Example: the team's starters allowed 36 runs in 51.2 innings during the ten-game road trip and they just lost Michael Pineda to a forearm injury for a few weeks. See? Simple. Considering they have a nice lead in the AL East and haven't been to the postseason since 2012, dealing some minor leaguers for pitching would have been easily justifiable.
Instead, the Yankees the Yankees focused on the long-term, holding on to their top prospects rather than trade them for a quick fix, which is what many folks have wanted them to do for quite a while. In this case the long-term is also the short-term. We'll see it with Severino tomorrow. Had the Yankees made a bunch of low level prospects untouchable, well that would have been sorta foolish. They have high-end prospects close to MLB now though, for the first time in a long time. Hanging on to players this close to helping is much more sensible.
"Again, with young guys, if you're right on your assessments, you can have it pay off towards the back end," added Cashman. "We haven't deviated from that game plan. We're comfortable doing that. We believe in the upside. We also see the patience that at times is necessary."