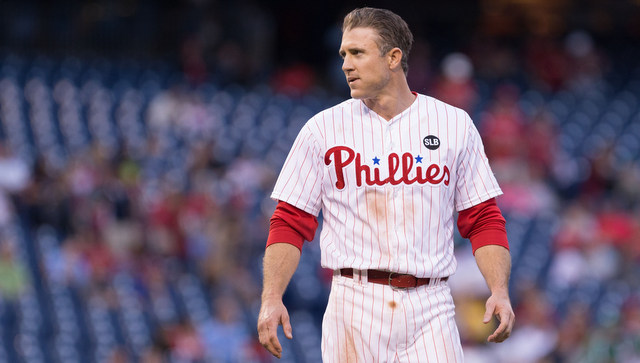 According to Jim Salisbury, the Yankees had a scout on hand to watch Chase Utley last night. He went 1-for-3 with a single, a strikeout, and a sac fly against the Diamondbacks. Jon Morosi reports the Phillies placed Utley on revocable trade waivers Sunday, which means his waiver period expires today. Once he clears, he can be traded to any team … kinda.
Utley, 36, is hitting a weak .190/.262/.294 (49 wRC+) with four homers, a 12.9% strikeout rate, and an 8.0% walk rate in 69 games this year. Stephen Drew, for comparison, is hitting .192/.261/.378 (74 wRC+) with 13 home runs, a 16.3% strikeout rate, and an 8.3% walk rate. Utley missed six weeks with an ankle injury and has gone 5-for-13 (.385) in four games since coming off the DL.
At this point, Utley is only appealing because he is not Drew, and that's not really a good reason to go out and get him. I haven't seen much of Utley this season but I'm guessing Drew is the better defender at second base. Utley had that ankle problem this year and he's had a ton of knee injuries in recent years. Between that and his age, his mobility can't be what it once was, right?
The Giants (Joe Panik is injured) and Cubs (Starlin Castro has been benched and Addison Russell is now playing short) also scouted Utley on Monday, says Salisbury. The Dodgers also figure to have some interest now that both Howie Kendrick and Justin Turner are on the DL. Utley has five-and-ten rights, so he can pick his destination, which includes possibly staying with the Phillies. That's the kinda part I mentioned earlier.
Utley will be a free agent after the season and he's incredibly popular in Philadelphia, so the Phillies would probably have to get something decent in return to move him. It's not worth dumping him just to shed salary. Think back to the Ichiro Suzuki trade — he was clearly in decline, but he had marquee value, so the Mariners were able to get two pieces for him. Not great pieces, mind you, but more than what the Angels got for Vernon Wells, for example.
I'm not sure there's much of a reason to pursue Utley assuming he clears waivers, which might not happen. I could see the Giants putting in a claim to keep him from going home to the rival Dodgers, if nothing else. (And if the Phillies dump Utley on the Giants, so be it. They need a second baseman and have had success with guys like him.) Drew's very bad and I'm in full blown "anybody but Drew" mode at this point, but, looking at this rationally, it's hard to see Utley as an upgrade.
Update: Ken Rosenthal says Utley did indeed clear waivers. So he can be traded to any team now, pending his approval.