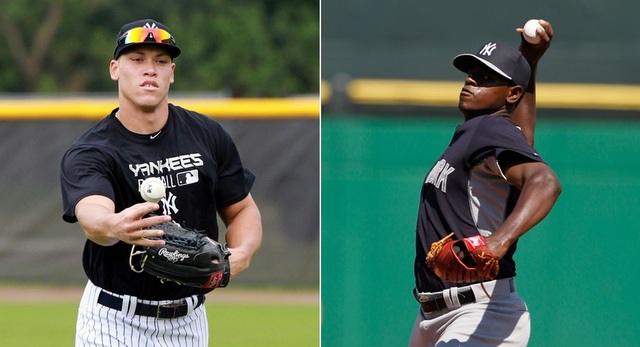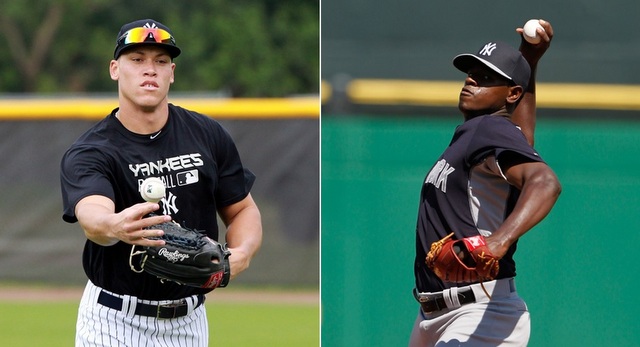 Last week, the crew at MLB.com released their midseason top 100 prospects update, which includes 2015 draftees and has since been updated to reflect all the players who were traded at the deadline. Twins OF Byron Buxton, who is currently on the MLB DL but is still prospect eligible, holds the top spot. Dodgers SS Corey Seager and Nationals RHP Lucas Giolito round out the top three.
The Yankees have two players on the top 100 and they both rank pretty high: RHP Luis Severino is No. 16 and OF Aaron Judge is No. 21. Severino will be called up to make his MLB debut tomorrow, as you already know. SS Jorge Mateo, who figures to climb into the various top 100 lists next spring, did not make this iteration of MLB.com's top 100 list. Neither did 1B Greg Bird or any other Yankees farmhand. Severino and Judge, that's all.
In addition to the overall top 100, MLB.com also posted updated top 30 prospects lists for each of the 30 clubs. I'm not going to list the entire Yankees top 30 here, you can click the link to see it for yourself. Severino, Judge, Mateo, and Bird predictably sit in the top four spots. First round pick RHP James Kaprielian slots in at No. 5. C Gary Sanchez is still getting no respect, I tell ya. He's No. 7. Here are some other names who stick out in the top 30:
SS Hyo-Jun Park, No. 19: The write-up calls him a "legitimate shortstop" with "plus speed and defensive skills." Park has a 103 wRC+ with Rookie Pulaski this summer and is the highest ranked prospect from last summer's massive international class.
LHP Jordan Montgomery, No. 27: Last year's fourth rounder is now "throwing a little bit harder in pro ball than he did in college" and regularly sitting in the low-90s. Montgomery has carved up the low minors (3.08 ERA and 2.71 FIP) and is a four-pitch guy with command, making him a safe bet to contribute at the MLB level.
RHP Cale Coshow, No. 28: Coshow's having an excellent year (2.02 ERA and 2.44 FIP in 75.2 innings between Low-A and High-A) and the write-up says he has "worked with a 95-97 mph fastball that reached triple digits and flashed a wipeout slider."
As with all MLB.com's lists, the scouting reports and everything are completely free. That's both the top 100 and the team top 30 lists. The scouting reports also include 20-80 scouting scale grades and links to video wherever possible. Pretty awesome resource, so make sure you check it out.