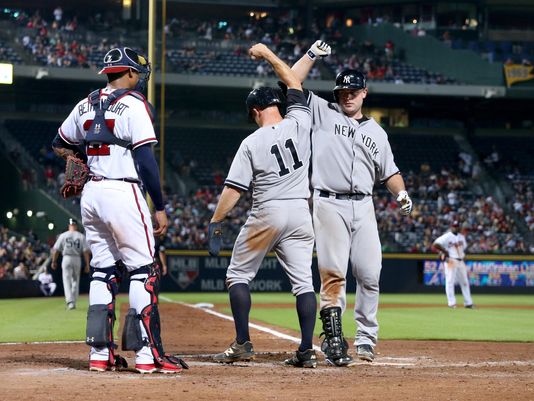 Sir Didi The Great
The Yankees ended their offensive slump in style, routing the Braves 15-4 in Friday's series opener in Atlanta. They scored five runs in the first inning — one more run than they had scored in 27 total innings against the Astros last week.
Didi Gregorius had a truly historic night, going 4 for 5 with a home run and six RBIs, becoming the first shortstop in franchise history with at least six RBIs and four hits in a single game. He also is the only Yankee ever to have that many hits and RBIs against a National League team — in interleague play or the postseason. And, at 25 years old, he is the youngest Yankee to record four hits and six RBIs in a game since a 25-year-old Yogi Berra on Aug. 22, 1950 against the Tigers.
Brian McCann had a homecoming to remember in his first game back at Turner Field since leaving the Braves after the 2013 season. He pretty much did it all for the Yankees, reaching base four times, scoring three runs and driving in four runs. McCann is the first Yankee catcher in team history to have the unusual box score line of at least three walks, three runs scored and four RBIs. The last Yankee (at any position) to reach those totals in a game was Roy White in 1972.
Three is enough
Luis Severino's fifth start was perhaps the best of his young major-league career, as he threw six scoreless innings with just four hits allowed in the Yankees 3-1 win on Saturday night. The Braves couldn't touch his slider … the pitch got five whiffs and nine outs for Severino, without yielding a hit.
Severino lowered his ERA to 2.17, the second-lowest by any Yankee pitcher in his first five career games (all starts) in the last 50 years. The lowest belongs to El Duque Hernandez, who had a 2.04 ERA in his first five career starts in 1998.
Brian McCann's eighth inning double gave the Yankees a 3-1 lead and it was his 15th two-bagger of the season. He's now the seventh catcher in major-league history with at least seven seasons of 15-or-more doubles and 20-or-more homers. The others? Mike Piazza, Johnny Bench, Yogi Berra, Jorge Posada, Carlton Fisk and Gary Carter.
Braves move to the AL East, please?
The Yankee bats were once again scorching-hot in Atlanta on Sunday afternoon, as they erupted for 20 runs and 21 hits in yet another blowout win against the Braves. Here we go …
With the sweep, the Yankees are now 12-2 at Turner Field in the regular season, their best record at any ballpark — and the best record by any major-league team at any current ballpark (min. 10 games).
The 20 runs matches the most the team has ever scored against any National League team, interleague and postseason included. The only other time it happened was when they beat the Rockies 20-10 on June 19, 2002.
This is also the second time they've scored at least 20 runs this season (also a 21-5 win at Texas), making this the first time since 1939 that they've scored 20-plus runs twice on the road in a single season. That 1939 team — which had a major-league record run differential of plus-411 — did it three times.
It was less than a week ago that these same Bronx Bombers were on the losing end of a 15-1 disaster against the Astros. So that's a 14-run loss and a 14-run win in the span of six days! Yup, this is the first time in franchise history that the Yankees won a game by at least 14 runs and lost a game by at least 14 runs in the same week.
Nathan Eovaldi had his worst start since his June 16 disaster against the Marlins, allowing five runs in five innings as his ERA rose to 4.17. But he still got the win, and is now 14-2 on the season, good for a .875 win percentage. Looking ahead … the highest win percentage in a season by any Yankee pitcher that qualified for the ERA title with an ERA above 4.00 is .778 by Bump Hadley, who went 14-4 in 1936 while splitting time between the rotation and the bullpen. #KillTheWin
The biggest offensive star of the game was — not joking — Stephen Drew, who was 4 for 4 with two walks and four RBIs. He is just the third Yankee infielder (not including catchers) in franchise history to reach base at least six times, not make an out and drive in at least four runs in a game. The others were second baseman Tony Lazzeri on May 22, 1930 and first baseman Wally Pipp on August 6, 1922.