Saturday afternoon started with a wonderful ceremony retiring No. 20 in honor of Jorge Posada, and it ended with a much-needed 6-2 win over the Indians . The Yankees scored early and often and coasted to a stress-free win. This was good. Let's do it again Sunday.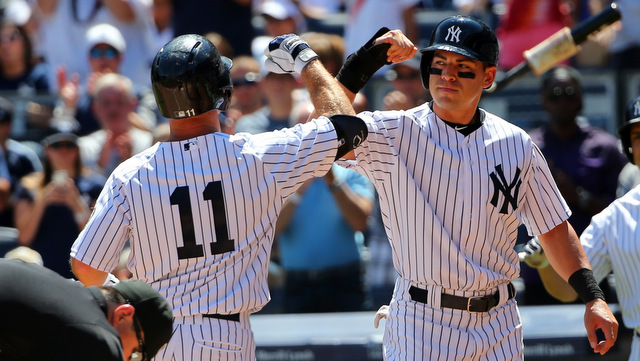 A Good Start
For the third time in three games this series, the Indians scored first. The ultra-impressive Francisco Lindor did the honors with a first inning solo homer. The quick 1-0 deficit was a bit of a bummer but the Yankees answered right back. Jacoby Ellsbury blooped a single to left and Brett Gardner lined a cheap Yankee Stadium home run to right field for a 2-1 lead in the bottom of the first. It hit off the top of the wall and hopped over. Total cheapie. Still counts though.
Later in the inning, Brian McCann and his weird new batting stance laid into an 0-1 fastball from Danny Salazar for another homer, this one a solo shot. That gave the Yankees a 3-1 lead. Then, in the second, back-to-back singles from Stephen Drew and John Ryan Murphy helped set up a two-run rally. Ellsbury hit a weak tapper back to Salazar and while it would have been tough to complete the 1-6-3 double play because of Ellsbury's speed, the Indians got zero outs because Salazar threw the ball away. Pitchers, man. Throwing to bases is always an adventure.
Drew scored on the error by Salazar and Murphy later scored on Carlos Beltran's sac fly. He'd moved up to third on Gardner's long fly ball. The Yankees really made Salazar work — six of the first nine batters he faced reached base, and he threw 55 pitches in the first two innings. Six hits, a sac fly, and Salazar's error gave the Yankees five runs in the first two innings. After Lindor's first inning homer, it was nice to see the offense answer back in a huge way.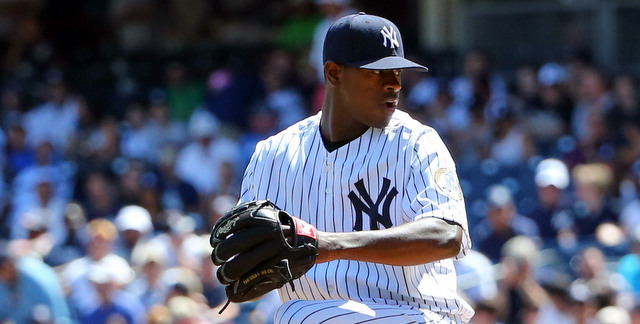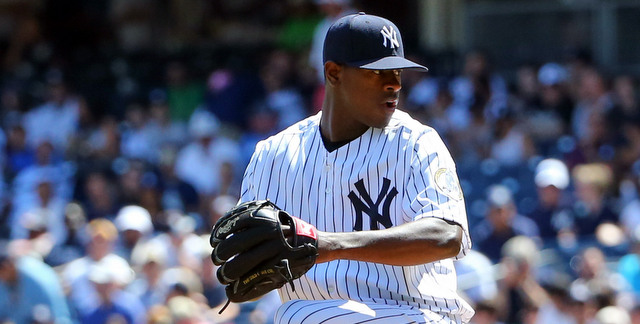 Also A Good Start
Lindor's home run was ominous — to be fair, it was a really impressive piece of hitting, he got on top of a 96 mph 0-2 pitch and drove it out to right — but Luis Severino quickly settled down and gave the Yankees six innings of one-run ball. He did get some help from the umpires and shoddy base-running. Cleveland had runners at the corners with one out in the third when Michael Brantley hit a hard-hit grounder to first. Greg Bird went down to his knees to field the ball, threw to second for the force, but Brantley beat out the return throw to first to keep the inning alive.
Now, a lot happened here. First and foremost, Jason Kipnis did not score from third for some reason. Bird glanced at Kipnis quickly after fielding the grounder, so he did a good job looking the runner back, but Kipnis is supposed to take off for home as soon as the first baseman makes the throw to second. Weird. Also, replays showed Bird's throw pulled Didi Gregorius off the bag at second base. It wasn't all that close either: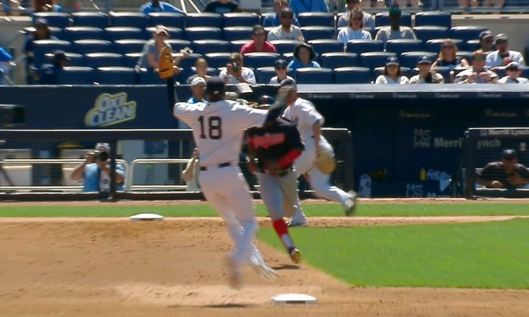 The neighborhood play can not be challenged but that's not really the neighborhood play. For starters, the runner wasn't close to second base. Secondly, the throw pulled Didi off the bag. He wasn't coming off the bag to avoid the slide. It's a bit of a gray area. Indians manager Terry Francona argued, the umpires discussed the play, upheld the call, and Francona was ejected because he continued to argue.
That play should have resulted in a run for the Indians and runners on first and second with one out. Instead, no run scored and the Indians had runners on the corners with two outs. Severino struck out the next batter to end the threat. Bad base-running, bad umpiring. The Yankees and Severino benefited from both.
Following Brantley's fielder's choice, Severino retired nine of the next ten batters he faced before walking Lonnie Chisenhall and Abe Almonte with two outs in the sixth. He got Roberto Perez to ground out to end the inning, but those two walks killed his pitch count. Severino threw 19 pitches to those last three batters and was ahead in the count 1-2 on both Chisenhall and Almonte. Blah. That's a 21-year-old pitcher for ya.
Severino threw 107 pitches in six innings and allowed the one run on three hits and four walks. He struck out six. Like his previous start against the Indians, the first few innings of Severino's afternoon were a little shaky, though he later settled down. He continues to pitch very well though. The next challenge is pitching deeper into games, but that's a lot to ask for a kid at this stage of his career.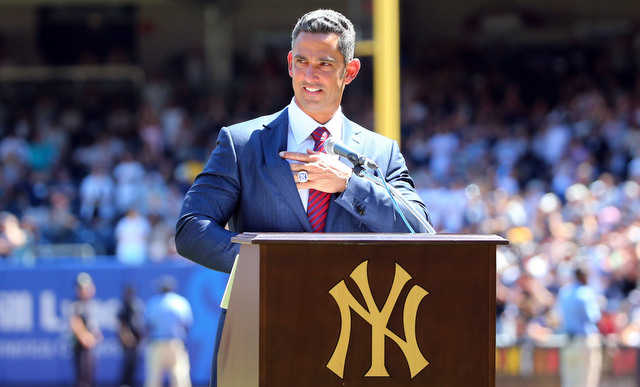 Leftovers
The offense did a whole bunch of nothing after the second inning. Salazar retired nine of the final eleven batters he faced — one of the base-runners was a pop-up Mike Aviles lost in the sun in left field — and it wasn't until the bottom of the lineup scratched across a run in the ninth that the offense made more noise. Gregorius doubled, Drew singled, and Murphy got the run in with a sac fly. Drew was later thrown out at home on Ellsbury's single.
Everyone in the starting lineup had at least one hit. Ellsbury, McCann, Gregorius, and Drew had two hits each. Drew went 2-for-4 and has his average up to .19878. A hit in his next at-bat will get him up to .20122. Didi had two doubles, one sun-aided (Aviles) and one legitimate. The Yankees did not draw a walk for only the sixth time all season. Only the Cubs (four) and Blue Jays (five) have fewer no-walk games.
Adam Warren tossed a perfect seventh inning, Dellin Betances allowed a meaningless run in the eighth, and Andrew Miller closed things out with a scoreless ninth. He pitched around a leadoff single. Betances allowed the run on a BABIP double — Lindor hit a grounder literally off the third base bag — a ground out, and a single. He'll live.
Box Score, WPA Graph & Standings
Here are the box score and video highlights for the game, and here are the updated standings and postseason odds for the season. We also have Bullpen Workload and Announcer Standings pages to check out. Here's the win probability graph:

Source: FanGraphs
Up Next
The Yankees will look to earn a split of this four-game series Sunday afternoon. Trevor Bauer and CC Sabathia will be the pitching matchup. Also, that pregame ceremony? We're going to do it all again Sunday. Andy Pettitte will be honored and the No. 46 will be retired. What a fun weekend.