I don't even know what to say. That was one of the oddest, most nonsensical games I've ever seen. It was bad, weird, and great all at the same time. The Yankees walked off with an 8-7 win in ten innings over the Twins on Monday night, though it did come with a price. They lost two players to injury, one of which is serious.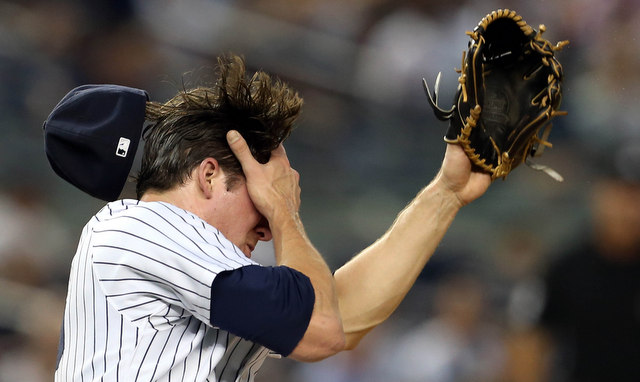 The Best of a Bad Injury
The Yankees scored three runs in the first inning (more on that in a bit) but the game very quickly turned sour in the second. Bryan Mitchell was hit in the face by a line drive off the bat of former Yankees infielder Eduardo Nunez, and although he walked off the field under his own power, Mitchell was bleeding heavily and holding a towel to his face. He's been diagnosed with a nasal fracture and will be monitored for a concussion the next few days. All things considered, that's not too bad.
First and foremost, oh man that's really scary. Line drives to the face are no joke. We're talking possible concussion, broken bones, eye damage … really scary life-altering stuff. Thankfully Mitchell avoided all of that. All that blood was pretty terrifying. Secondly, the baseball aspect of the injury sucked because the Yankees opted to use their long reliever as a spot starter, so they came into the game with a six-man bullpen. The bullpen got a workout.
Caleb Cotham came in to replace Mitchell and was … not good. Not at all. He did strike out Aaron Hicks with two on and two outs to escape the second, but he served up a game-tying two-run home run to Miguel Sano in the third. Middle-middle fastballs to Sano don't come back. A single, an error by Didi Gregorius, and another single gave the Twins a 4-3 lead later in that third inning. Four of the first seven batters reached base against Cotham.
Cotham started the fourth inning and gave up another game-tying home run — Hicks hit a leadoff shot to right — before getting two quick outs. Well, he got one out. Brian McCann threw out a runner trying to steal for the other out. Cotham was the long man by default with Mitchell starting, but he was not fooling anyone. The Yankees got eleven outs total from their long man and backup long man. Woof. That poor bullpen.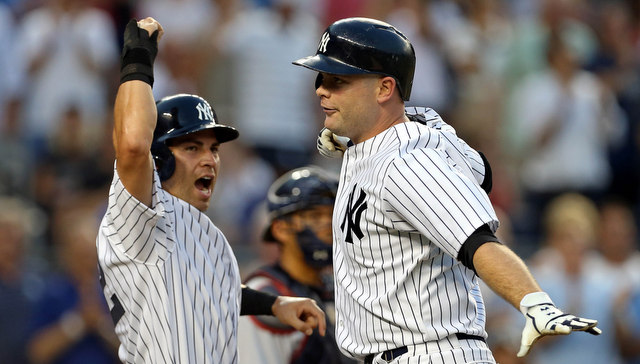 McCann Can
Two outs, two strikes, two times. The Yankees scored their first five runs because McCann came through with a pair of big two out hits in two-strike counts. Jacoby Ellsbury singled and Alex Rodriguez walked in the first, then McCann hit a much appreciated three-run home run over the short porch and into the people. The Yankees are now up to 99 first inning runs on the season. The Royals are a distant second with 86.
After the Twins took a 4-3 lead in the third, the Yankees rallied to take a 5-4 lead in one of the weirdest innings ever. Ellsbury hit a leadoff single. Great! Brett Gardner followed with a walk. Even better! Then A-Rod pulled a ground ball through third baseman Trevor Plouffe — it was scored an error — to load the bases with no outs. Except that last part didn't happen. Third base coach Joe Espada waved Ellsbury home and the cannon-armed Eddie Rosario threw him out at the plate. Ellsbury actually avoided the tag but overran the base, and was tagged when he went back to touch home.
I'm a bit of a baseball nerd so I know Rosario has a very good arm, and watching live it sure seemed like the send was questionable, especially with no outs. No outs with the 4-5-6 hitters coming up! That was an awful send. Gross. Mark Teixeira, the next batter, popped up into shallow left and Rosario made the sliding catch, though the umpires originally ruled it a trap, and A-Rod was forced out at second. Twins manager Paul Molitor challenged for some reason — I guess he wanted to keep the slower runner at first, A-Rod instead of Teixeira? — and the call was overturned. Either way, there now two outs and runners on the corners.
Rodriguez managed to steal second base without a throw — don't ask me, it looked like the Twins were caught completely off guard — and the steal mattered because of McCann's two-out, two-strike, two-run single to right. Gardner and A-Rod both scored and boom, the Yankees were up 5-4, at least until Hicks took Cotham deep. McCann drove in five runs in the first three innings.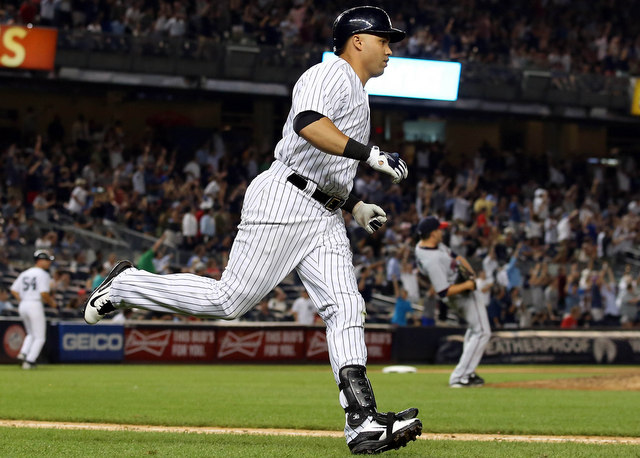 The Comeback
The Twins built a mini-picket fence in the middle innings, scoring one run each in the fourth (Hicks homer), fifth (Plouffe homer off Chasen Shreve), and sixth (Plouffe run-scoring single off Justin Wilson). That gave Minnesota a 7-5 lead. Meanwhile, Kyle Gibson retired seven straight following McCann's two-run single in the third. He didn't allow another base-runner until he walked a hobbled Teixeira leading off the sixth.
McCann followed the leadoff walk with a strikeout, then Carlos Beltran made up for it with a game-tying two-run home run off Brian Duensing. It was 2-1 fastball right into his bat path. Perfect pitch for Beltran to crush and crush he did. That tied the game 7-7 in the sixth even though it felt like the eighth. This game dragged big time thanks to all the pitching changes and stuff.
The Yankees blew a golden scoring opportunity in the seventh, when they put the first two runners on base and had the bases loaded with one out. Ellsbury and Gardner started the inning with singles, A-Rod popped out into foul territory, then Greg Bird drew a four-pitch walk in his Yankee Stadium debut. He pinch-ran for Teixeira in the previous inning. Teixeira is day-to-day with a bruised leg, by the way. X-rays came back negative.
Anyway, bases loaded with McCann due up? He had a whale of a game. Exactly who the Yankees wanted up. Then he popped up on the infield on the first pitch of his at-bat. Womp womp. That's okay, Beltran was next up and he has been ultra-clutch of late. Then he struck out on four pitches to end the inning. Okay, that didn't go so well. The Yankees had two men on base with no outs and the 3-4-5-6 hitters due up, and they didn't score. That felt like their last best chance.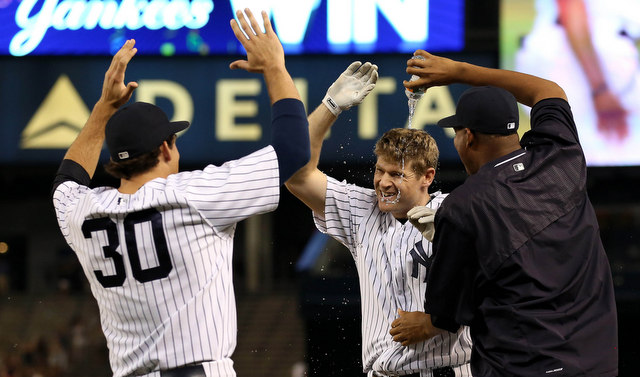 The Return of Eduardo Scissorhands
Gosh, what an ending. The game went to extra innings, because of course, and Andrew Miller had his best inning in a while in the top of the tenth. He got a routine fly out to right and two strikeouts. It was pre-injury Miller. Good to see. The Twins turned to their closer Glen Perkins, which made a ton of sense because he's a lefty and the Yankees were due to send Bird, McCann, and Beltran to the plate. Two lefties and a switch-hitter who is weaker from the right side.
Naturally, the lefties crushed Perkins. Bird led the inning off with a first pitch booming double into the right-center field gap that I thought had a chance to get out when it left the bat. Bird had to settle for hitting the ball to the wall. McCann followed that with a double to center. Another one I thought had a chance to get out. Bird had to hold up at third because Rosario came really closing to catching it — it actually hit off his glove — and couldn't score on the play. But still, the Yankees had men at second and third with no outs and were in business.
The Twins intentionally walked Beltran to create the force at any base with no outs, and they doubled down by using a five-man infield. Chase Headley, another switch-hitter who is weaker from the right side, came to the plate and quickly fell behind in the count 0-2. That was ominous. He took a pitch for a ball, fouled off another pitch, then hit a weak tapper to Nunez, the middle of the five infielders. Then Nunez Nunezed it.
The grounder went right to Nunez — Headley couldn't have rolled it any better — but he muffed it, the ball bounced a few feet away, and that was enough to win the game. I hate to pick on the kid, but man, we saw Nunez make way too many defensive blunders in pinstripes over the years to not feel a little satisfaction when the Yankees finally benefited from one of them. Why did Nunez throw to first? Who knows. It made no sense. The run scores anyway. Oh Nunie. Nunie Nunie Nunie.
Leftovers
Seems like the Twins had something in their scouting report telling them to run on McCann, because they attempted five steals in the game. McCann made a wild throw — a "it looked like it slipped out of hand" throw, that bad — on the first runner but did throw out three of the next four. Maybe that poor first throw encouraged the Twins to keep running. McCann has now thrown out 19 of 52 attempts base-stealers this year (37%). The league average is 31%.
Ellsbury led off five (!) different innings and reached base three times, which is pretty awesome. (Of course, it also means Stephen Drew made the final out a bunch of times, but why focus on the negative?) Ellsbury and Gardner reached base five times combined. That's good. I enjoy that. Been waiting a few weeks to see them both hot atop the lineup again.
The Yankees had ten hits total: Ellsbury and McCann had three each while Gardner, Bird, Beltran, and McCann had one each. Gardner, A-Rod, Teixeira, Bird, and Beltran drew the five walks. Beltran's was intentional. They went 3-for-10 with runners in scoring position with is both good (.300!) and bad (seven outs, yuck). Yankees' hitters had six strikeouts and five walks. Their pitchers had 14 strikeouts and two walks.
Next up out of the bullpen? It was going to be CC Sabathia, according to Joe Girardi. Sabathia was actually down in the bullpen but had not yet warmed up or even started throwing. It'll have no impact on his scheduled start Tuesday. Miller threw only eight pitches in his inning and was going back out for the 11th if went that far. Thankfully it did not. Dellin Betances got seven outs on 26 pitches, by the way.
And finally, gotta figure the Yankees will have at least two new relievers tomorrow, right? Mitchell is going to the DL and Cotham can go down. Nick Rumbelow is fresh and they can use Mitchell's injury to recall either Nick Goody or Branden Pinder even though they haven't been down ten days. Would they send down Bird and call up three fresh arms? Maybe not with Teixeira banged up.
Box Score, WPA Graph & Standings
Here are the box score, video highlights, updated standings, and postseason odds. We also have Announcer Standings and Bullpen Workload pages you should check out. Here's the win probability graph:

Source: FanGraphs
Up Next
Same two teams Tuesday night, when Sabathia and Mike Pelfrey will be on the mound. That's 13 feet and two inches worth of starting pitchers right there. (They're both listed at 6-foot-7.)