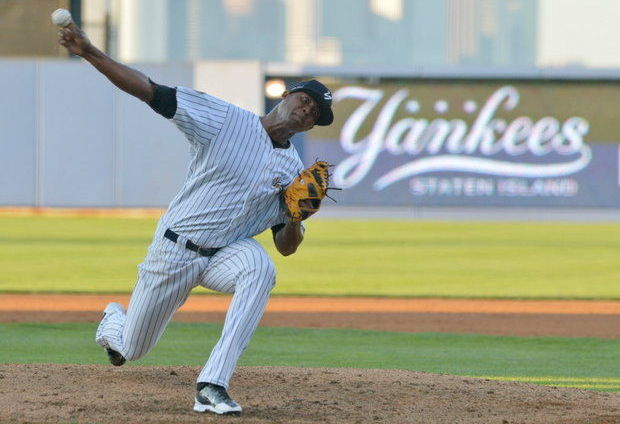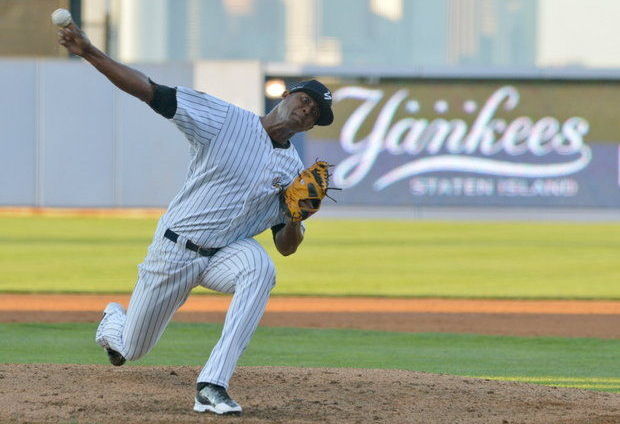 Baseball America's look at the top 20 prospects in each minor league continued today with the Short Season NY-Penn League. As always, the list is free but the scouting reports are not. You need a subscription for those. Red Sox OF Andrew Benintendi owns the top spot and is following by Nationals OF Victor Robles.
The Yankees have three players on the list: RHP Domingo Acevedo (No. 3), OF Jhalan Jackson (No. 10), and SS Kyle Holder (No. 18). Acevedo was slated to open the season with Low-A Charleston before a blister forced him back to Extended Spring Training for several weeks, leading to his assignment to the Staten Island Yankees. Jackson (seventh round) and Holder (supplemental first) were 2015 draft picks.
"Acevedo hit 103 mph at least once this summer and routinely worked his fastball at or around triple digits. He sits 95-96 mph early in starts but reaches back for 98-100 when he needs it," said the write-up, which also noted Acevedo's penchant for overthrowing. He also has a "plus changeup at 85-88 mph" and a below-average slider he can throw for strikes. The write-up likens the 6-foot-7 Acevedo to a young Dellin Betances.
Jackson claiming a spot in a top ten is surprising, though the scouting report says his "power is a legitimate plus tool." That's a good tool to have. "Jackson has profile right-field tools, with a plus arm and at least average speed," added the write-up. Jackson is also said to have a raw approach at the plate and can get caught guessing at times. That's a big obstacle to overcome, but you can't teach this kind of power and athleticism.
As for Holder, the scouting report says "most scouts and evaluators agree that Holder is a plus defender, with some going so far to say that he is the best defensive college shortstop they've ever seen." His defensive tools — body control, movement, hands, instincts, etc. — all draw big time praise. Holder's offense is the question. "Few project him to be an impact offensive player because of his uphill swing, lack of power and substandard bat speed," said the write-up.
Acevedo, 21, had a 1.69 ERA (2.85 FIP) with very good strikeout (27.7%) and walk (7.7%) rates in 48 innings with the Staten Island Yanks. The 22-year-old Jackson hit .266/.338/.452 (133 wRC+) with five homers and a 29.8% strikeout rate in 49 games. Holder? The 21-year-old hit .213/.273/.253 (57 wRC+) with a 13.6% strikeout rate in 56 games. Yuck. Both he and Jackson missed time with minor injuries.
In the subscriber-only chat, Michael Lananna says RHP James Kaprielian "would've likely ranked in the top 5" had he thrown enough innings with Staten Island to qualify for the list. "I heard nothing but positive things," Lananna added. "I think he could be a fast riser. Some have said he could've pitched out of the major league bullpen this year, but obviously that's not going to happen … He's a polished, promising pitching prospect."
The next list of interest to Yankees fans is the Low-A South Atlantic League. That'll be out sometime next week. SS Jorge Mateo is a lock — he won't get the top spot (Red Sox 2B Yoan Moncada almost certainly will) but he figures to rank high — and others like OF Dustin Fowler, SS Angel Aguilar, and RHP Jordan Foley have an outside chance to make it too. LHP Jordan Montgomery may fall just short of qualifying for the list because of his quick promotion.
Other league top 20s: Rookie Gulf Coast League, Rookie Appalachian League