Admit it, you thought they were going to lose once Tuesday's game went to extra innings. The Blue Jays have a great offense and the Yankees had used up all their reliable relievers, so it's understandable. Things didn't look too good. Instead, the Yankees eked out a 6-4 win over the Blue Jays in ten innings in the middle game of the three-game set. What a huge and fun and hugely fun win.
Go-Ahead Blast, Part I
Let's start in the eighth inning. The Yankees and Blue Jays were tied 2-2 after the first seven innings, so this was a battle of the bullpens. In the late innings, that's almost always advantage Yankees. New York had just blown a golden opportunity in the seventh inning — they had two singles and two walks in the inning, but Jose Bautista threw Dustin Ackley out trying to go first-to-third — when Alex Rodriguez struck out with the bases loaded. Bah.
Liam Hendriks, who fanned A-Rod on three pitches to end the seventh, stayed in the game to start the eighth. Brian McCann popped up to third, then Carlos Beltran laid into a center cut fastball for a big go-ahead solo home run. Beltran hit a three-run go-ahead homer against the Blue Jays in Toronto about a month ago and this homer was almost a carbon copy, at least in terms of the look off the bat. That sweet swing and a drive to right-center. Just perfect. The Yankees had themselves a 3-2 lead.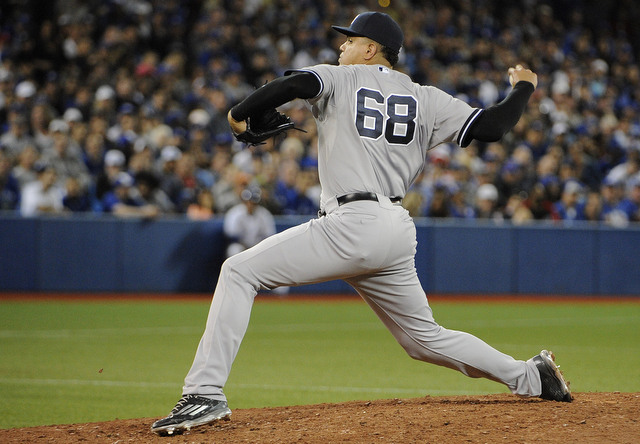 Dellin & Miller
One run lead in the eighth inning? Release the Dellin. Joe Girardi went to Dellin Betances against the bottom of the order in the eighth inning, and boy, did it get messy. Kevin Pillar started the inning with a single, then moved up on Munenori Kawsaki's sac bunt. Betances struck out Ben Revere for the second out, but, as has been the case quite often of late, Dellin lost the plate.
Back-to-back walks to Josh Donaldson and Bautista followed. Donaldson walked on four pitches, Bautista on five. It's not like Betances was getting squeezed either. In fact, McCann deserves a ton of credit for scooping some breaking balls in the dirt to prevent a run-scoring wild pitch. The bases were loaded, and of course Dellin went to a 2-0 count on Edwin Encarnacion. A called strike fastball followed, then Encarnacion swung through a fastball to even the count. The 2-2 pitch? A breaking ball Encarnacion missed by two damn feet for strike three: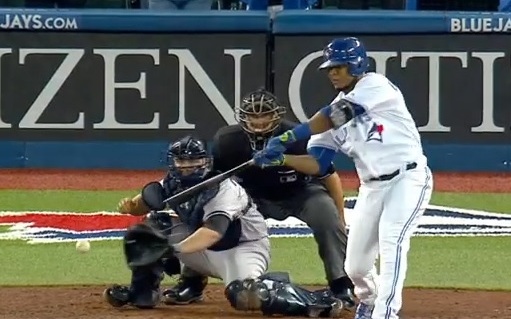 Betances has been making things mighty interesting of late, but, to his credit, he's been getting out of his self-created jams more often than not. He did it again Tuesday against a great hitter in Encarnacion.
Unfortunately, that one-run lead didn't stand up. Andrew Miller blew his second save of the season in the ninth inning courtesy of Dioner Navarro's solo home run to left field. Very rude by the former Yankees farmhand. The game was tied at three apiece.
The Blue Jays didn't stop there either. Pillar doubled with two outs, Girardi had Miller intentionally walk Matt Hague (!) to get the left-on-left matchup with Miller against Revere, but Toronto skipper John Gibbons sent Russell Martin to the plate instead. Not Girardi's finest moment. For starters, having your elite closer intentional walk a career Quad-A guy like Hague was weird. Secondly, did he not see Martin coming? It was obvious Revere wasn't going to hit there.
Anyway, Miller eventually walked Martin to load the bases, which was bad, because it brought Donaldson to the plate with the bases loaded and two outs. As the Rogers Centre faithful chanted "M-V-P! M-V-P!," Miller overpowered Donaldson with fastballs for the swinging strikeout. In the eighth and ninth innings, Betances and Miller faced 13 batters. Seven reached base. Yikes.
Go-Ahead Blast, Part II
To extra innings they went. Mark Lowe started the tenth inning and McCann started the go-ahead rally with a bunt to beat the shift. The infielders were pulled over to the right side, McCann laid down a bad bunt, but Donaldson had to throw on the run, and it got by Justin Smoak at first base. The throw beat McCann. It just wasn't handled. That dinky little bunt started the rally.
Pinch-runner Rico Noel replaced McCann and didn't get a chance to steal second because pinch-hitter Slade Heathcott — he hit for Brendan Ryan, who came in as a defensive replacement for Ackley — reached base on catcher's interference. His swing hit Navarro's glove. The Yankees suddenly had runners at first and second with no outs. Lowe got ahead of Bird quickly with an 0-2 count, but Bird laid off some pitches out of the zone to even things up 2-2, then managed to … well, look:
That pitch is down and away and Bird somehow still hooked it out to right field for a go-ahead three-run homer. That's impressive. The entire at-bat, not just the homer. Bird fell behind, laid off some good two-strike pitches, then did some serious damage on a pitch many hitters would have rolled over to the right side. Bird now has eight homers this month (!) and ten as a big leaguer. Six of the ten have either tied the game or given the Yankees the lead. He's been incredible.
Even with the three-run lead, Girardi didn't mess around. He sent Miller back out for a second inning. Miller allowed a solo homer to Encarnacion to cut the lead to 6-4 — it was the first time he allowed two homers in one appearance as a reliever in his career — but otherwise nailed down the win. He did have to throw 42 pitches, so I doubt Miller will be available Wednesday, but who cares? They had to do whatever they had to do to win this game.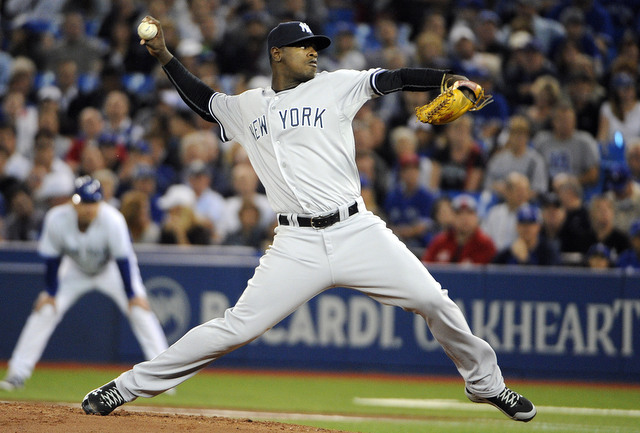 Severino's Third Chance
The Blue Jays have been very hard on Luis Severino in his brief big league career. They're responsible for his two worst starts — three runs in six innings (not too bad) and then six runs in 2.1 innings (disaster) — though the third time was, as they say, a charm. Severino held Toronto to two runs on three walks, two singles, and one solo homer in six innings Tuesday night, striking out three.
Severino's outing started great — he threw six pitches in the first inning and nine in the second. Pretty awesome. The Blue Jays scored their first run on Pillar's third inning solo homer, then a walk (Donaldson), a wild pitch, and a single (Smoak) created the second run in the fourth. Smoak's game-tying single was a two-out back-breaker, though he was thrown out at second on the play to end the inning. Small victories.
Two-out walks in the fifth and sixth innings didn't come back to hurt Severino, who stranded both runners. He threw 89 pitches in his six innings but had to battle a bit — the Blue Jays had a man on base in every inning but the fourth — so Girardi went to the bullpen after allowing his neophyte right-hander to face the middle of the lineup a third time. Very nice outing for Severino against a tough lineup that has given him problems.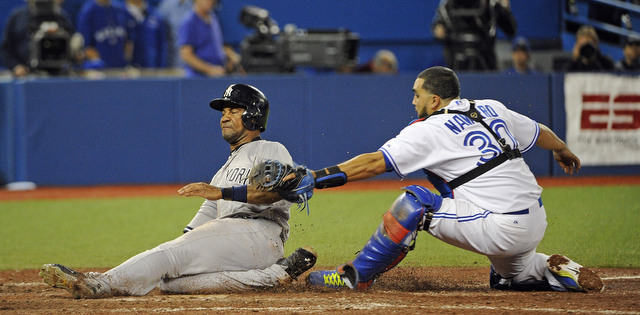 Leftovers
The Yankees were burned not once, but twice when Girardi opted to not pinch-run in the late innings. Ackley ran for himself after his one out walk in the seventh, then got thrown out at third by Bautista. Remember, Ackley's a guy who gets lifted for a defensive replacement. Why not pinch-run? Then, after Chris Young walked leading off the ninth, he stayed in the game and was thrown out at the plate by Bautista on Jacoby Ellsbury's would-be sac fly. It was a tremendous throw. One Noel maybe beats. Alas.
The Yankees had 12 hits and they came from only six different players: Ellsbury (two doubles), Gardner (infield single), McCann (two singles), Bird (double, homer), and Didi Gregorius (double, two singles). Ellsbury, Gardner, A-Rod, Ackley, and Young drew walks. Chase Headley was the only starter who failed to reach base. He's been in some kinda slump this month. Seventeen base-runners in ten innings is pretty great. So is 3-for-9 (.333) with runners in scoring position.
Before Betances and Miller, Justin Wilson retired the side in the seventh inning on seven pitches. The bottom of the order was due up in the eighth, and I was thinking maybe Wilson should have gone back out so Betances could be saved for the righties in the middle of the lineup. That didn't matter — Dellin walked a bunch of dudes and ended up facing the middle of the lineup in the eighth anyway.
Box Score, WPA Graph & Standings
Here are the box score, video highlights, updated standings, and postseason odds. As you can see in the sidebar, the magic number to clinch a postseason spot is down to seven. Make sure you check out our Bullpen Workload and Announced Standings pages. Here's the win probability graph:

Source: FanGraphs
Up Next
The Yankees and Blue Jays wrap up their season series Wednesday night. It'll be Ivan Nova, not the injured Masahiro Tanaka, against Marcus Stroman. The Yankees are 2.5 games back in the AL East (two in the loss column), so while that game is not a literal must-win, it's a "really need to win this one if they want to have a shot at the division title" game.