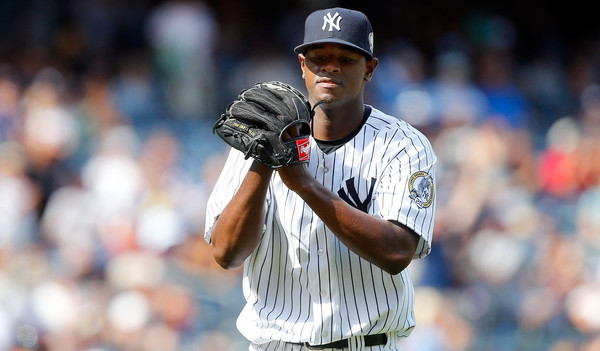 The Yankees are back home and they'll be home for a while. This is the start of a ten-game homestand against three division rivals, all of whom have some sort of postseason aspirations. The Rays may be ten games back in the AL East, but they are only 4.5 games back of a wildcard spot. October isn't out of reach yet.
Young Luis Severino will be on the mound tonight for his sixth big league start and his third at home. The Yankees are 2-3 in his five starts but that's not Severino's fault. He has a 2.17 ERA. They just don't score for him. The Yankees have scored 15 runs in his five starts — six in one game! — and only eight when Severino was actually on the mound. They owe him. Here is Tampa's lineup and here is New York's lineup:
CF Jacoby Ellsbury
LF Brett Gardner
RF Carlos Beltran
C Brian McCann
DH Alex Rodriguez
1B Greg Bird
3B Chase Headley
SS Didi Gregorius
2B Stephen Drew
RHP Luis Severino
It is cloudy in New York but there is no rain in the forecast. It's pretty cool too. Temperatures have been in the low-80s all day and will dip into the 70s tonight. Tonight's game is scheduled to begin at 7:05pm ET and you can watch on YES. Enjoy.
Injury Updates: CC Sabathia (knee) threw approximately 60 pitches in a simulated game this afternoon with a heavier brace and felt "great." The Yankees will see how he feels in the coming days, and if all goes well, he'll start Wednesday … in case you missed it earlier, Mark Teixeira (leg) was placed on the 15-day DL. It was a procedural move to get Nick Rumbelow back on the roster before his ten days were up. Teixeira, by the way, is still on crutches but said he "100%" expects to play again this season.