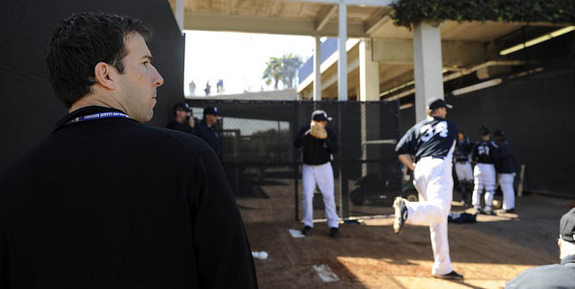 Exactly one month after firing ex-GM Jack Zduriencik, the Mariners named former Angels GM Jerry Dipoto their new GM, the team announced yesterday. "Jerry impressed us at each step of the process … I am looking forward to having Jerry lead our baseball operations for a long time," said president Kevin Mather in a statement.
Yankees assistant GM Billy Eppler interviewed for the Mariners GM job not once, but twice, reports Joel Sherman. Jerry Crasnick says Eppler and Dipoto were the two finalists for the job. That's not the first time that's happened either — Eppler and Dipoto were the two finalists for the Angels GM position a few years ago, and Dipoto got that gig as well.
The Mariners GM job is off the board, though Eppler still remains the front-runner for the Angels GM job, reports Alden Gonzalez and Jeff Fletcher. He interviewed a few weeks ago and all signs point to Eppler getting the job at some point. Why hasn't it happened yet? Fletcher explains:
It is likely the Angels and Yankees would both want to avoid even the appearance of a conflict if Eppler were named Angels GM before the teams met in the playoffs.
The Yankees currently have a comfortable lead on the first wildcard spot (3.5 games with six to play) while the Angels are only a half-game back of the Astros for the second wildcard spot. The Yankees and Angels could easily end up meeting in the wildcard game next week. One team poaching the other's assistant GM right before a postseason matchup wouldn't be a good look.
Eppler, 39, has been with the Yankees since 2005, starting as a scout before working his way up the ladder to assistant GM. He worked with the Rockies before joining the Yankees. In addition to interviewing for the Mariners and Angels GM jobs this year, Eppler also interviewed for the Padres GM job last year and declined an invitation to interview for the Diamondbacks GM job. He also interviewed with the Angels back in 2011.
While nothing is set in stone, it seems likely the Angels will name Eppler their new GM soon after the season. I have no idea how or if the Yankees would replace him in the front office. They tend to promote from within and I assume that would happen again.