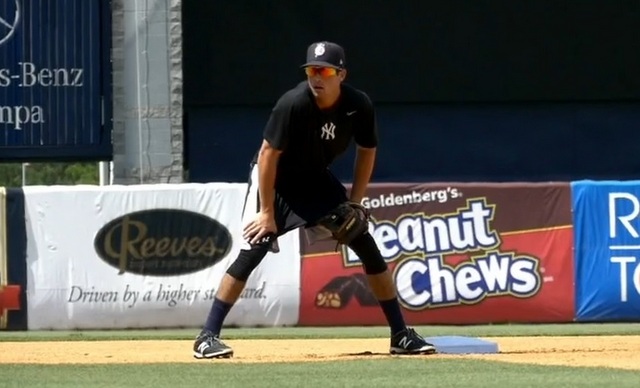 Baseball America continued to roll out their individual league top 20 prospect lists today with the High-A Florida State League. As always, the list is free but the scouting reports are not. Cardinals RHP Alex Reyes sits in the top spot while Mets OF Michael Conforto and Pirates OF Austin Meadows round out the top three.
SS Tyler Wade is the only Yankees farmhand to crack the top 20, and he ranks 18th. "He's a grinder, particularly against righthanders, who can work counts, draw walks, move runners and make contact, with enough gap pop to earn pitchers' respect," said the write-up. "Wade's arm strength and range are sufficient for shortstop, but he's a better fit at second base, where with more experience he should be an above-average defender."
Wade, 20, was the Yankees' fourth round pick in the 2013 draft. He hit .280/.349/.353 (117 wRC+) with two homers, 31 steals, a 15.6% strikeout rate, and a 9.3% walk rate in 98 games and 418 plate appearances for High-A Tampa this year before being bumped up to Double-A Trenton, where he struggled (37 wRC+). "He has a high floor as a lefthanded-hitting utility infielder and a solid shot at a ceiling as a regular," said the scouting report.
The write-up notes SS Jorge Mateo would have ranked third on the list had he spent enough time with the Tampa Yankees to qualify. Also, in the subscriber-only chat, John Manuel said 3B Miguel Andujar "clearly didn't stick out" and the "consensus was that he doesn't control the strike zone well enough for his bat to play, and he's erratic defensively." Manuel also said RHP Rookie Davis was in the No. 21-25 range with OF Dustin Fowler not too far behind.
Apparently Baseball America is going out of order with their league top 20s, so the next list of interest to Yankees fans will be the Low-A South Atlantic League. That's due out Friday. Mateo will be eligible for that list — he was with Low-A Charleston almost all season — and should rank near the top. It's unlikely any other RiverDogs will make the top 20 though.
Other league top 20s: Rookie Gulf Coast League, Rookie Appalachian League, Short Season NY-Penn League