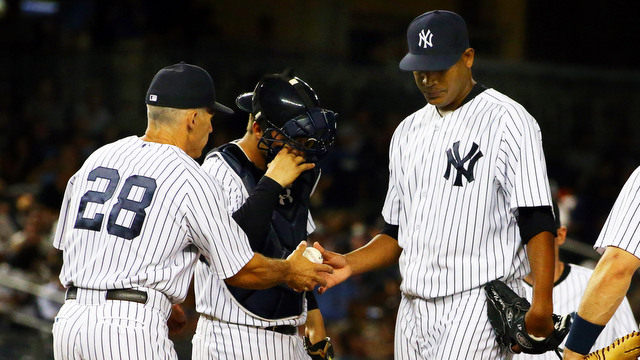 The Yankees have removed Ivan Nova from the rotation, Joe Girardi told reporters this afternoon. Nova will be used out of the bullpen going forward. He is not available tonight but will be starting Friday. Girardi said the decision was purely performance related.
Nova, 28, has a 5.11 ERA (4.92 FIP) in 14 starts and 75.2 innings this season following his return from Tommy John surgery. He's been especially bad of late, allowing 29 runs and 59 base-runners in his last seven starts and 35 innings. Nova's been getting worse as he gets further away from elbow reconstruction, not better.
This isn't the first time the Yankees have yanked Nova from the rotation due to ineffectiveness. They did it in 2013 as well, when he had a 6.48 ERA after four starts. Nova made three relief appearances before rejoining the rotation that year, and, to his credit, he dominated down the stretch. Maybe the demotion was a wake-up call.
I'm curious to see how Girardi will use Nova going forward. Will he step into the old Adam Warren role as sort of a multi-inning guy who can pitch the middle innings or late in the game if necessary? Or will Nova be held back as a pure long man? There's not much time left in the season. If he's going to carve out a niche, he needs to do it soon.