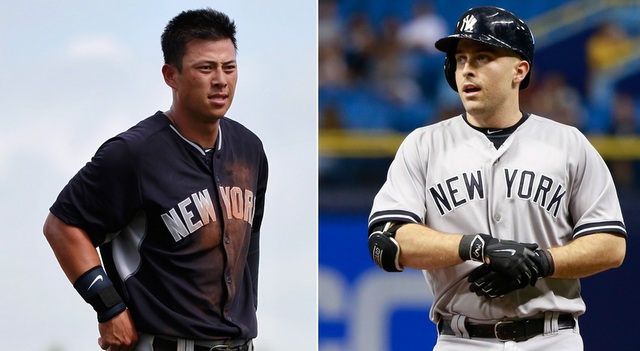 Aside from second base, the Yankees are locked into their starters at every position heading into the offseason. I suppose they could always free up a spot with a trade, but that seems unlikely. Didi Gregorius and Brett Gardner are their only position players with real trade value. And I guess Greg Bird too. He's not penciled in as a starter right now though.
Anyway, according to Jon Heyman, the Yankees are "leaning toward" using Dustin Ackley and Rob Refsnyder at second base next season. Both Ackley (161 wRC+) and Refsnyder (130 wRC+) impressed offensively in their late season cameos this year, but the sample sizes were extremely small. They combined for 104 plate appearances in pinstripes.
Two things immediately came to mind when I read this. One, it's totally believable. The Yankees turned to their farm system whenever a need arose this past season — their only trade pickup was Ackley, and that was hardly a blockbuster — and by and large it worked really well. There's no reason to think they won't do it against next year.
Two, of course the Yankees are going to say Ackley and Refsnyder are their solution at second base. Coming out and saying they're going to shop for a new second baseman — and there will be plenty on the free agent market this winter — hurts their leverage with free agents and other teams in trade talks. Of course they're going to say they're "leaning toward" going with Ackley and Refsnyder. Why wouldn't they?
The list of free agent second base candidates is pretty long: Howie Kendrick, Ben Zobrist, Asdrubal Cabrera, Daniel Murphy, and Chase Utley are the most notable. Kendrick and probably Murphy are going to end up with a qualifying offer, and those two plus Zobrist are in line for substantial multi-year contracts. I have a hard time thinking any of those three will sign for less than $10M annually.
Second base is the Yankees' only flexible position, so my guess is we're going to hear a ton of second base free agent and trade rumors this winter. There's nothing else to talk about other than the pitching staff. I don't love the idea of an Ackley/Refsnyder platoon at second, but I can understand why the team may go that route. There's a bit of upside there, especially if Ackley did really figure some things out.