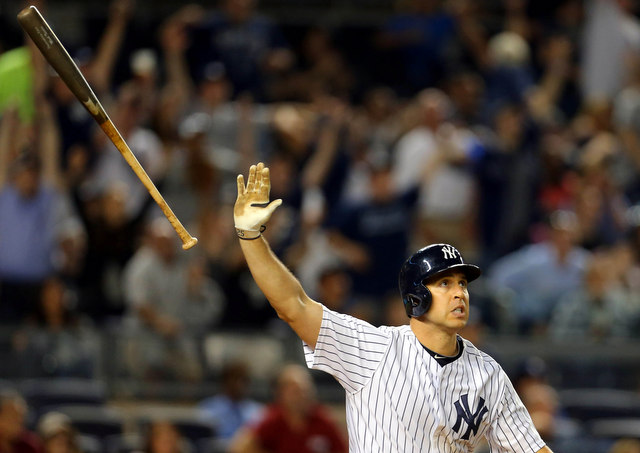 It's easy to forget Mark Teixeira was pretty good last year. At least in the first half. His .216/.313/.398 (101 wRC+) batting line and 22 homers were broken into a .241/.341/.464 (126 wRC+) line with 17 homers in the first half, and an ugly .179/.271/.302 (63 wRC+) line with five homers in the second half. First half Teixeira was pretty good. That guy in the second half was terrible.
Coming into 2015, the question was which Teixeira would show up? The first half version of Teixeira, who wasn't great but was good enough to help? Or the second half version, who looked like a guy ill-equipped to get through a full season one year removed from major wrist surgery? As it turns out, neither version showed up in 2015. The Yankees had a different, better version of Teixeira this year.
The No-Fun Diet
Following last season Teixeira admitted he wasn't physically strong enough to play a 162-game season after having his wrist rebuilt in 2013. He changed, well, everything. He changed his diet, his workout routine, his entire offseason program. The goal was to add muscle and get stronger. As part of that new offseason program, Teixeira cut gluten from his diet. He called it a PED: performance-enhancing diet.
"(I was on a) no-fun diet. Then I kind of basically just went back to what I've always done, and that's just hit the weights really hard because I need to be strong. I'm a power hitter, a guy that has to drive the ball from both sides of the plate, and that's what I did this offseason," said Teixeira to reporters after reporting to Spring Training. What sort of impact would it have? That remained to be seen.
The Spring
I remember watching Teixeira in Spring Training and being slightly concerned he wasn't hitting for power. He wasn't even driving the ball to the warning track, stuff like that. It was Spring Training, I knew better than to read too much into it, but I couldn't help myself. Teixeira had a miserable second half in 2014 and wasn't that far removed from wrist surgery. I was hoping for a strong showing in camp.
Teixeira finished Grapefruit League play with a .250/.300/.375 batting line in 21 games. He hit just one home run. I was concerned. Not panicked, but concerned. Teixeira was going to turn 35 in April, he hit only five homers in the second half in 2014, talked all spring about his new diet and offseason routine, and he wasn't showing much power in Spring Training. It was a red flag to me. Even Alex Rodriguez was mashing taters after his year away. I should have known better. I did know better. But I didn't listen to myself. Spring Training has a way of breaking you, man.
Singles Are For The Weak
Like a few too many of his teammates, Teixeira went hitless on Opening Day, taking an 0-for-3 with a walk. He then had exactly one hit in each of his next seven games. Six of those seven hits went for extra bases. Three doubles, three homers. Most notably, Teixeira hit a game-tying home run in the 16th inning of that 19-inning marathon loss to the Red Sox in the first weekend of the regular season.
That missing power I was worried about in Spring Training? Hah. Teixeira hit eight home runs in the first 18 games of the season. He also had four doubles. Singles? Teixeira had three of those. Through 18 games Teixeira was slugging .729 with a .475 ISO. That's such a small sample it doesn't mean anything. It's just fun to write.
Teixeira didn't sustain that home run pace — eight homers in 18 games is 72 across a full season — but he still mashed. Eight homers in 18 games. Ten in 24 games. Thirteen in 38 games. As late as June 5th, 55 games into the season, Teixeira had more home runs (17) than singles (16). June 10th was the day Teixeira finally had more singles than homers.
When it was all said and done, Teixeira finished the season with 22 doubles, 31 home runs, and 47 singles. He's only the eighth player in Yankees history to bat at least 400 times in a season and finish with more extra-base hits than singles, joining … drum roll please … Curtis Granderson (2011), Nick Swisher (2009), Jason Giambi (2006), Danny Tartabull (1993), Roger Maris (1961), Lou Gehrig (1927), and Babe Ruth (1920-22, 1927-28). No gluten, no singles.
Reversing The Split
From 2010-12, the three years between his one elite season in pinstripes and his wrist injury, Teixeira hit .236/.333/.451 (112 wRC+) against right-handed pitchers and .283/.377/.550 (147 wRC+) against left-handed pitchers. He's a switch-hitter, yes, but he still had a platoon split. That's not that uncommon, really. Teixeira was a monster from the right side of the plate and just okay from the left.
This season Teixeira reversed that split. He crushed righties and was merely above-average against lefties, which is actually preferable. There are a lot more righty pitchers than lefties. (Teixeira had 312 plate appearances against righties and 150 against lefties, so yeah.) Anyway, here are the splits:

The raw production was better against righties — Teixeira hit for way more power as well as a higher average from the left side of the plate — but golly, look at those strikeout and walk rates against lefties. Even removing the intentional walks, he still had more walks (15.8%) than strikeouts (13.0%). Teixeira saw the ball well from the right side of the plate, he just didn't get as much BABIP love. (Even by his low BABIP standards.)
It's tough to evaluate Teixeira's numbers from 2013-14 due to the wrist injury, though he was still better against lefties (102 wRC+) than righties (94 wRC+) those years. Considering we're talking about only 150 plate appearances against southpaws this past season, my guess is Teixeira has not suddenly reversed his split and become a true talent better hitter from the left side. It's probably just sample size noise.
Still, for the Yankees this season, having Teixeira crush righties was really valuable. (His 25 homers against righties were his most since he hit 30 against righties in 2009.) They also missed him against lefties down the stretch. That was obvious. Teixeira was a force at the plate this summer, and for the first time as a Yankee, he was more productive from the heavy end of the platoon.
The Defense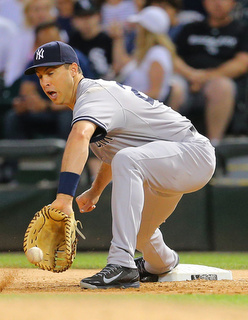 Remember early last year when Teixeira was actually sorta shaky with the glove? He bobbled a few grounders and failed to make some scoops early in the season, plays even an average first baseman would make, and I thought it was just rust from the long layoff in 2013. Those struggles did linger most of the season. Teixeira was still good at first last year, but not as crazy good as he had been in the past.
This year though, Teixeira was back to being an outstanding gloveman at first base, one of the very best in the game. He's not the rangiest guy in the world but he makes every scoop — how many errors did he save Chase Headley this season? — and makes every throw. He also grabs hot-shot grounders. Twenty players played at least 900 innings at first base this year. None had fewer errors than Teixeira (three).
Errors aren't the best way to evaluate defense, but it is pretty easy for a first baseman to pick up errors because of bad throws from the other infielders and whatnot. They tend to get dinged for failing to scoop a short hop and stuff like that. Either way, Teixeira was great in the field this year. A good defensive first baseman is one of those things you don't really appreciate until you have a bad one out there, but man, Teixeira's defense is still world class.
The Foul Ball That Changed Everything
Injuries have been a problem for Teixeira in recent years. It's not just the wrist either, though that's obviously the big one. He's had calf and hamstring problems too, and remember the weird cough that just wouldn't go away a few years ago? Teixeira played in only 261 of 486 possible regular season games from 2012-14.
This year things appeared to be different. They were different for a little while. Joe Girardi did give Teixeira the occasional day off, and he did miss one game with nick stiffness in June, but otherwise Teixeira played in 109 of the team's first 117 games. He started 107 of those 117 games. Then, in that 117th team game, Teixeira fouled a pitch off his shin:
The timeline from there is pretty wild. It took almost four weeks (four weeks!) for the injury to be properly diagnosed. Here's everything that happened:
August 17th: Teixeira fouls a pitch off his shin. X-rays were negative.
August 18th: Teixeira goes for more tests, which show a bad bone bruise.
August 23rd: Teixeira resumes light baseball activities. He took batting practice and did some light running.
August 25th: Teixeira returns to the lineup. He goes 0-2 and comes out of the game in the sixth inning of a blowout loss.
August 26th: Teixeira doesn't start but does pinch hit. He grounded out to end the game. Little did we know, that would be his final at-bat of the season.
August 30th: Teixeira goes on medication to deal with the inflammation around the bone bruise.
August 31st: Teixeira is sent for more tests. "We're not happy with where he's at. Just trying to get him healthy," said Girardi.
September 1st: An MRI shows a more significant bone bruise than initially realized, but no fracture. Teixeira is put on crutches.
September 4th: Yankees place Teixeira on the 15-day DL. It's a paper move so the team could call up a reliever before his ten days in the minors were up.
September 8th: Teixeira receives two injections to help relieve nerve inflammation.
September 11th: Yankees announce Teixeira is done for the season with a fracture in his shin. The latest round of tests showed the previously undetected fracture.
Those are just the major milestones in the Teixeira leg injury saga. There were daily "he's still sore but he thinks he can pinch-hit" type of nuggets. In the end, it took three rounds of tests to find the fracture and of course it's fair to wonder if anything (or everything) he did from the point of the foul ball to the fracture diagnosis made the injury worse. We'll never know the answer to that though.
The fracture came with a three-month recovery period, officially ending Teixeira's season. Prior to the wildcard game, Teixeira was with the Yankees and introduced during the baseline introductions. He came out on to the field using crutches: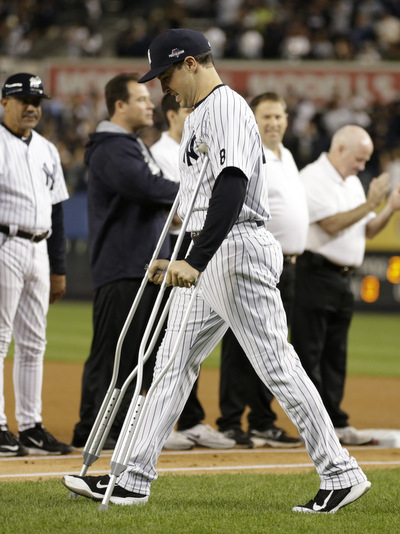 The injury comes with a three-month recovery timetable, so Teixeira is right in the middle of his rehab work right now. He is expected to be ready for Spring Training. The injury really put a damper on what was otherwise an outstanding season for Teixeira, both offensively a defensively. He hit .255/.357/.548 (143 wRC+) with 31 home runs and great defense in 111 games. That earned him his first All-Star Game selection since 2009.
Teixeira hit his most home runs since 2011 and had his best overall offensive season in pinstripes since 2009. His batting average isn't what it was back then, but boy, Teixeira hit for a ton of power. Among players to bat at least 400 times this season, only Bryce Harper (.319) and Chris Davis (.300) had a higher ISO than Teixeira (.293). He was the Yankees MVP and a fringe AL MVP candidate at the time of the injury. The leg injury stunk. It really did. But Teixeira was awesome when was healthy.
Looking Ahead to 2016
Hard to believe it's already been seven years, isn't it? The 2016 season is the final season of Teixeira's massive eight-year, $180M contract. Even with Greg Bird's strong showing down the stretch, Teixeira will be the Yankees first baseman next season. The team may scale back his workload slightly and give him more time at DH, but there's no reason to think he won't factor into the middle of the order. Teixeira is one of the team's best players, if not their best all-around player. The leg injury this year was just a dumb fluke thing.