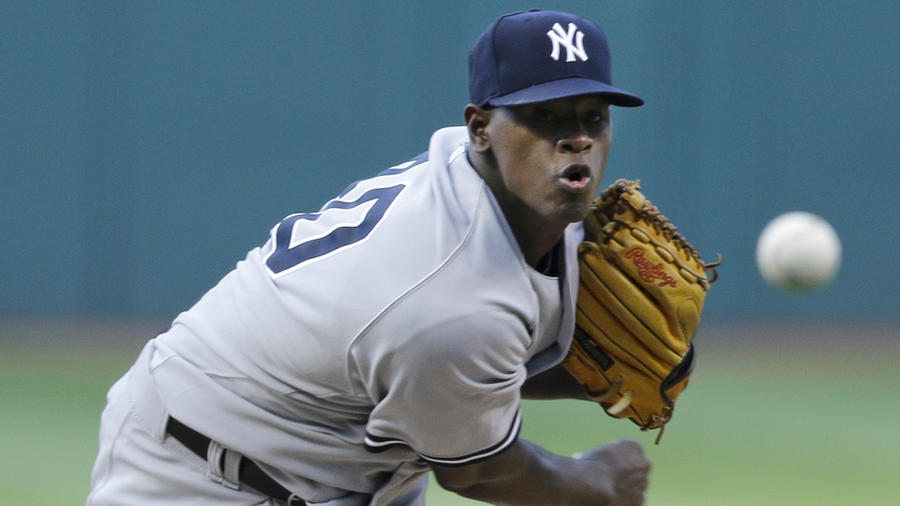 Baseball America wrapped up their look at the top 20 prospects in each minor league with the Triple-A International League today. As always, the list is free but the scouting reports are not. Indians SS Francisco Lindor sits in the top spot. The Yankees have four players on the list: RHP Luis Severino (No. 2), 1B Greg Bird (No. 6), OF Aaron Judge (No. 10), and C Gary Sanchez (No. 18).
"While opposing managers lauded Severino's stuff—a 92-97 mph fastball that typically sits at 95 and is complemented by a solid low-80s changeup and solid-average slider—many were equally impressed with his command, composure and athleticism on the mound," said the write-up. The 21-year-old Severino had a 1.91 ERA (2.50 FIP) in eleven starts and 62.1 innings with Triple-A Scranton before being called up to the big leagues.
Bird, 22, hit .301/.353/.500 (146 wRC+) with six homers in 34 games with the RailRiders before being called up. "He combines a disciplined approach at the plate with a balanced swing and quick hands to drive the ball to all parts of the ballpark," said the scouring report. "Bird made significant strides at first base this season: His footwork around the bag is serviceable and he has improved at picking balls in the dirt."
Judge, 23, put up a .224/.308/.373 (98 wRC+) line with eight homers and a 28.5% strikeout rate in 61 games for Scranton this summer. "(Judge) struggled for stretches against experienced pitchers who found holes in his swing with breaking and offspeed pitches," said the write-up. "He did show the ability to make adjustments and punish mistakes. Judge uses a gap-to-gap approach with bat speed and natural strength to drive the ball."
As for Sanchez, the scouting report says he was "more mature off the field" and "in noticeably better shape this season." The write-up also noted his "improved plate discipline" allowed him to better tap into his power in games. "He has double-plus arm strength behind the plate, and though he worked hard at improving his receiving, it remains the biggest hurdle for him to clear at catcher." Sanchez, 22, hit .295/.349/.500 (145 wRC+) with six homers in 35 games for the RailRiders.
I was a bit surprised 2B Rob Refsnyder didn't make the top 20, especially since Baseball America's prospect rankings tend to be performance driven. Then again, I guess that could be why Refsnyder didn't make the International League list. He had a good (123 wRC+) but not truly great year with the RailRiders. Others like RHP Bryan Mitchell, OF Slade Heathcott, and OF Ben Gamel are fine prospects, but not top 20 in the league caliber prospects.
Other league top 20s: Rookie Gulf Coast League, Rookie Appalachian League, Short Season NY-Penn League, Low-A South Atlantic League, High-A Florida State League, Double-A Eastern League