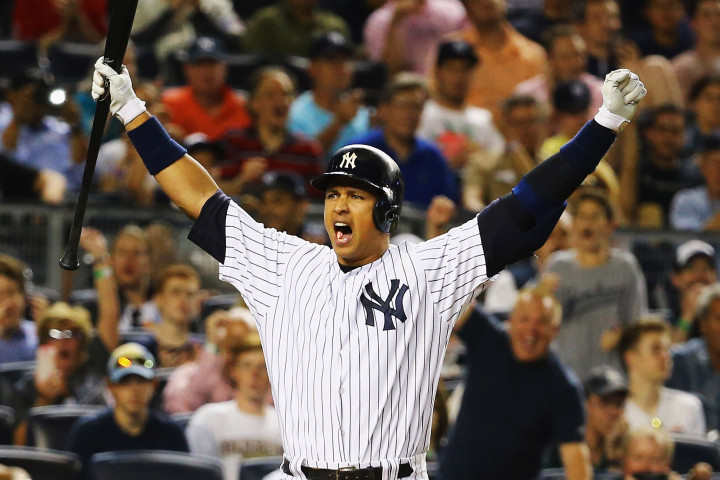 Whether you think this 2015 Yankees team underachieved — heck, they had a eight-game lead in the AL East in late July — or overachieved — among the 31 experts from ESPN, SI, CBS Sports and Yahoo! Sports, only one (Buster Olney) picked the Yankees to make the playoffs — there is no doubt that this team had its share of historic and record-breaking statistical performances.
Without further adieu, here's the second part of our season-ending "Yankeemetrics," with a look at some notable feats by the individual players. In case you missed, yesterday we looked at some of the best (and worst) accomplishments from a team perspective.
Alex Rodriguez
A-Rod finished with 33 homers and 86 RBIs, both of which are the most by any Yankee in his age 39 season or older. The previous records were set by Babe Ruth in 1934, when he hit 22 homers and had 84 RBIs.
It was also A-Rod's 14th career season with at least 30 homers and 20 doubles, the most in major-league history. The only others with 13 such seasons are Albert Pujols, Barry Bonds and Hank Aaron.
Of course, he reached a couple notable round-number milestones — 3,000 hits, 2,000 runs and 2,000 RBI. Combined with his 326 career stolen bases, A-Rod is now the only player in baseball history with at least 3,000 hits, 2,000 runs, 2,000 RBI and 300 steals.
Mark Teixeira
Teixeira hit 31 homers in 111 games, the ninth time in his 13 seasons he's reach the 30-homer mark. The only other switch-hitter in baseball history with nine 30-homer seasons is Mickey Mantle.
Carlos Beltran
Beltran hit 34 doubles, the most by a Yankee in his age 38 season or older, surpassing the 33 that Paul O'Neil hit in 2001. He also reached the 500 career doubles mark in September, joining Chipper Jones and Eddie Murray as the only switch-hitters in that club.
Brian McCann
McCann's 26 homers were a career high and the ninth time he's hit at least 20 homers in a season, including each of the last eight years dating back to 2008. He is one of three catchers all-time with eight consecutive 20-homer seasons. Both Yogi Berra and Mike Piazza reached 20 home runs in 10 straight campaigns.
Brett Gardner
Gardner joined Derek Jeter (8), Hal Chase (8) and Wid Conroy (6) as the players in franchise history with at least six career 20-steal seasons. He also reached 200 career steals, the second Yankee to steal 200 bases in his first eight MLB seasons. Chase piled up 243 steals in his first eight seasons from 1905-12.
Greg Bird
Bird's rookie season ended with this terrific line: 46 games, 178 plate appearances, 31 RBIs, 11 homers, .261 batting average, .343 on-base percentage and .529 slugging.
Only three other Yankees had a higher slugging percentage than Bird in their age-22 season or younger: Mickey Mantle (1952), Lou Gehrig (1925) and Joe DiMaggio (1936, 1937).
His numbers were also historic for a guy that has played in just 46 career games. Before Bird, no other Yankee had ever hit at least 11 homers and nine doubles this early into his career, within his first 46 major-league games.
Masahiro Tanaka
Despite missing several months with injuries, Tanaka still managed to rack up 141 and 139 strikeouts in each of his first two seasons, respectively. His 280 career strikeouts are the second-most in franchise history for a player in his first two major-league seasons, trailing only El Duque Hernandez (288).
Tanaka finished this season with a 0.994 WHIP, the lowest among AL pitchers with at least 150 innings pitched in 2015. It was also the second-lowest WHIP by a Yankee pitcher in a single season (min. 150 IP), behind Russ Ford (0.881) in 1910.
Nathan Eovaldi
Although Eovaldi pitched much better once he figured out how to use his splitter, he still ended up with a 4.20 ERA to go along with his gaudy 14-3 record, mostly because the Yankees loved to score runs with him in the game. Among all Yankees with at least 15 decisions in a season, no other pitcher in franchise history had as high an ERA (4.20) as Eovaldi and as high a winning percentage (.824).
Luis Severino
Severino's 2.89 ERA is the third-lowest for any Yankee in his age-21 season or younger (min. 10 starts). The two guys ahead of him are Whitey Ford (2.81 in 1950) and Hank Thormahlen (2.48 in 1918).
Dellin Betances
With 131 strikeouts this season (four shy of his total last year), Betances became just the third relief pitcher in major-league history with consecutive 130-strikeout seasons, joining Rob Dibble (1989-90) and Red Sox reliever Dick Radatz (1962-64).
He also nearly matched his ERA from last year (1.40), finishing at 1.50 after a couple rough outings in September. Still, Betances is the first pitcher with back-to-back seasons of at least 100 strikeouts and an ERA of 1.50 or lower since Walter Johnson in 1918-19.
Andrew Miller
Miller's first season pinstripes couldn't have gone much better: 36 saves, 100 strikeouts, 2.04 ERA. He is the first pitcher in franchise history with at least 35 saves and 100 strikeouts in a single season.