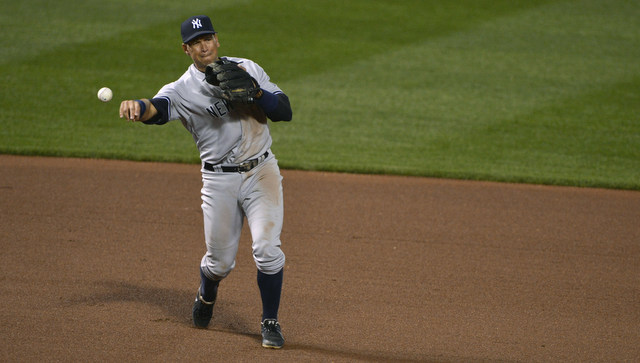 The 2015-16 offseason is now underway, but things really won't get going until Saturday, when free agents can start signing with new teams. Even then the first few days and weeks of free agency can be slow. Like the regular season, the offseason is a marathon, not a sprint.
Once the offseason really gets moving, the Yankees will look for ways to improve despite limited maneuverability, both in terms of the roster and payroll. The payroll could always increase — these are the Yankees after all, they might has well have a money printing room in the basement of Yankee Stadium — but Hal Steinbrenner has been hesitant to give the thumbs up. That's another topic for another time, I guess.
Roster flexibility is a different matter. Roster spots are finite. You've got your 25-man active roster and 15 reserve players on the 40-man roster. That's it. For the Yankees, eleven of those 25-man roster spots are already accounted for thanks to guaranteed contracts. Add in arbitration-eligible players and it's 18 spots. Then add in the no-brainer pre-arbitration guys and it's 21 spots. Here's the roster:
Catcher

Infielders

Outfielders

Rotation

Bullpen

Brian McCann
Mark Teixeira
Brett Gardner
CC Sabathia
Andrew Miller
Dustin Ackley
Jacoby Ellsbury
Masahiro Tanaka
Dellin Betances
DH
Didi Gregorius
Carlos Beltran
Michael Pineda
Justin Wilson
Alex Rodriguez
Chase Headley
Nathan Eovaldi
Adam Warren
Luis Severino
Ivan Nova
BENCH
?
John Ryan Murphy
?
?
Brendan Ryan
?
Four open spots: two pitchers and two position players. With Warren and Nova in the bullpen — at least for this exercise — the Yankees have rotation depth in case someone gets hurt or unexpectedly falls apart. So those last two pitching spots don't really come with defined roles. The closer is set, the setup guys are in place, the long men are there. They need two middle relievers, basically. The more dominant the better.
The position player spots are where it gets interesting because the Yankees need a backup outfielder and they need to find a way to better rest their veteran players. That will be easier said than done given the lack of versatility. Here are some possible ways to improve things.
Give Alex A Glove
The Yankees were very hesitant to play A-Rod in the field this year — he didn't play the field at all after May 23rd and didn't play a full inning in the field after May 5th — and I get it. He's over 40, he's got two surgically repaired hips, he's not very mobile anymore. All good and valid reasons to keep him at DH.
That said, I think the Yankees should have him work out at first base a little more often next year. (Forget third base, that's not happening at this point.) Not regularly, but maybe once every ten games? That frees up the DH spot for someone else and adds more flexibility. It's not much, but it's something. Alex is crazy good at this baseball thing. Give him time at first in Spring Training and he'll pick it up.
Joe Girardi has already talked about finding a way to keep his veteran players fresh next year, and that includes A-Rod, who faded in the second half. He played 151 games this season and started 138. Maybe the magic number next year is 120 starts. Is there any chance it could be 105 at DH and 15 at first? That's not too much to ask.
Put JRM Back On The Infield, Sometimes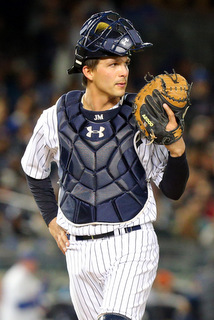 The infield is not unfamiliar territory for Murphy. He played third base in high school before converting to catcher full-time after being drafted, and he played 14 games at third in the minors as well. The Yankees had him work out at first base late this year and Murphy routinely takes ground balls at third base before games, though most players work out at other positions in batting practice.
Murphy's long-term value is greatest at catcher. Put him at another position full-time and he's just another guy. The Yankees don't need him to play another position full-time, however. They could just use him for spot start duty at either first or third base. Position changes are usually far-fetched, especially when they involve catchers, but the Yankees did have Murphy spend time getting familiar with first base this season, so it's at least crossed their mind. He's athletic enough and it's a way to get him some more at-bats.
Put Refsnyder Back In The Outfield, Sometimes
To me, this is less realistic than putting Murphy at first or third base. Murphy's a good defensive catcher. Refsnyder is a bad defensive second baseman who needs more reps there. Any time he spends in the outfield — as you know, Refsnyder was an outfielder in college before the Yankees moved him to second base — is time he could be spending at second base, where he needs work and is ultimately most valuable. Is putting Refsnyder in the outfield an option? Yeah. Of course. It's an idea to kick around. I'm not sure having Refsnyder spend time in the outfield is best for his development at second base though.
Get A True Utility Man
The "go outside the organization" option. The Yankees could bring a true utility player type. They could go high-end (Ben Zobrist), mid-range (Martin Prado), or low-end (Mike Aviles). All three of those guys can play both the infield and outfield. And unlike Ackley, they can play the left side of the infield. (Ackley's arm has been terrible since he had Tommy John surgery in college. Shortstop or third base ain't happenin'.)
Zobrist or Prado would not necessarily be a bench player, they'd almost be like the tenth position player, capable of playing in a different spot depending on who needs rest. Aviles is not someone you want to give much playing time, so he'd be a Ryan replacement more than anything. Neither can hit and Ryan is the better defender, but he can't play all three outfield spots like Aviles. You'd being trading some defensive competence for versatility, a trade that may or may not be worth making.
More than anything, the Yankees need to figure out a way to get their players more rest, whether that's full days off or half-days as the DH. This past season they had no real backup third baseman and the DH spot was unavailable because of A-Rod. With limited roster flexibility, both in terms of players under contract and available roster spots, the Yankees will have to get creative.