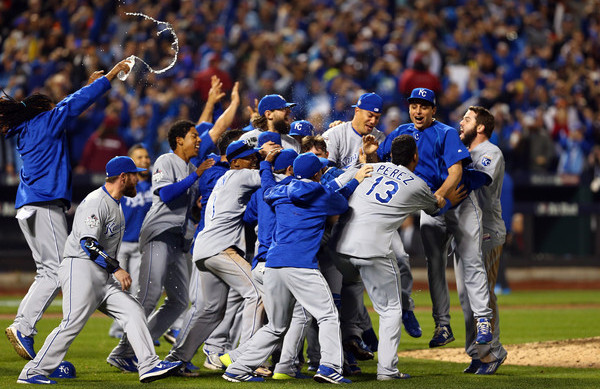 For the first time 30 years, the Kansas City Royals are World Series champions. They beat the Mets 7-2 in 12 innings in Game Five Sunday night. Matt Harvey was brilliant, but the Royals scored two in the ninth to tie and then five in the top of the 12th to win. Here's the box score and here's the wild WPA graph.
I'm going to remember Eric Hosmer's mad dash for home plate to score the tying run in the ninth more than anything. I was at the game for CBS and I literally stood up out of my chair and put my hands on my head when he broke for home. It was that kind of moment. What an insanely fun and memorable play:
The 2015 Royals have very few ties to the Yankees. In fact, no player on their World Series roster ever suited up for the Yankees. Joba Chamberlain did appear in six regular season games with Kansas City, however. Joba has two World Series rings now. How about that?
Pitching coach Dave Eiland played two stints with the Yankees (1988-91, 1995) and was the team's pitching coach from 2008-10. He coached in New York's farm system from 2003-07 as well. Bench coach Don Wakamatsu spent the 2013 season as a special assignment scout with the Yankees and hitting coach Dale Sveum played 30 games with the 1998 Yankees. No, really.
Congrats to the Royals for winning the World Series and to the Mets as well for their tremendous season. That is some rotation they have over there in Flushing.