Got a dozen questions in this week's mailbag. RABmailbag (at) gmail (dot) com is the place to send us your questions throughout the week.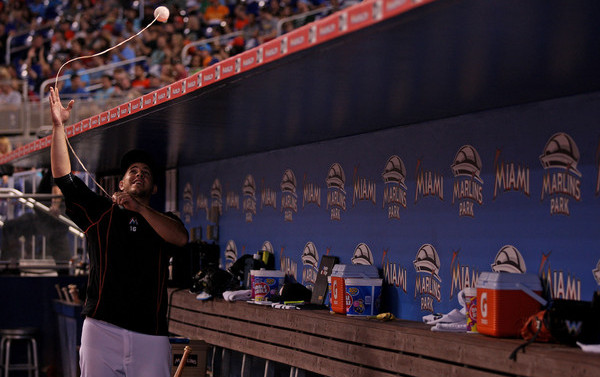 Many asked: What would it take to get Jose Fernandez?

There's been some chatter the last few days about the Marlins potentially trading Fernandez, their pitching franchise cornerstone, because of some off-the-field drama. The team didn't include agent Scott Boras in talks about Fernandez's workload limits for next season, for example. And apparently he's a jerk in the clubhouse. Andy Slater had a little more on that.
Fernandez, who turned 23 in July, is so obviously talented, but his trade value might not be as sky high as you'd expect. Don't get me wrong, it's extremely high, but we're talking about a player now only three years from free agency. Also, Fernandez isn't all that far removed from Tommy John surgery, which is sorta scary. That said, he had a 2.92 ERA (2.24 FIP) in 64.2 innings after returning last year, so he showed no ill-effects.
Maybe Fernandez is a bit of a jerk in the clubhouse, but I have zero concerns about his mental toughness. Fernandez was thrown in jail in Cuba three times for attempting to defect before successfully leaving the island in 2008. Also, he jumped into the Gulf of Mexico to save his mother after she fell overboard when they hit turbulent waters. I don't think pitching in New York or the AL East will scare him. Fernandez has been through worse no matter how messy things get on the mound.
The talent is undeniable. Fernandez was legitimately one of the best pitchers in baseball back in 2013 (2.19 ERA and 2.73 FIP in 172.2 innings) despite skipping over Double-A and Triple-A. He made the Marlins out of Spring Training despite never pitching above High-A ball. The movement Fernandez gets on his pitches seems impossible:
It's pretty much impossible to come up with a comparable trade to use as a reference point for Fernandez. Three years of a bonafide ace who is only 23 but was limited to 116.1 innings the last two years due to Tommy John surgery? How do you value that? Fernandez is extremely talented and you bet on that talent, but the elbow reconstruction is a red flag.
My trade proposal sucks, but I'm thinking any deal for Fernandez starts with Luis Severino and includes two other top young players. Something like Severino plus Aaron Judge plus Jorge Mateo plus a fourth player — maybe one of the MLB ready relievers? — for Fernandez? Does that sound even remotely realistic? I really have no idea. If Fernandez is indeed available, I'd want the Yankees to go all-out to get him, regardless of what some anonymous teammates say to the media.
Mike asks: Could a team trade a guy who has accepted a QO to another team, whom could then work out a multi-year deal, instead of the one year 15.8M salary guaranteed by accepting the QO? Who holds the cards, if the player wanted the security of a multi-year deal and was willing to be traded early in the offseason, or is there a date they have to wait to be traded once accepting the QO?
Here's a rule I didn't know existed until just recently: players who accept the qualifying offer can not be traded until June 15th of the following season. I had no idea. I don't remember who the player was (David Robertson, maybe?), but I definitely remember saying something like "make him the QO because even if he accepts, he'll have trade value at that salary" about a player. That's wrong. Players can't be traded until midseason after accepting the QO for whatever reason. As for the multiyear contract, the player and team could work out a multiyear deal even after he accepts the QO. No problem there. The MLBPA wouldn't stand in the way of the player getting more money.
Benjamin asks: #mytradeproposalsucks but take away the two teams involved, would a trade built around Brett Gardner and Dellin Betances for Matt Harvey make sense from a baseball prospective?
Like Fernandez, Harvey's trade value is obviously high but it's not oh my gosh give up everything high. He's also three years away from free agency and will be paid well through arbitration, plus Tommy John surgery isn't that far in the rear-view mirror. Unlike Fernandez, Harvey has pitched a full season since having his elbow rebuild.
Anyway, that trade doesn't make sense for the Mets. They'll want younger players for Harvey. They won't trade him for a two-player package headlined by a 32-year-old outfielder making nearly $13M a year. Betances is awesome but he is still only a reliever. Ace-caliber starters are worth a heck of a lot more than elite relievers. The Yankees would do that trade in a heartbeat. It doesn't make sense for the Mets. They could do a lot better.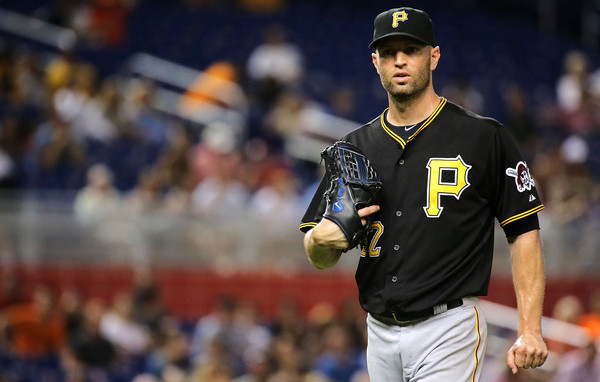 Bill asks: Any Interest in J.A. Happ? Similar stuff to Chen who the Yanks are interested in and could come much cheaper.
The Pirates and pitching coach Ray Searage have had a ton of success with reclamation project arms. They scooped up A.J. Burnett, Francisco Liriano, Edinson Volquez, and Happ off the scrap heap and turned them into quality starters in recent years. Do it once and maybe you got lucky. But four times in the span of four years? Then it's a legitimate skill.
Happ, who is somehow already 33, had a 4.64 ERA (4.12 FIP) in 108.2 innings for the Mariners this past season, then a 1.85 ERA (2.19 FIP) in 63.1 innings for the Pirates after being moved at the trade deadline. His strikeout (27.7% vs. 17.5%) and walk (5.2% vs. 6.8%) rates both improved while his grounder rate (40.4% vs. 42.1%) declined slightly. The biggest change appears to be Happ's fastball usage — he threw it 66.7% of the time with Pittsburgh but only 51.5% with the Mariners.
We'd have to take a deeper look in a non-mailbag format to see when exactly he increased his fastball usage — ahead in the count? behind in the count? to righties? with men on base? etc. — but that's a significant difference. He's not suddenly a true talent 1.85 ERA (2.19 FIP) pitcher, but Searage apparently made some adjustments that change Happ's outlook. It's fair to wonder if he can continue that performance away from Searage and/or in the AL. The fact there appears to be a tangible explanation for his improvement intrigues me. Happ's an interesting free agent sleeper, which is definitely not something I thought I'd say ever.
dmalb2 asks: I remember a while back that Jose Reyes and Mark Buehrle got traded by the Marlins to the Blue Jays, and Jeffrey Loria, the Marlins owner, got criticized for trading those guys so soon after signing them. They had been with the team for only a year. How would that be different from trading Andrew Miller after just one season? Would that sort of move give the Yankees a bad name among the players?
I guess it's possible the Yankees get a bad rap because of that, yeah, but this really is an apples to oranges comparison. The Marlins have a history of doing this — they traded Carlos Delgado one year after signing him, remember — and their reputation sucks in general because of their various fire sales. The Reyes and Buehrle deals were so heavily backloaded — Reyes made $10M in year one while Buehrle made only $6M — that it's easy to think trading them away was the plan all along. (It was.)
The Yankees have a history of paying very well and trying to win each and every year. Trading Miller after one season would definitely be the exception, not the norm around these parts. Some players on the outside might not like it, but I think the majority would understand this is a business and sometimes that's how things go. Trades happen. If it becomes a pattern, then maybe it raises a red flag. One trade wouldn't change much, I hope.
Jacob asks: What would be an equivalent package from the Yankees' farm system to what the Angels just gave up for Andrelton Simmons, and what are your general thoughts on that trade?
The two prospects are along the lines of Severino and healthy Ian Clarkin or Rookie Davis. (The Yankees don't have an Erick Aybar.) I am totally cool with sticking with Didi Gregorius over acquiring Simmons. Zero doubt about it. Gregorius is a very good shortstop who pretty much equaled Simmons' production this year. No reason to give up that sort of package for what might only be a marginal upgrade.
The trade itself was a little weird. It seems like the Braves are planning to field a team of 25 pitchers when their new ballpark opens in 2017. I guess they can use the young pitching to trade for position players, but the attrition rate is so high that they're going to inevitably get nothing out of some of these guys. Maybe mix in a position player in the next trade? As for the Angels, they got an upgrade at shortstop but used their two best trade chips and still don't have a catcher, third baseman, or left fielder. Not sure that was the best use of resources if the goal is contention in 2016, as it should be. Aybar's fine at shortstop.
Andrew asks: Who would you rather the Yankees sign to their respective deals that they are predicted to get? Heyward and his predicted $200 million deal or Upton and his predicted $150 million deal?
Give me Jason Heyward. I'm of the belief Heyward's offense will match Justin Upton's very soon, within a year or two, and the differences in base-running and defense are massive. Factor in their ages — to be fair, Upton is only 28, so it's not like he's old — and I think Heyward's worth the extra years and money. Upton's good too! I'd be happy if the Yankees added him. I just prefer Heyward, even considering the higher cost.
Ryan asks: Not Yankee related but who got the better return on the 2 Kimbrel deals? Padres or Braves?
The Padres got the better prospect package but it's tough to compare the two. A huge part of the first Craig Kimbrel trade was shedding more than $55M in salary obligations, most of which belonged to B.J. Melvin Upton. The Braves acquired Carlos Quentin, who was designated for assignment immediately, the useful Cameron Maybin and Matt Wisler, and a sleeper in Jordan Paroubeck. It's hard to say how much Atlanta valued/needed that salary relief. Saving $55M+ in real dollars vs. getting the prospects the Padres acquired? There's a decent chance the $55M proves more valuable.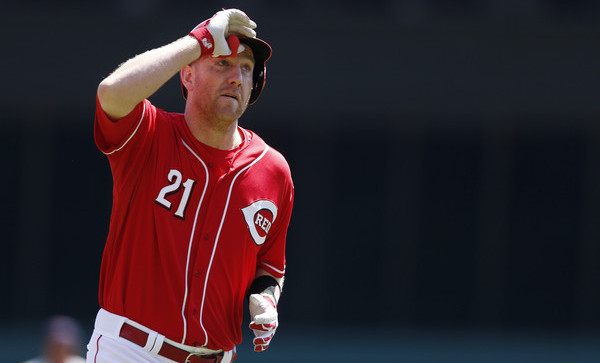 Matt asks: How great would Todd Frazier's right handed power look balancing the lineup out? He'd make a lot of sense if we can move Headley to a team that doesn't have the prospects to get Frazier.
Frazier would obviously be a great fit for the Yankees at third base. He's a better defender than many may realize and he's a legitimate 30-homer threat who would add some much needed balance to the lineup. Frazier's not a huge AVG or OBP guy — even this year he had a .309 OBP — so you have to live with that in order to get the power. He's two years away from free agency.
I'm not sure what an appropriate package for Frazier would be — not too many comfortably above-average players are traded two years before free agency — but this is not a "Chase Headley and Ivan Nova" kind of trade. The Reds are rebuilding and want young players. Asking for Severino would be fair game in my book, though I don't think the Yankees would make that trade. Something like Judge and James Kaprielian plus a third player might be more realistic. (My trade proposal still sucks.)
Spencer asks: Do you think the Yankees will target a minor league 2B like Darwin Barney or Jemile Weeks to give insurance, should the whole Refsnyder/Ackley plan not work out? Is there any merit to considering Carlos Corporan as a candidate for the backup catcher/AAA backup role? He can't hit but seems to be a good defender.
I don't know if they'll target Barney or Weeks specifically, but yes, bringing in a middle infielder on a minor league contract for Triple-A seems like a necessity. The Yankees don't have a shortstop for Triple-A right now (sorry, Cito) and I guess Tony Renda plays second base if Rob Refsnyder is in the big leagues. Stashing a veteran middle infield dude down there makes a world of sense.
The same goes for catchers. The Yankees did re-sign Eddy Rodriguez a few weeks ago, but they could go into the season with Gary Sanchez backing up Brian McCann, Austin Romine out of the organization, and Rodriguez plus someone else at Triple-A. Corporan is one possible target — he's another pitch-framing guy who can't hit — as are Tim Federowicz and Mike McKenry, among others. Even if Romine backs up McCann with Sanchez in Triple-A, Rodriguez could start at Double-A — he was there last year — with the minor league deal guy backing up Sanchez.
Jarrod asks: Given your recent BBWAA membership (congrats!), I thought you could help settle a discussion between me and a mate. If David Ortiz has a similar 2016 to what he had in 2015, would you vote him into the HOF and why or why not?
Yes, definitely. He doesn't even need a good 2016 to be a Hall of Famer in my book. He is one right now. Ortiz is arguably the greatest DH ever — no worse than what, third best? — and he's a transcendent player who was a key piece of the Red Sox's recent run of success. You can't tell the story of baseball history without Ortiz. Whether he actually gets into the Hall of Fame is another matter. The voters have been punishing guys with performance-enhancing drug ties — heck, they're punishing guys who look like they have PEDs ties — and Ortiz figures to get lumped into that group. I'd vote for him. We're all Yankees fans, we all hate Ortiz's guts, but respect the career. He's been incredible.
Mike asks: I live in Northern NJ and have Comcast and as of right now I don't have any access to Yankees Baseball on YES. Is MLB.tv an option or am I subjected to blackouts? Please help!
MLB.tv won't help, sorry. You'll still be blacked out of live games. The good news is YES and Comcast are reportedly still negotiating and it is only mid-November, so there's still a few months to go before Spring Training. Hopefully the two sides can get it resolved by then. It would be a damn shame if this turned into a Time Warner/Dodgers situation. (All non-TWC customers in Southern California have been blacked out of SportsNet LA for two years now.)