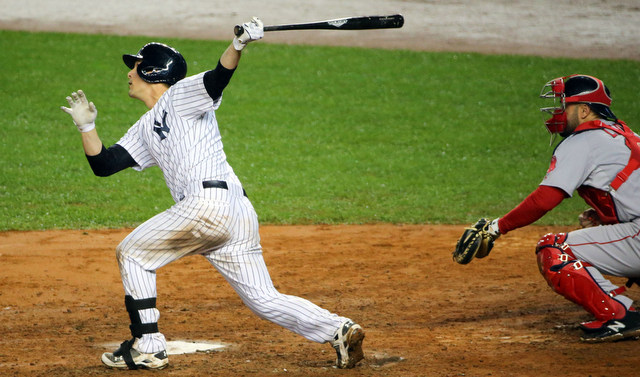 Last offseason the Yankees reached a breaking point with their catchers. Brian McCann was locked into the starting job, and they had three viable candidates for the backup spot: Francisco Cervelli, John Ryan Murphy, and Austin Romine. Cervelli was the incumbent, Murphy was as big league ready as he was going to get, and Romine was out of minor league options. Something had to give.
The Yankees acted early in the offseason, trading Cervelli to the Pirates for Justin Wilson one year ago today. And with that trade, they gave Murphy a rather large vote of confidence. Cervelli was quite productive as a backup, at least when healthy, and keeping him for depth would have been completely understandable. Instead, they opted to make a change, used Cervelli to bolster the bullpen, and handed the reins over to Murphy.
A Competition, But Not Really
Although Murphy was obviously the favorite, the Yankees held one of those rigged competitions in Spring Training to determine the backup catcher. Murphy and Romine were the headliners, and others like Gary Sanchez and Eddy Rodriguez were said to be in the mix too. Murphy appeared in 19 Grapefruit League games and hit .238/.304/.310. Romine appeared in 17 games and hit .171/.216/.200.
Ask the Yankees and they'll tell you those combined 83 plate appearances were used to determine their backup catcher for Opening Day. But we all knew it was going to be Murphy. He jumped Romine on the depth chart, so much so that when Cervelli got hurt last year, it was Murphy who got the call, not Romine even though he spent almost the entire 2013 season as Chris Stewart's backup. Murphy "won" the job, then Romine was put on waivers and was dropped from the 40-man roster.
A First Half to Forget
The life of a young backup catcher is not easy, especially when you're stuck behind a veteran like McCann. You're used to playing everyday and now all of a sudden you're playing once or twice a week. The adjustment from starter to part-timer can be difficult. Being a bench player ain't easy, you know.
Murphy got his first start of the new season in the third game, catching CC Sabathia and facing lefty Daniel Norris. He went 2-for-4 with two doubles in the loss. His next start came two days later, after McCann caught that 19-inning game against the Red Sox, and that was the start of Murphy's first half swoon.
From that game through the end of May, Murphy went 8-for-39 (.205) in 19 games, though he did record three doubles and a triple. June was better — 9-for-29 (.310) with a double in 12 games — and after limited time in early-July, Murphy cruised into the All-Star break hitting .247/.286/.325 (63 wRC+) in 29 games and 85 plate appearances. Meh.
A Second Half to Remember
After the All-Star break, the Yankees seemed to make a concerted effort to pick their spots with Murphy. He essentially became a platoon bat, starting against most left-handers to give McCann a rest. Five of his first seven starts of the second half were against southpaws, and the Yankees were so committed to this that Murphy even started back-to-back games against lefties on July 31st and August 1st. McCann actually sat two straight games.
The reward? Murphy went 11-for-27 (.407) with two doubles and a home run in those seven starts. He struck out only four times. The home run was a big one too. It was a go-ahead three-run home run over the high wall in right-center field at Target Field. Naturally, it came off a lefty, Glen Perkins.
Murphy continued to start against most lefties in the second half and continued to hit. He went deep twice in the span of three starts in early-September, first taking Henry Owens deep, then getting Wei-Yin Chen. After going 9-for-33 (.273) with those two homers in September, Murphy finished the second half with a .308/.368/.487 (134 wRC+) batting line in 25 games and 87 plate appearances.
As the team the Yankees really struggled against lefties down the stretch. McCann actually had a decent year against southpaws (108 wRC+), so Joe Girardi looked for ways to get him and Murphy into the lineup at the same time. With Alex Rodriguez tying up the DH spot, the Yankees had Murphy work out at first base at the very end of the season. He's a former infielder — a third baseman, mostly — so it made sense to try it.
Murphy never did get into a game at first base, but the fact the team was considering him at the position showed how much they wanted his bat in the lineup against left-handers. He was behind the plate when the Yankees clinched their first postseason berth in two years, then stole the show during the postgame celebration.
There was talk the Yankees may start Murphy over McCann against the left-handed Dallas Keuchel in the wildcard game, but that didn't happen. The point stands though. The Yankees viewed Murphy as a weapon against lefties.
All told, the 24-year-old Murphy hit .277/.327/.406 (99 wRC+) with three home runs in 172 plate appearances across 67 games. That includes a .266/.314/.456 (108 wRC+) line in 86 plate appearances against lefties and a decent .289/.341/.355 (91 wRC+) line in 86 plate appearances against righties. Among the 54 catchers to bat at least 150 times in 2015, Murphy ranked 19th with that 99 wRC+. Pretty cool for a backup.
Defense Not First
When the Yankees drafted Murphy back in 2009, he was relatively new to catching, so his first few seasons of pro ball were spent learning the position. He made some tremendous strides from 2011-14, enough that the Yankees were comfortable with him at the MLB level. They do value catcher defense highly, after all.
The numbers say Murphy was an average-ish defensive catcher this season. He threw out eight of 29 attempted base-stealers, or 28%, which is basically league average. Both StatCorner and Baseball Prospectus say he was an average pitch-framer. His rate of 13.8 innings per passed pitch was actually much worse than the league average (20.9), though he once did this: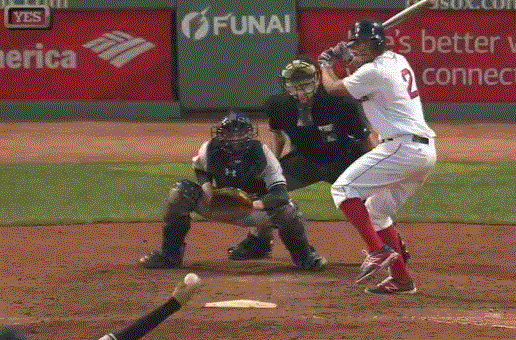 Average throw-out rate plus average framing plus below-average blocking equals a bit below average overall? I guess so. Defensive stats are sketchy, especially for catchers. I thought Murphy was good defender based on the eye test, though what do I know. He certainly wasn't a liability. I think we can agree on that. As far as backup catchers go, it's really hard to find fault with anything Murphy did in 2015.
Looking Ahead to 2016
Murphy is a trade chip this offseason. I know that because the Yankees traded him to the Twins for Aaron Hicks yesterday. I figured he would be back as the backup catcher but a trade was never out of the question, obviously. So long, Serial Killer John Ryan Murphy. It's been real.