Because of the health concerns in their rotation, the Yankees planned to give their starters an extra day of rest whenever possible this season. Off-days helped but that wasn't enough. The team would have to insert a spot sixth starter on occasion to make it work, which they did quite often this summer.
Following his hit or miss debut last season, Chase Whitley was dubbed the de facto sixth starter in camp, little did we know at the time. Later in the season Bryan Mitchell held that role. Both spent time both with the Yankees and in Triple-A Scranton as depth arms in 2015, and both missed time with injuries. Whitley's was more serious and Mitchell's was much scarier.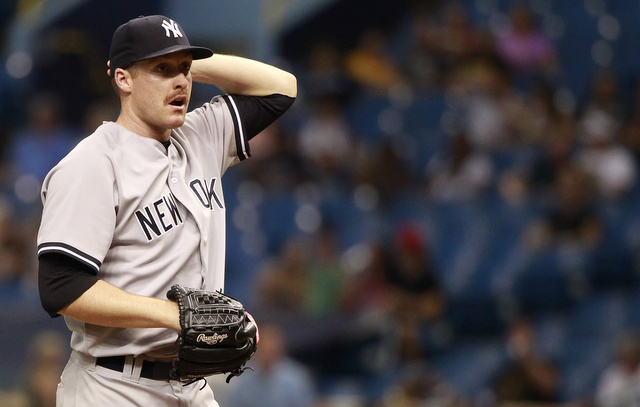 Ace Whitley
Had the Yankees held any kind of true roster competition in Spring Training, I'm pretty sure Whitley would have won a job on the pitching staff. The 26-year-old allowed two runs in 15.1 innings in camp, striking out 12 and walking only three. He made two starts and five relief appearances. Whitley was awesome during Grapefruit League play and it looked like he was going to be part of the Opening Day roster.
That wasn't the case. The Yankees were planning to use him as their sixth starter, someone who would come up to make spot starts whenever the team needed an extra arm. That was his role. Sit and wait in Triple-A until everyone else needed a breather. Whitley made three effective starts with the RailRiders in April — he allowed four runs in 17 innings (2.12 ERA and 2.69 FIP) — before getting called up to make his first spot start.
On April 28th, Whitley held the Rays to one run in five innings. Unspectacular, but effective. What was supposed to be a one-start cameo turned into a regular rotation spot, however. Masahiro Tanaka was placed on the DL with a forearm issue the same day Whitley made his spot start, so the Yankees had to keep him in the rotation. Six days later, Whitley shut out the Blue Jays across seven masterful innings.
Whitley's next start didn't go so well — the Orioles scored five runs in 5.2 innings and took him deep three times — and the one after that was his final start of the season. In Tampa Bay on May 14th, after getting charged with three runs in 1.2 innings, Whitley walked off the mound with what proved to be a torn ulnar collateral ligament. Five days later, he had season-ending Tommy John surgery.
Whitley's control disappeared in that final inning — he walked the final batter on four pitches and missed wide with several other pitches earlier in the inning, including one that went over everyone's head to the backstop. Whitley later acknowledged his elbow had been bugging him for a few weeks, but he didn't tell anyone and tried to pitch through it. At some point that night the ligament had had enough and snapped. So it goes.
In those four starts with the Yankees, Whitley had a 4.19 ERA (4.58 FIP) and soaked up 19.1 innings. By all accounts his rehab has gone well. The Yankees tried to sneak Whitley through waivers to remove him from the 40-man roster last week, but the Rays claimed him, so he's no longer in the organization. The team has a bunch of these spare right-handers on the 40-man, so when time came to make space, the injured guy lost out.
The Yankees selected Whitley in the 15th round of the 2010 draft — he was a third baseman and pitcher in college, then the Yankees converted him to the mound full-time in pro ball — and got 95 innings of 5.02 ERA (4.23 FIP) ball out of him, which is essentially replacement level. Considering the expected return on a 15th round pick is basically nothing, Whitley was a nice little get for New York. So long, Ace. It's been real.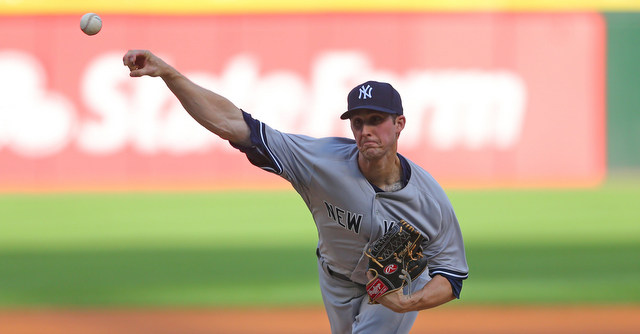 Good Arm & Bad Results
When the season started, Mitchell was something like the seventh or eighth pitcher on the rotation depth chart. Chris Capuano got hurt in Spring Training, pushing Adam Warren into the rotation. Whitley was the sixth guy, and he got hurt almost exactly when Capuano returned. The question for Mitchell was whether the Yankees would go to him or Esmil Rogers whenever they needed a starter.
The Yankees never did need Mitchell to come up to make a start. At least not early in the season. He had a rough spring (nine runs in 12.1 innings) and started the season with Triple-A Scranton. Mitchell made 13 starts with the RailRiders and, predictably, was anywhere between very good and very bad. That's his thing. He had a 2.79 ERA (3.07 FIP) in 67.2 innings in those 13 starts.
The Yankees called Mitchell up for the first time this season as part of the bullpen shuttle in late-June, when they needed a fresh long man. He made his first appearance with New York on June 20th and recorded one of those fancy three-inning saves in a blowout win. Mitchell stuck around for a bit after that, allowing two earned runs in 6.1 innings in his next four appearances, all in short-ish relief.
Following a brief return to Triple-A Scranton around the All-Star break — the Yankees wanted Mitchell to stay stretched out, so he was send down to make two starts — Mitchell was called back up to join the Yankees in early-August. He made a spot start against the White Sox on August 1st and allowed four runs in four innings on a limited pitch count. The Yankees then moved him back into long relief.
Mitchell's best outing of the season came against the Indians on August 11th, when he threw three scoreless innings in extra innings, striking out five. In his next appearance, another spot start, Mitchell took a line drive to the face in what was a really scary scene.
Mitchell escaped with only a small nasal fracture, which was actually good news, all things considered. He didn't have a concussion or any other neurological damage, and the ball managed to avoid his eyes and jaw. It hit the bill of his cap before deflecting into his nose.
Amazingly, Mitchell returned to the mound only eleven days later. He spent some time on the 7-day concussion DL while going through tests, but otherwise he was back on the mound in short order. Mitchell wasn't any good after that, but at least he was healthy and back on the mound.
In ten appearances after the line drive, Mitchell allowed 12 runs on 13 hits and ten walks in 8.2 innings. He struck out only seven and opponents hit .333/.480/.513 against him. Yikes. Mitchell was not included on the wildcard game roster, because duh, and he finished the regular season with a 6.37 ERA (4.75 FIP) in 29.2 big league innings spread across two starts and 18 relief appearances.
It's definitely possible the whole line drive to the face thing affected Mitchell's performance down the stretch. If not physically then mentally. He could have been pitching tentatively because he feared getting hit again, something like that. Although he escaped with a relatively minor injury, that's a really scary incident and it could have shaken him up. The fact he was able to physically pitch eleven days later was impressive, but that doesn't mean he was ready to go mentally.
Anyway, the Yankees sent Mitchell to Puerto Rico to play winter ball this offseason, to make up some innings after spending so much time in the bullpen this summer. He's thrown 21.2 innings in five starts (4.15 ERA) in winter ball so far but is struggling with control (14/12 K/BB), though that isn't uncommon. Mitchell's got a great arm but location continues to be an issue.
Next season will be Mitchell's final minor league option year, so he has to stick in MLB for good in 2017 to be exposed to waivers. I expect the Yankees to bring him a camp as a starter and then send him to Triple-A Scranton to continue working as a starter next season, but a full-time move to the bullpen may be in the cards at some point. We'll see.