The following is a guest post from Adam Moss, who you know as Roadgeek Adam in the comments. He's previously written guest posts on Tim McClelland, Frankie Crosetti, the No. 26, Casey Stengel, Leo Durocher, Miller Huggins, and Jerry Kenney.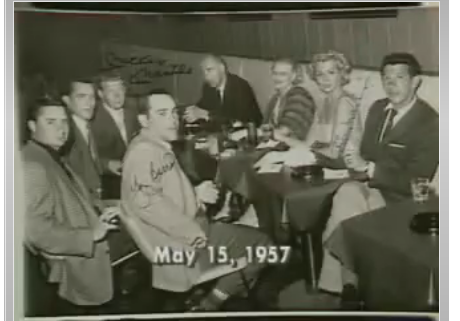 The early part of the 1957 season for the Yankees would qualify as extremely interesting, considering the season wrapped up with the Yankees losing to the Milwaukee Braves in the World Series, 4 games to 3. The early Yankees were very streaky, and by mid-May, the team was starting to show some signs of getting out the streaky form, only to revert back. However, May and June became more famous for an event that occurred off the field, and the delicate history between Billy Martin, George Weiss and Casey Stengel, all of which changed as a result.
May 15 – The Game Before
The Yankees won a game at Yankee Stadium against the Kansas City Athletics on May 15, 1957. The winning pitcher was Tom Sturdivant, who was coming off a complete game loss against the Cleveland Indians and Herb Score/Bob Lemon (the future Yankee manager). That game on May 7 also happened to be the game where Herb Score was nailed in the eye on a liner from Gilbert McDougald. That ball managed to deflect to third and McDougald was thrown out at first. Score would be carted off the field in a stretcher while Lemon came in and threw 8.1 innings of one-run baseball. Tom Sturdivant gave up 2 runs, 5 hits, 2 walks and 9 strikeouts.
Sturdivant was in the middle of one of his better streaks. Sturdivant had thrown a 7-hit complete game against the Athletics earlier in the month (May 2). On May 15, he threw a complete game shutout (called by Hall of Fame umpire Nestor Chylak) against the Athletics. This game had 5 hits, 1 walk and 3 strikeouts, complete opposites of the loss the week prior. The next start was yet another complete game against the Washington Senators on May 24. This time, he gave up 4 hits, 1 run, 7 walks and 6 strikeouts. (You wouldn't see a 7 walk player throw a shutout in this day and age!)
That stretch of excellent starts for Sturdivant was ruined in his next start, also against the Washington Senators on May 29. The starter gave up 6 earned runs in 6.1 innings and 7 hits. Ralph Terry and Bob Turley wrapped up the game with 1.2 clean innings. The Yankees that day had a complete game thrown against them instead by Pedro Ramos, one of those extremely rare switch-hitting pitchers (who would become a Yankee in 1964 for Terry!).
May 15-16 – A Trip to the Nightclub
Billy Martin was due to have his 29th birthday on May 16, 1957. Martin was an eccentric infielder for the Yankees and a particularly fond student of manager Casey Stengel. However, his personality had become a burden on General Manager George Weiss. Weiss felt that a Yankee should be a professional on and off the field and that his behavior was a poor influence on stars Mickey Mantle and Whitey Ford. It has been noted that they didn't need Martin's encouragement to be unprofessional off the field, and that became evident on the night of May 15.
Mantle, Ford, along with catcher Yogi Berra, pitcher Johnny Kucks and outfielder Hank Bauer took Martin to a nightclub on West 47th Street, the famous Copacabana. On that particular night, the headline entertainment for attendees was the great Jazz artist Sammy Davis, Jr. Things went pretty smoothly for the clan of Yankees who attended the nightclub, until a group of white bowlers entered the Copacabana. These bowlers began to heckle Davis, who had big fans in the Yankee players. Though they were drunk from their party, they came to the back of Davis.
It is at this point where details become hard to find, and some of the players deny their participation or lack thereof. The reports were that Bauer had baited and punched Edwin Jones, a 40-year-old owner of a delicatessen in the Bronx. Berra claimed that "nobody did nothing to nobody," while Mantle noted in a later civil trial that he was so wasted that he was unsure who threw the first punch. This broke out at 2:30 AM on May 16, and the New York Daily News claimed potentially on the blocking of Jones' view. Words were exchanged between the clan and Jones' which contained 19 people. Jones was taken to the hospital with a busted nose and jaw.
May 16 – The Evening After
After reports of all this came out in the news, Casey Stengel became red-faced. Stengel generally had been a hands-off manager since taking over in the 1949 season, but this took things to another level. Stengel noted to the press that the players would have to pay extra for their "entertainment." Stengel noted that he would talk to front-office officials about the nightclub escapades and deal with it.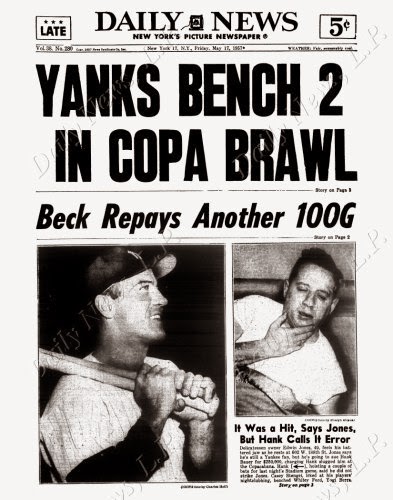 At the same time, Stengel made punishment immediate. Whitey Ford was pulled from the start he was due to make on May 16 for Bob Turley and Yogi Berra was benched in favor of Elston Howard. He put Bauer in the 8-hole (just above the pitcher, since there was no designated hitter at the time), but left Mantle alone. Stengel's justification for leaving Mantle in the three-hole, was that he was not going to sacrifice an attempt to the win the pennant because of the brawl.
Neither Billy Martin nor Johnny Kucks were scheduled to play in the May 16 game and were unaffected. The moves proved to be magical, like most of the Professor's. Turley threw a 4-hit shutout of the Athletics with 5 walks and 8 strikeouts. The lineup jumped on Alex Kellner and tagged him for 2 runs in 3 innings. Mickey McDermott finished the last 5 innings and gave up 1 run on 3 hits. One of those three runs came from a solo shot by Mantle.
As for fines, Dan Topping, president of the team, laid out 6 fines, totaling $5,500 (1957 USD; $46,000 today) on June 3. $1,000 fines were levied against Bauer, Berra, Ford, Mantle and Martin for their behavior. A $500 fine was also given to Kucks because he had a lesser salary. Stengel noted that he was upset over the stiff fines, but Weiss noted that it was not because of anything between the manager and the front office.
May 21 & June 24 – Jones v. Bauer
On May 21, Edwin Jones came to Bauer and made a citizen's arrest, because no one would have him arrested (neither the NYPD nor the NY District Attorney's Office). Jones had Bauer fingerprinted, booked on felonious assault charges, photographed with a mugshot and arraigned on the charges. He was released without bail to his attorney. Bauer's attorney, Sidney O. Friedman noted denied the charges against him and that they would sue for false arrest despite it being legal unless Jones could prove the charge against him. Bauer told the press that he never hit anyone while being accompanied by two police officers and fans along the street were supporting Bauer.
Jones' attorney, Anthony Zingales, noted that he would produce two witnesses to help support Jones' story. One was his brother-in-law, Phil Esposito who claimed that it was in an alcove where Jones was hit. Jones however claimed that that he did not see his assailant. Zingales also noted that they intended to sue Bauer for $250,000 in damages. The hearing for Bauer's felonious assault charges would be held on June 21.
Testifying in front of a grand jury, Mantle told the prosecutor that "I think Roy Rogers rode through the Copa, and Trigger kicked the man in the head." This caused the jury to break out in laughter. Ford, Kucks, and Berra also testified in Bauer's behalf. However, Bauer never came to the stand himself. The grand jury voted "no bill," meaning there was not sufficient evidence to indict. By this point, Bauer had left the courtroom with his wife. Because of the decision, Jones now became liable for damages relating to the arrest on May 21. Bauer sued him for $150,000, but the records of either lawsuit have never been released.
June 16 – The Final Judgement
Well, while Bauer was dealing with the upcoming grand jury testimony, George Weiss finally got his wish: he was rid of Billy Martin. The infielder was traded with Ralph Terry to the Kansas City Athletics for Suitcase Sampson, pitcher Risold Duren, outfielder Jim Pisoni (both who were sent to Denver) along with Milt Graff, who was an infielder acquired and sent to Richmond. Weiss used the incident, along with a brawl on June 14 against the White Sox as an excuse to trade Martin at the trade deadline (which was June 15 back at the time). The rest is known history, but the fight at the Copa is by far the most famous off-field event in Yankee history aside of Thurman Munson's funeral in 1979. The true answer of who punched the delicatessen man may never be fully known due to death of players, their denial and their state of intoxication at the time.