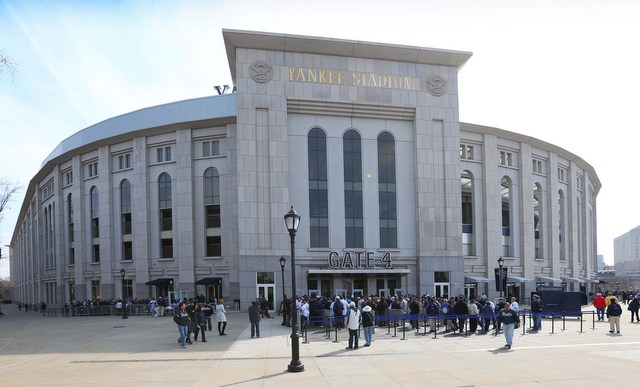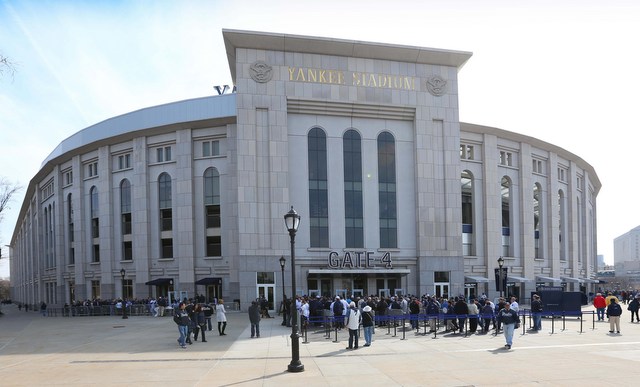 The 2015 season was the Yankees' seventh in the new Yankee Stadium. The new park has already been home to one World Series champ, and it has seen its fair share of historic moments too. Just this summer Alex Rodriguez recorded his 3,000th hit in the Bronx. He also took over sole possession of fourth place on the all-time home run list with a Yankee Stadium blast.
The new Stadium is unequal parts beautiful and excess. The new place doesn't have the charm of the old Yankee Stadium and it never will, partly because the old ballpark has been romanticized into something it never truly was. I enjoy the nice wide concourses and adequately sized bathrooms of the new place. I also miss the upper deck overhang and a Monument Park I can actually see. Oh well. Anyway, let's review the 2015 season at Yankee Stadium.
Big Attendance Drop
According to the attendance numbers at Baseball Reference, attendance dropped big time in 2015. In fact, the Yankees had their worst attendance since moving into the new Stadium. Here's the numbers:
| Year | W | L | Finish | Playoffs | Attendance | Attend/G | Rank |
| --- | --- | --- | --- | --- | --- | --- | --- |
| 2015 | 87 | 75 | 2 | Lost ALWC (1-0) | 3,193,795 | 39,430 | 1st of 15 |
| 2014 | 84 | 78 | 2 | | 3,401,624 | 41,995 | 1st of 15 |
| 2013 | 85 | 77 | 3 | | 3,279,589 | 40,489 | 1st of 15 |
| 2012 | 95 | 67 | 1 | Lost ALCS (4-0) | 3,542,406 | 43,733 | 1st of 14 |
| 2011 | 97 | 65 | 1 | Lost LDS (3-2) | 3,653,680 | 45,107 | 1st of 14 |
| 2010 | 95 | 67 | 2 | Lost ALCS (4-2) | 3,765,807 | 46,491 | 1st of 14 |
| 2009 | 103 | 59 | 1 | Won WS (4-2) | 3,719,358 | 45,918 | 1st of 14 |
Attendance dropped roughly 2,500 fans per game this summer. Of course, the Yankees still led the league in attendance, so it's not like they fell back to middle of the pack or something. They just didn't draw as many fans as they did in previous years. The new Stadium honeymoon period is coming to an end.
The Yankees did not have a farewell tour this year, which hurt attendance. Mariano Rivera and Derek Jeter helped put some butts in the seats down the stretch the last two years, even without serious postseason drives. Attendance was always going to decline somewhat for that reason. And after back-to-back postseason-less years, of course fewer fans were going to come to the park. That's how this pro sports thing works.
I have zero answers for the attendance situation. I have no idea how the Yankees can fill the Legends Seats — lower the prices? fine, but everyone still goes inside to hang out — or get more fans to the ballpark on weeknights. All I know is attendance declined this summer, and, frankly, it wouldn't be a surprise if it went down again next year.
Metal Detectors & Long Lines
This season MLB required all 30 clubs to have metal detectors at their entrances, and man, it was a pain. The lines got to be pretty long at times — the wildcard game was a total nightmare — and folks coming from the city after work would often miss the first inning or two because it took so long to get into the damn building.
The metal detectors are here to stay. There's nothing the Yankees can do about that. The team can do something about the process of going through the metal detectors though. The lines themselves were often run poorly with unclear directions and no actual lines, just a blob of people standing together. The process can be streamlined, no doubt. Hopefully this is something the Yankees improve next season. No one goes to the ballpark looking for the airport experience.
Three New Retired Numbers
The Yankees held four special ceremonies his summer to honor former players. Willie Randolph was given a plaque in Monument Park while Andy Pettitte, Jorge Posada, and Bernie Williams had their numbers retired. The Yankees also dedicated a plaque in Mel Stottlemyre's honor as part of a very touching surprise ceremony.
That was really sweet and well done. Mel's been battling cancer and it wasn't clear he would even be able to travel from his home in Washington to the Bronx for Old Timers' Day. He made it though, and the Yankees surprised him. That was a season highlight for sure.
Anyway, the three new numbers were retired, and they all look great. I think. The lack of space means the new numbers had to be hung at the front of Monument Park, on the opposite side of the outfield wall. So they're all facing the other numbers, not included with them.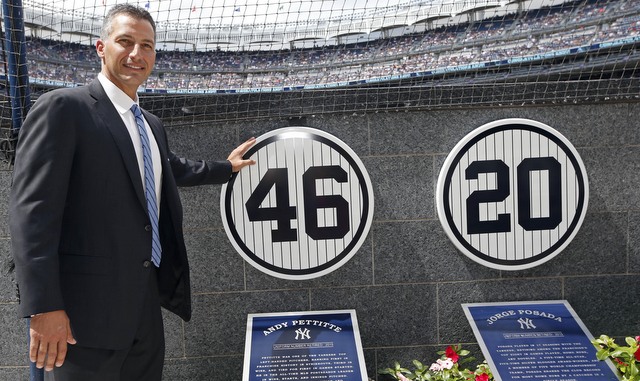 That's … weird. I mean, I get it, they ran out of space, but leaving those three numbers by themselves on the other side of Monument Park would be pretty lame. Hopefully the Yankees can squeeze some space alongside the other numbers this offseason. It's bad enough Monument Park is hiding under the restaurant. Can they at least put all the retired numbers together? Pretty please?
NYCFC
The Yankees had a roommate this year. The New York City Football Club, a Major League Soccer expansion franchise, called Yankee Stadium home in 2015 as they worked to land a facility of their own.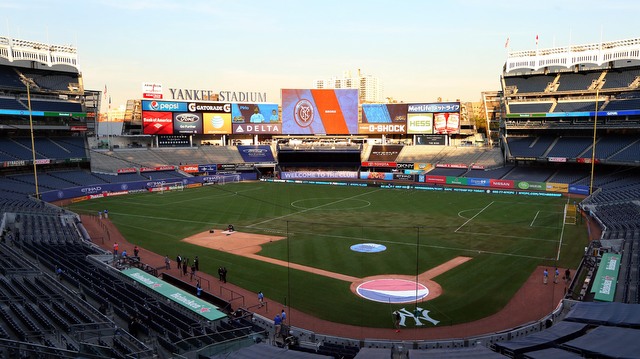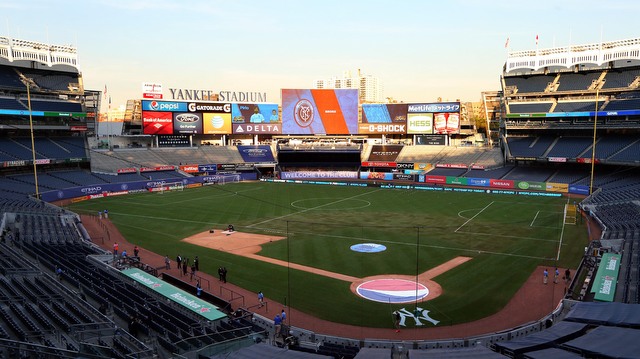 As far as I know, the field itself was kept in good shape. I was worried it would get torn up but that wasn't the case. Later in the season we could see lines in the outfield, though it wasn't that noticeable. The soccer pitch spanned left field to right field and covered only part of the infield, so the mound was fine — it wasn't torn down and rebuilt every time NYCFC played a game — and the infield grass was nearly untouched.
Nothing has been made official yet, but NYCFC is expected to call Yankee Stadium their home again next season. And maybe the season after that too. The grounds crew did a great job this year. The field was really no issue whatsoever. Based on this season, there's no reason to think sharing the park will be an issue going forward.