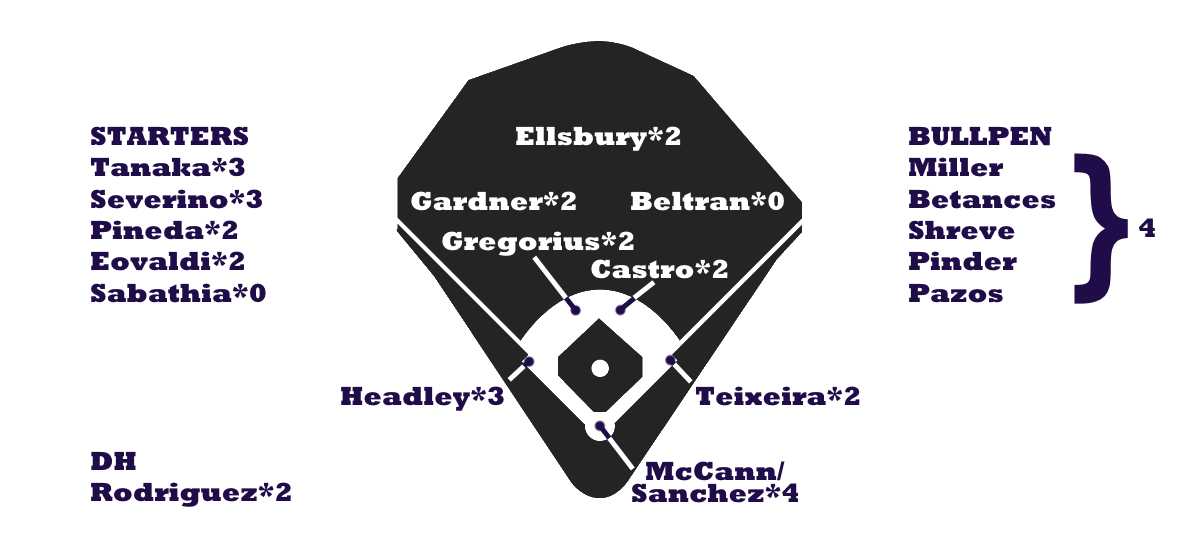 Yesterday morning, 2016 ZiPS projections for the Yankees were released over at FanGraphs. There are an awful lot projection systems out there but ZiPS has emerged as the most reliable — especially when it comes to translating minor league or overseas performance — of the bunch. Dan Szymborski's system is pretty rad.
Anyway, projections are always fun to look at, though you have to take them with a grain of salt. (Those are the WAR projections in the image above.) Remember, projections are not predictions of what the player will do next season. They're just an attempt to estimate the player's current talent level. Got it? Good. Here are some Yankees projections that caught my eye for one reason or another.
Aaron Judge
Judge has maybe the most LOL worthy projection, and I mean that in a nice way, not a ZiPS is stupid way. The system him pegs him for 30 home runs … and a 35.0% strikeout rate. That's just perfect. Judge still has some work to do to combat soft stuff away and I think if the Yankees did stick him in the show right now, he would strike out 30% of the time or more. Then again, 30 dingers! That's fun. No other Yankee projects for 30 homers.
Greg Bird
In terms of OPS+, Bird projects as the best hitter in the organization right now. ZiPS has him at .252/.324/.486 (122 OPS+) with 26 dingers in 2016. Mark Teixeira (119 OPS+) and Alex Rodriguez (115 OPS+) are the only other players close to Bird. I can buy this. Bird showed a lot of Yankee Stadium friendly pull power in his cameo this year (eleven homers in 46 games) though I do worry teams will LOOGY the hell out of him. Then again, the only non-Yankee lefty starters in the AL East right now are David Price, Eduardo Rodriguez, J.A. Happ, Drew Smyly, and Matt Moore. Not exactly Murderer's Row of southpaws there aside from Price.
Starlin Castro vs. Rob Refsnyder
Projection for Castro: .274/.310/.405 (98 OPS+) with 2.2 WAR. Projection for Refsnyder: .248/.318/.395 (98 OPS+) with 1.9 WAR. That's basically the same! I'm not sure if I buy that though. I'd bet on Castro outproducing Refsnyder by a pretty decent margin if given the same playing time. There's also the "they acquired Castro because they think he's going to get a lot better" thing. Either way, the objective projection system sees Castro and Refsnyder as basically equal.
Oh, and by the way, ZiPS projects a .253/.310/.415 (100 OPS+) batting line for Dustin Ackley next season. Am I the only one who would sign up for that right now, no questions asked? Ackley's hit .238/.298/.365 (89 OPS+) in his last 1,900 plate appearances.
No Innings
ZiPS projects Masahiro Tanaka to lead the Yankees in innings with … 157.7. Yikes. Luis Severino is second with 154 innings. That just reflects the rotation's health concerns — injury history is baked into the ZiPS algorithm — which are significant. After all, CC Sabathia led the team with only 167.1 innings this past season, so having no one reach even 160 innings next year would not be the most surprising thing in the world.
The Yankees need some arms. We've known this for weeks. This starting staff is risky as hell. Lots of upside and lots of downside, and when four of the five projected 2016 starters missed time with injuries in 2015, the downside outweighs the upside.
The Bullpen Shuttle
In terms of FIP, the best projection among the various bullpen shuttle relievers belongs to … Nick Goody at 3.68. Jacob Lindgren (3.73 FIP) is right there with him. Everyone else is at a 4.00-ish FIP or above. Lindgren and Goody lead the way with 29.5% and 27.3% projected strikeout rates, respectively. We all know about Lindgren, he was the top draft pick who zoomed to MLB, but Goody had a ridiculous 2015 season in the minors (1.59 ERA and 2.06 FIP with 33.2 K%). He might be getting overlooked as a potential bullpen factor in 2016.
The Comps
ZiPS works by comparing players to others with similar statistical profiles, so it spits out a list of comps for each player. The No. 1 comp is included in the FanGraphs post and I always enjoy these because they have a way of knocking you back down to Earth. Take Severino, for example. His No. 1 comp? Kris Benson. Benson was the first overall pick in the 1996 draft and a pretty big prospect back in the day.
Glancing at the list, Dellin Betances is the only Yankee to get a Hall of Famer as his No. 1 comp (Goose Gossage). Well, Pete Kozma drew a Leo Durocher comp, but that's Leo Durocher the light-hitting infielder and not Leo Durocher the Hall of Fame manager. Andrew Miller drew a Billy Wagner comp and you could argue Wagner's a Hall of Famer. Bird got a Roberto Petagine comp. Judge? He got Jesse Barfield. Gary Sanchez drew Todd Zeile and Eric Jagielo drew Mark Reynolds. Matt Nokes as the No. 1 comp for Brian McCann gave me a good laugh.