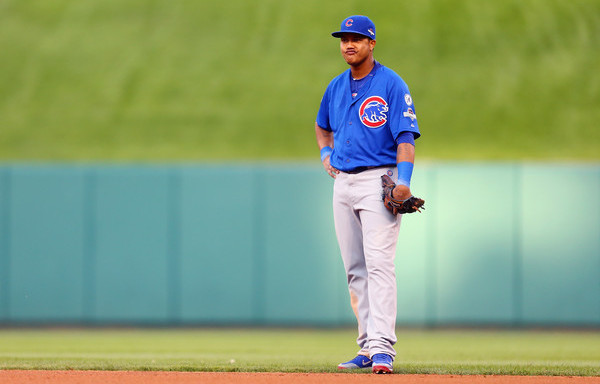 Last night the Yankees made their second trade of the offseason, sending Adam Warren and a Brendan Ryan to be named later to the Cubs for Starlin Castro. Brian Cashman confirmed he tried to get Castro at the trade deadline, then again earlier this offseason before the two teams circled back at the Winter Meetings this week. Anyway, I have thoughts. Here they are in no logical order.
1. This trade seems to go against pretty much everything the Yankees have done the last few years in that Castro is not considered a great makeup guy. Fair or not, he's been cast as a bit of a headache throughout his career, and he's also had some off-field issues, namely this and this. I doubt the "good clubhouse guy" thing has gone out the window, so chances are the Yankees feel comfortable with Castro as a person. Special assistant Jim Hendry was the Cubs GM when Chicago signed, developed, and called Castro up to MLB. Pitching coach Larry Rothschild was also with the Cubs for Starlin's rookie year, so presumably he and Hendry have firsthand knowledge of Castro the person. I'm sure both had some level of input — Hendry moreso than Rothschild — into the trade and signed off on his makeup. It's just a little weird to see the Yankees pick up a guy widely believed to have makeup issues after doing the opposite for so long. (I don't think playing in New York will be an issue. Chicago is intense and Cubs media has been trashing Castro for years. He's used to it.)
2. Now, that said, this an an opportunity for that veteran clubhouse to go to work and help Castro. I'm sure that crossed the team's mind before the trade. Specifically I'm talking about Alex Rodriguez and Carlos Beltran. Those two have long had reputations for helping young players, A-Rod in particular. Robinson Cano was a little like Castro earlier in his career — ultra-talented but a bit lazy (especially in the minors) and someone who coasted on talent — but he credited Alex for whipping him into shape and helping him take his career to the next level. A-Rod's made some big mistakes in his career, but he's always been very prepared and a very hard worker. He instilled that mindset in Cano and hopefully he (and Beltran) can do it again with Castro. Starlin may really be able to thrive under two veteran mentors like A-Rod and Beltran.
3. Castro's risk is very obvious. He's been one of the worst players in baseball two of the last three years and is a .265/.305/.383 (89 wRC+) hitter in his last 1,852 plate appearances. That's bad. I don't care how young you are or how much upside you have. That's bad. Can't argue otherwise. And yet, Castro hit .292/.339/.438 (117 wRC+) as recently as 2014. He's been league average or better at the plate in four of his six big league seasons. This strikes me as a very boom or bust move. Castro could really take off as he enters his prime — maybe he goes on a Cano-like tear these next few years, that'd be cool — or he could continue to flounder and be a below-average hitter. The Yankees are taking a shot on talent here and there's a chance this turns into a $40M dud. Then again, if Castro was putting up big numbers, it would have taken a lot more than Warren (and Ryan) to get him.
4. I do think the trade is fair-ish from a pure value-for-value perspective. Warren (and Ryan) was at the very upper bound of what I would have been comfortable paying for Castro, but it's not crazy. Cubs fans are probably more upset they didn't get more for Castro — a young everyday middle infielder signed affordably for another four years — than Yankees fans should be they didn't get more for Warren. The Yankees got three cheap years out of David Phelps then traded him away from Nathan Eovaldi. They then got three cheap years out of Warren then flipped him for Castro. Who's next in line, Bryan Mitchell?
5. The Yankees are definitely going to miss Warren because he's both good and versatile. He can start or relieve, and he's durable. Warren has never had an arm injury in his career and he bounces back well on back-to-back days, stuff like that. Warren was basically penciled in as that No. 4 reliever behind Andrew Miller, Dellin Betances, and Justin Wilson. Who's the team's second best righty reliever behind Betances right now? Mitchell? Branden Pinder or Nick Rumbelow? Eek. Warren was also the club's No. 6 (or No. 7) starter. He was really important this past season and his "quality innings in whatever role" profile will not be easily replaced. You've got to give to get, but boy, those important innings Warren soaked up are going to fall on someone less qualified now. Bringing in another depth arm should be on the to-do list now. (Yes, there's still plenty of offseason left.)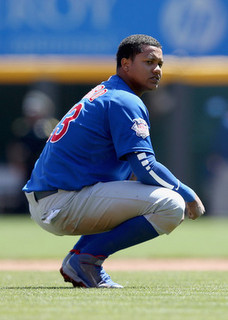 6. I do like that Castro adds balance to the lineup and has a different offensive profile than most other Yankees regulars. For starters, he's a right-handed hitter who has a history of hitting left-handers (career 106 wRC+), and we saw how southpaws chewed the Yankees up down the stretch last year. A-Rod was their only potent everyday right-handed hitter, and once he faded in the second half, the Yankees had little chance against lefties. Castro will help fix that problem. He's also a very aggressive (career 3.67 pitches per plate appearance) contact hitter (career 15.6% strikeout rate), and I don't think having a guy like that in the lineup is a bad thing. The Yankees can get caught being a little too passive at times. Having someone who comes out willing to jump on that belt high first pitch fastball adds a different dynamic to the offense. Now, putting nine guys like that in the lineup is a problem. But one? No big deal. Especially when he's hitting in the bottom third of the lineup like Castro probably will, at least at first.
7. One aspect of Castro's game that is pretty cool: he's very durable. He's played in 766 of 810 possible games since 2011 (94.6%) and he's never been on the DL. His only notable injury is a high ankle sprain suffered late last year while sliding into home plate. The Cubs shut him down for the final 23 games of the season because they were out of the race and there was no reason to push it. This is baseball, fluke injuries can happen at any time, but the ability to stay on the field and play 150+ games year after year is a valuable. That was a big part of what made Cano great. The guy played every game. Health is a skill, and six years into his big league career, it appears Castro has it.
8. The bench will have a different look now. Castro is going to be the starting second baseman but with Ryan going to the Cubs in the trade, Starlin also figures to be the backup shortstop. So now the bench is: backup catcher (Austin Romine or Gary Sanchez), outfielder (Aaron Hicks), utility man (Dustin Ackley), and a fourth guy. That fourth guy can be anything! It could be another outfielder (Slade Heathcott?), another infielder (Rob Refsnyder?), a backup first baseman (Greg Bird?), or heck, even a third catcher. That said, the Yankees need to come up with a backup third baseman for Chase Headley, because Ryan was it and now he's done. Ackley can't do it because his arm has been shot since having Tommy John surgery in college. He'd need a relay man to make the throw across the diamond. Castro has never played third at the big league level and has seven games of hot corner experience in his career, all in rookie ball a very long time ago. Gregorius has played ten innings at third in his career, all with the 2014 Diamondbacks. I guess he's the backup third baseman by default right now. Juan Uribe would be a pretty cool bench target. He can still pick it at third and do damage against lefties. Mark Reynolds stands out as another potential depth pickup. The backup third base situation is: developing.
9. Alright, so what happens with Refsnyder now? Cashman said yesterday the plan was to start him at Triple-A in the wake of the Castro trade, but what's he supposed to say? They could trade him now — the A's had interest at the deadline, remember — but there's no need to come out and say that's the plan. It's self-defeating. The Yankees didn't give Refsnyder much of an opportunity this season despite Stephen Drew's prolonged slumps, and the Castro trade is only more confirmation they aren't comfortable with Refsnyder as an everyday player. "I think that the one spot that's probably open for competition more than anything is second base," said Joe Girardi during his meeting with reporters prior to the trade yesterday. Holding on to middle infield depth is never a bad thing, but it would not surprise me at all if Refsnyder was traded now, perhaps for a spare arm or another position player who fits the roster better. We'll see. The Castro pickup certainly did Refsnyder's Yankees career no favors.