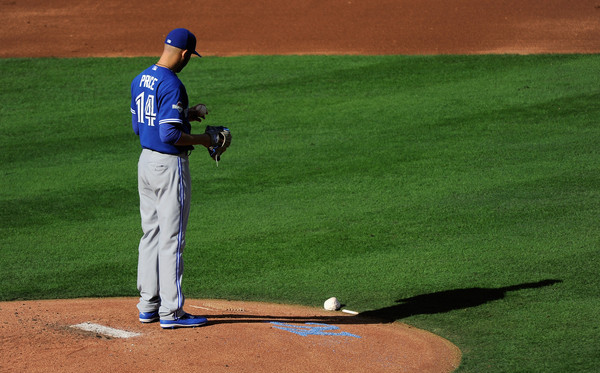 Baseball's annual hot stove mosh pit known as the Winter Meetings will take place in Nashville next week. Prepare yourselves for four days — really three days since everyone heads home after the Rule 5 Draft Thursday morning — of rumors and trades and signings, some of which might even involve the Yankees. Anyway, I have some thoughts.
1. David Price to the Red Sox has felt inevitable for a few weeks now. You don't hire Dave Dombrowski to run your baseball operations department if you're not willing to spend money or trade prospects. That contract (seven years and $217M) is the going rate for an ace these days. Roughly $30M a year over six or seven years with a conveniently timed opt-out. The Yankees were pretty clearly never going to get seriously involved in the Price sweepstakes even though he would have been a huge addition. They need a guy just like him, someone they can count on to provide a ton of high-quality innings. The Yankees are steering clear of big money long-term contracts, and it's easy to understand why when you look at the roster, but this is the cost of doing business these days. This is what a player of this caliber costs. Eventually the Yankees will jump back into the deep end of the free agency pool. I'm just not sure when.
2. Do the Yankees have to do something to respond to the Price signing? Goodness no. That's how you end up with Kei Igawa after missing out on Daisuke Matsuzaka. That's no way to build a team. The Yankees just have to stick to their plan and move forward by addressing their needs (pitching, second base), which remain unchanged. Aside from having to directly compete against Price a bunch of times next year, the signing doesn't change much of anything for New York. The AL East is going to be tough and that was always going to be the case. The Yankees haven't made any kind of knee jerk reactionary move in a very long time and I have no reason to think that will change now.
3. The Yankees are in the middle of this rebuilding on the fly thing, meaning they're trying to remain competitive while getting younger at the same time. So far they seem to be doing a pretty decent job. The 2016 season feels like a critical year to me. Lots of young guys got a taste of MLB this past season, but next year they'll be counted on to handle more of the load, plus it's the final year with Mark Teixeira and Carlos Beltran. The Yankees are hoping to use the Teixeira and Beltran money to supplement the roster next offseason, not build a new core because the young guys flopped. Luis Severino and Didi Gregorius are the key pieces but others like Greg Bird and Gary Sanchez are important too. They're going to get opportunities to help next season. I'm sure of it. The Yankees emphasized youth this past season but that was only step one of the process. Calling guys up and giving them a taste of the show is much different than counting on them to play important roles.
4. Yesterday was the non-tender deadline and, as usual, a bunch of well-known players hit the open market. None of the position players really make sense for the Yankees — I guess Tyler Flowers as the backup catcher, that's about it — but there is the usual crop of busted pitchers. Greg Holland just had Tommy John surgery and won't pitch at all in 2016. An Andrew Bailey-like arrangement would make sense, though I bet he goes back to the Royals in that case. Neftali Feliz has been alternatingly bad and hurt since 2011. He's a minor league contract only guy for me. Henderson Alvarez and Mike Minor are both coming off shoulder surgery and won't be ready until sometime in the middle of next season. Neither offers immediate rotation help. Steve Cishek interests me the most, but he was a mechanical mess this past season and who knows what else was going on. When right, he's a huge (6-foot-6 and 215 lbs.) righty with a funky arm slot and no platoon split who misses bats and gets grounders. He'd also remain under team control as an arbitration-eligible player in 2017. The Yankees talked trade with the Marlins about bullpen help last offseason before signing Andrew Miller, and perhaps Cishek was part of those talks. If so, he may still have some fans in the front office, and the Yankees might bring him in if they believe he's fixable.
5. I absolutely love that Barry Bonds is reportedly set to join the Marlins as a hitting instructor. That's a fun story and Bonds sure knows a thing or two about hitting, plus he has some teaching experience after working as a guest Spring Training instructor for the Giants the last few years. Alex Rodriguez is among those who have worked out with Bonds in the offseason — Dexter Fowler has as well — and pretty much everyone praises him for his knowledge and teaching ability. "You know how much I think of Barry. He has a brilliant baseball mind. I think he'll be good for the team, the hitters. I'll be really excited to see what (Giancarlo) Stanton will do with Barry there to develop (him)," said A-Rod to Joel Sherman. It's a no risk move for the Marlins. If Bonds helps their young players take the next step, great! If he flops, well who cares? They're already the laughing stock of the league. Bonds made hundreds of millions of dollars in his career. He's doing this because he loves the game, plain and simple. If Bonds can get back into baseball as a coach, so can A-Rod when his playing career is over.