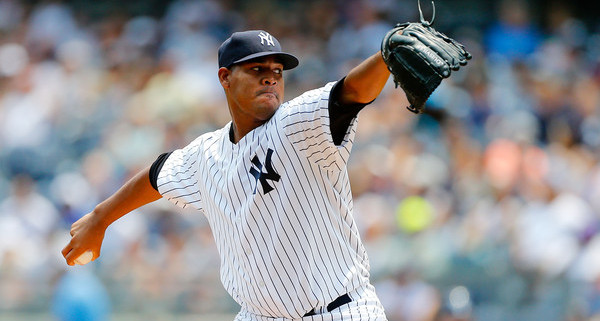 For most of the offseason the Yankees have been looking for a starting pitcher, particularly a young starter they could control beyond 2017. Both Andrew Miller and Brett Gardner have been mentioned in trade talks for such a player, though no deal has taken place. A trade for a starter won't happen either, if you take Brian Cashman's word for it.
"Our rotation is full," said the GM to reporters during a conference call following last week's Aroldis Chapman trade. The Yankees currently have six starters — Masahiro Tanaka, CC Sabathia, Luis Severino, Nathan Eovaldi, Michael Pineda, and Ivan Nova — for five spots, though that group of players comes with an awful lot of health concerns.
Cashman has a history of saying one thing and doing another — "Bubba Crosby is our center fielder," is the most notable example — and that makes him no different than any other GM. The Yankees can't come out and say they want a starter. It would potentially make them look desperate and give other teams leverage in trade talks.
That said, the rotation has been full since the end of last season and the Yankees have still been looking for a young starter this winter. I doubt they've stopped trying to acquire one. A young starter is a perpetual shopping list item. It's like toilet paper. You're always going to need it. The Yankees will never not be looking for young pitching.
The current rotation is risky but it doesn't lack upside. The Yankees have enough bodies for the rotation — Bryan Mitchell and Luis Cessa are other depth pieces — and can go into the season as is. They're looking for a young starter mostly for a future, since everyone other than Severino can become a free agent at some point in the next two winters.
At the moment, my guess is no, the Yankees will not trade for any kind of significant rotation help the rest of the offseason. They might make a waiver claim or a minor league signing, something like that, but a significant free agent signing or trade probably won't happen. The search for a young starter figures to continue into the regular season.