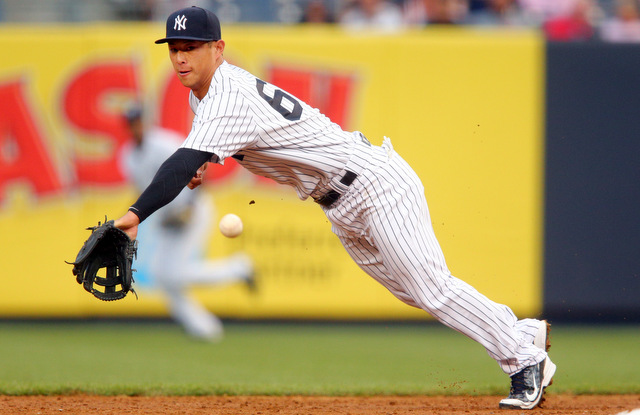 The Starlin Castro trade means Rob Refsnyder is unlikely to have a significant career with the Yankees. It'll take an injury or a surprise trade for Refsnyder to get meaningful playing time in pinstripes at this point. Castro plays the same position and is signed long-term. It's a classic blocked prospect situation.
While speaking to Chad Jennings, Brian Cashman confirmed the Yankees do not plan to try Refsnyder at third base in an effort to improve his versatility. He was an outfielder who moved to the infield, remember. They're not going to try him to the hot corner next. Here's what Cashman told Jennings:
"That's not a conversation that we've had," Cashman said. "Right now, our focus is still for him at second, but I'll always leave the door open for us to adjust as we move forward. But, for now, we have not had any of those conversations to move him off second. … Obviously if we have an injury on the left side of the infield, (Refsnyder can come up to play second base, and) Castro can swing over."
As you can see, Cashman reiterated the Yankees believe Castro can "swing over" to third base when needed even though Starlin has only played a handful of games at the position in his career, all in rookie ball years and years ago. I'm not sure how that will work out, but I guess we'll find out soon enough.
As for Refsnyder, Cashman didn't completely close the door on third base, he just made it clear it is not something they're considering at this point in time. Trying Refsnyder at third would make perfect sense though, right? The team has a need for a backup third baseman and Refsnyder's righty bat and potential versatility would fit well in the final bench spot.
The knock on Refsnyder is his defense, and to be fair, some of that is due to inexperience. He played second in high school, moved to the outfield in college, then moved back to the infield in pro ball three years ago. Baseball America (subs. req'd) says Refsnyder has an "average arm," which is a much bigger deal at third than it is at second. Here's the longest throw he made in MLB last year:
Looks good enough to me, but that is just one throw. Refsnyder's scouting report in general — average arm and okay at best hands and footwork — makes it seem like he could have big problems at third. The "hot corner" is not just a cute nickname, you know. Everything happens faster at third and the position requires strong reflexes. Refsnyder's defensive issues at second would only be exacerbated at third base.
It is still possible Refsnyder will make the Yankees as a bench player. If Castro can indeed play third, it could be Refsnyder who fills in at second base instead of Dustin Ackley. That would give the team an extra right-handed bat, which they could definitely use. Left-handers really gave the Yankees down the stretch last season. But, if Castro can't play third, it's hard to see how Refsnyder makes the team.
For now, Castro is the starter at second and Refsnyder is Plan B. Like I said earlier, it'll take an injury for him to return to the show and see meaningful playing time. The Yankees made it pretty clear they aren't comfortable with Refsnyder at second last year when they hesitated to call him up despite Stephen Drew's long stretches of nothingness. The writing's been on the wall. Hopefully whatever happens down the line benefits both the Yankees and Refsnyder mutually.