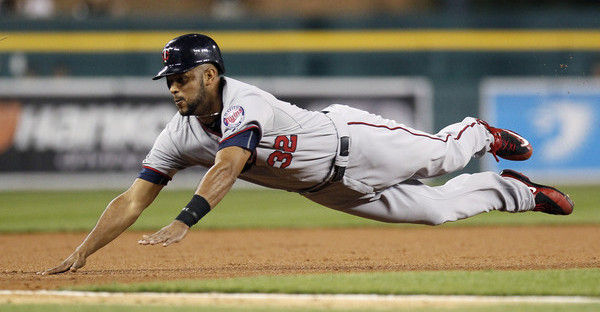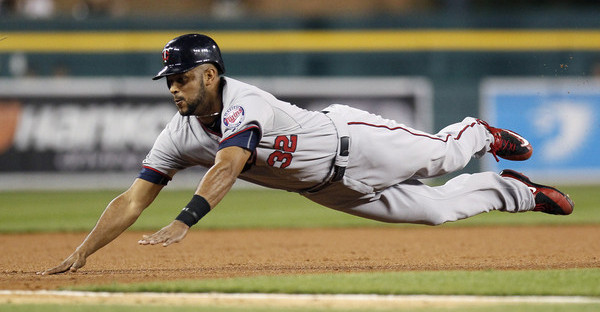 The very first move the Yankees made last offseason was re-signing Chris Young to be their fourth outfielder. They did that days after the end of the World Series. This offseason their first move was acquiring Aaron Hicks to replace Young. Probably a coincidence, or maybe the Yankees just really value quality fourth outfielders.
Brett Gardner trade rumors were flying at the time of the Hicks trade, so for a while it seemed he could end up in a starting role. Gardner is still with the Yankees, so Hicks remains the fourth outfielder for now, though it's starting to become clear the team intends to play him a fair amount. After all, Young appeared in 140 games and batted 356 times last season.
"I think (Hicks is) going to play a lot," said Joe Girardi during a recent YES Network interview (video links). "Being a switch-hitter, you don't worry about (matchups) as much. If they bring in a lefty, okay. If they bring in a righty, we don't care. And I think he's going to get a lot of playing time because of that."
Brian Cashman called Hicks an everyday player soon after the trade — he also called John Ryan Murphy an everyday player — which sounded like one of those things every GM says after a trade. He was pumping up his new acquisition. It seems there's some teeth to the idea though. The plan apparently calls for Hicks to play an awful lot going forward.
"For (Hicks) to have a strong year is extremely important," added Girardi. "Cause if you can start playing Aaron Hicks four or five times a week, and give these guys a day off a week — or maybe even two days if they need a couple days — it would really help them down the stretch."
Both Gardner and Jacoby Ellsbury faded big time in the second half last season, and the Yankees have indicated resting the two and keeping them healthy is a priority next season. Add in soon-to-be 39-year-old Carlos Beltran in right field and the Yankees have three outfield starters who maybe aren't 150+ games a year players anymore.
The math is pretty simple. To get Hicks those four or five games a week, the Yankees could rest Gardner once, Ellsbury once, and Beltran twice — one day on the bench and one day as the DH. (That would also give Alex Rodriguez some more rest.) I'm sure Hicks will come off the bench as a defensive replacement a bunch of times too. Hot and cold streaks and injuries will inevitably complicate things, but that seems like a viable plan.
"You don't necessarily need to move Gardner to center if you're giving Jacoby a day off. You can leave people just where they are," said Girardi of Hicks' versatility. "And this guy's very athletic. He's a very good right-handed hitter and I saw improvements in his left-handed swing and I watched him and watched his approach at the plate. That really excites me because I think this kid can be a complete player."
Hicks turned 26 in October and there is some evidence he is on the verge of breaking out, mostly in his more aggressive approach and new leg kick. Surely that's part of the reason the Yankees acquired him. The raw ability is obvious and they see the signs of improvement, and hope he develops into a true everyday player down the road. They're going to try to get him as much playing as possible next year to make it happen.
The Yankees are in the middle of this on-the-fly rebuild and have been buying low on young players since last winter. In some cases, plugging them into the lineup was rather easy, like it was with Didi Gregorius and Nathan Eovaldi. In other cases, like Hicks and Dustin Ackley, the Yankees will have to get a little creative. Acquiring the talent is the easy part. Getting players like Hicks to reach their potential is where it really gets challenging.