The following is a guest post from Adam Moss, who you know as Roadgeek Adam in the comments. He's previously written guest posts on Tim McClelland, Frankie Crosetti, the No. 26, Casey Stengel, Leo Durocher, Miller Huggins, Jerry Kenney, and the Copacabana incident.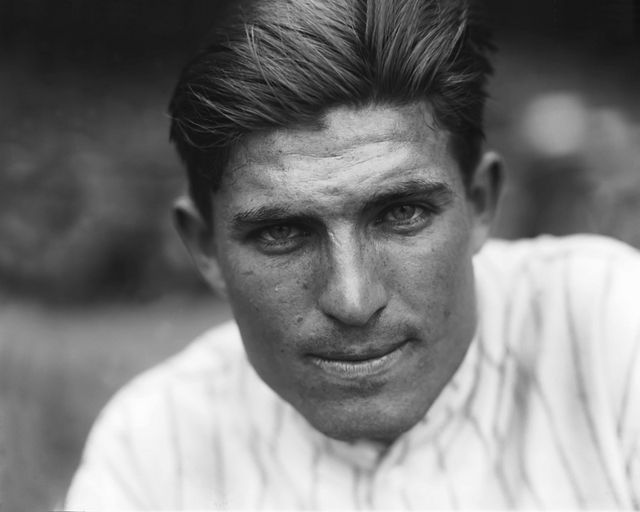 For my next articles, I want to take a look at individual members of the 1927 Yankee team, which as we know, was one of the special teams in baseball history. The 1927 team won 110 games behind the great Miller Huggins and the Murderer's Row lineup. This also happened to be the season in which Babe Ruth hit his 60 home runs and the Yankees crucified the Pittsburgh Pirates in the World Series with a four-game sweep. For the first post, I'd like to focus on the very first shortstop who eventually wore No. 2, the great and underrated Mark Koenig.
The Swiss Kid of California
Mark Anthony Koenig was of Swiss descent, the child of Charles and Stella Koenig, the former a second-generation bricklayer from Germany. Koenig was an intelligent child, taking up books at a young age, such as The Illiad from Homer. The young Californian also played the piano and admitted that he wanted to do more with his talent in playing the instrument.  Koenig was playing in the sandlots of San Francisco in the early 20th century with future teammate Tony Lazzeri, eventually attending Lowell High School (a magnet school located on Hayes Street).
Baseball was important in the life of Koenig after he was introduced at age twelve by Anson Orr, a window dresser and former member of the Golden Gate Park Bums. The Bums were an unusual baseball club in which you would have to be dressed with old clothing (trousers that barely fit and that their wives would want to get rid of) along with a baseball cap and spikes (the only two items of baseball uniforms that were allowed). The Bums did not allow the rest of the uniform as we know in baseball. Mark Koenig eventually became a member of the Golden Gate Park Bums. However, Orr sponsored two teams in the Sunset District of San Francisco, which played at the recreation center at 7th Avenue & Lincoln Way. Koenig joined the Sunset Midgets with his first uniform and people have stated that if you were able to make the team, you had to be pretty good in the first place. (This elite group includes other MLB players which as Lew Fonseca, Willie Kamm, Gene Vala and Sammy Bohne, among others.)
At Lowell High School, Koenig made the baseball team, but was nothing more than a utility infielder because of Artie Berger, who was the regular starting shortstop. When he reached his junior year at age 16, Koenig finally became a starting shortstop and his play caught the attention of Marty Kearns, a professional scout. Kearns recommended him to Nick Williams (a career minor-leaguer and long-time B-level manager) of the Moose Jaw Millers. The Moose Jaw Millers were a member of the B-level Western Canadian League, which contained only six teams: The Edmonton Eskimos (managed by ex-pitcher, Pete Standridge); the Saskatoon Quakers, Calgary Bronchos, Regina Senators and the Winnipeg Maroons. In fact, the Millers had just changed their name from the Moose Jaw Robin Hoods in 1920.
The Minors
Because of the suggestion, Koenig decided to leave Lowell High School and join the Millers for their 1921 season. Still only age 16, Koenig trained in Pendleton, Oregon, taking a train for the first time in his life via the Union Pacific Railroad. After that, Koenig would drive to Moose Jaw, Saskatchewan to play for the Millers. Playing with the Millers, Koenig batted a mere .202 in 84 games. On the team, however, he made a couple important decisions, becoming a switch hitter, which caught the attention of Yankees scout Bob Connery. At the same time, the Western Canadian League folded in the middle of the 1921 season, and as a result, Koenig hooked up with the St. Paul Saints of the American Association.
Koenig was the youngest member of the Saints, by far, at age 16 (the next was Binky Jones and Ren Kelly, both 21 at the time). However, Koenig only got into four games with the Saints that year, and hit exactly .000. Between the two teams, he managed a .199/.199 /.232 batting line. He had 61 hits that year in 306 AB, with eight doubles, one triple and no home runs. He stayed with St. Paul, but instead, was sent to their farm leagues (the D-leagues), first with the Jamestown Jimkotans of Jamestown, North Dakota. Koenig showed much improvement with the Jimkotans at age 17. He had a .254 average and .363 slugging percentage in 347 at bats with 88 hits, 18 doubles, seven triples and two home runs. The Saints did call him back in 1922, and he responded by raking in a small sample size. He had a .412 average with seven hits in seven games (six singles and a double).
The 1923 season served as a promotion for the young Koenig. Koenig played for the Des Moines Boosters, another farm team of the Saints, but now the A-team rather than D-team. Koenig responded to the promotion by improving even further. He hit at a .288 average with a .402 slugging in 156 games. He had 159 hits, 29 doubles, 8 triples and six home runs. However, the one problem with his 1923 season was his best Marcus Semien impression, THIRTY-SEVEN errors at 3rd base (not shortstop), with a .910 fielding percentage in 120 games at the position. After the season, the Saints called back Koenig.
By 1924, the young Koenig had finally filled out to his main size (six feet tall and 180 lbs). Now a member of the Saints, he was a utility player as Danny Boone was the starting shortstop for the team. Koenig struggled to hit in the AA in 1924, responding with only a .267 average and .333 slugging percentage in 68 games with 44 hits, seven doubles and two triples. His poor hitting prevented him from getting more batting opportunities, but he was convinced he would become a regular at some point, waiting for his opportunity. That opportunity did come. In the "Little World Series", the St. Paul Saints faced the Baltimore Orioles, who played for the International League. Before the series even started, Boone was injured a freak batting practice accident and knocked out of the series. This caused their manager, Nick Allen to freak. He wanted to bring an outsider in because he felt Koenig was inexperienced, but the Orioles would not permit it with Koenig already on the team. As a result, he was forced to play Koenig at shortstop and hope for the best. The best is what he got. Koenig had an excellent series, batting .429 with two home runs (including one off 26 game-winner Lefty Grove), winning the nine game series 5-4.
To The Majors
After a great performance in the 1924 Little World Series, Koenig attracted the attention of more scouts. Harry Strider, a Minneapolis-based scout for the Cincinnati Reds, who wrote a number of letters to Garry Hermann, then-President of the Reds. In November 28, 1924, he noted that he was a fine shortstop and that he was a star in the making. They considered him a versatile player able to play any position in the infield with an excellent arm. This arm would later be measured as going at 127 mph (204 km/h) thrown from 60 feet 6 inches! This was the equivalent of a 1957 automobile and 29 mph less than Bob Feller's top arm speed.
When Koenig returned to the Saints in 1925, Nick Allen named him starting shortstop and moved Danny Boone to third base. With St. Paul, Koenig hit .308/.474 /.782 in 126 games and 496 at bats. This included 153 hits, 35 doubles, 7 triples and career high 11 home runs. The Yankee scout Bob Connery joined St. Paul as an official and kept Miller Huggins and general manager Ed Barrow in touch about his performance. After Huggins watched Koenig play at St. Paul, he joined the fan club and persuaded Barrow to acquire him. The Philadelphia Athletics, St. Louis Browns, Washington Senators, Chicago White Sox and Philadelphia Phillies were also interested. On May 29, 1925, the Yankees acquired Koenig for $50,000, Fred Hoffman (a catcher), Oscar Roetteger (utility man maximus) and a player to be named later (Ernie Johnson, a utility infielder).
Koenig made his Major League debut on September 8, 1925 at Fenway Park during a double-header. Batting eighth in the lineup, Koenig got his first hit in the 2nd inning off pitcher Buster Ross. Playing in 28 games that September, Koenig got 110 AB and hit for only .209/.243/.282 with 23 hits, six doubles and one triple. However, the 1925 Yankees, known for Ruth's massive misbehavior and poor treatment of Miller Huggins, finished seventh place in the American League. In Baltimore in 1926, Ruth and Koenig got at each other because Ruth had been ragging about a play that Koenig didn't make. When they got back to the dugout, a war of words turned into a pushing and shoving match.
The 1926 season marked Koenig's first season as the starting shortstop for the New York Yankees, replacing Pee Wee Wanninger, a rookie the year prior. In order to accomplish this, Huggins moved Tony Lazzeri to second base instead of keeping him at shortstop. Lazzeri himself came from Salt Lake where he hit 66 home runs! The writers did not expect that this double play combo of Lazzeri and Koenig would be good for competing toward a World Series. Skeptics stated that Koenig could hit big league pitching but that he was erratic in his defense, which would be his failure. Writers however never affected Huggins, who stated that Koenig would play as long as he decided it was alright.
The Goat
Koenig hit his first home run on April 23, 1926 off Red Ruffing at Yankee Stadium with him leading off instead of batting eighth. Koenig in 1926 hit his career high five home runs and hit for a .271/.319/.363 batting line in 147 games. He had 167 hits, 26 doubles and eight triples to go with the five home runs. He drove in 65 runs. Unfortunately, the defensive black hole at shortstop was pretty blatant. Koenig had a career-high (minors and majors) FIFTY-TWO errors in 1238 innings. (He had 47 errors at St. Paul in 1925 along with 8 with the Yankees, which would total 55, but I count them separate statistics.)
The 1926 Yankees reached the World Series, despite the critics stating that they wouldn't go anywhere after the disaster known as the 1925 season. Currently age 21, Koenig started all 7 games at SS, and had what would be considered potentially one of the worst performances ever. In 33 at bats, Koenig managed an atrocious .125/.125/.156 line. (I'm not even sure Jason Bay or Mark Reynolds could be that bad!)  He had four hits, 2 RBI and six strikeouts. However, what became the focal point of the poor 1926 World Series for Koenig was his defense.
Koenig noted that he had a powerful arm (and the metrics proved it!), but that his glove skills was far from the best. He noted he had small hands and that gloves were smaller, causing him to boot a double-play ball in Game 7 that gave the Cardinals the World Series. Koenig admitted that he had nightmares about that bobble, but it was a prelude to being the goat of the 1926 Yankees. Regardless of his famous booting, he didn't lose trust of Miller Huggins whatsoever. Tony Lazzeri helped Koenig work on his shortstop. Koenig would admit later on that the 1927 Yankees could've had a midget at shortstop and still won the pennant. Huggins noted that once again, Koenig was playing Huggins, not the media.
Koenig batted 2nd in 1927, after Earle Combs and before Babe Ruth and Lou Gehrig, and proved to be a proficient bunter. Koenig hit .285/.320/.382 with an 83 OPS+. He also managed a grand total of 21 strikeouts in 123 games. In 526 at bats, Koenig managed 150 hits, 20 doubles, 11 triples, 3 home runs and drove in three stolen bases. Koenig missed 31 games after 38-year old and White Sox lifer Red Faber nailed him in the leg with his fastball. The Yankee trainer put a rolling pin to the bruise to cut off circulation and unfortunately, it caused him to go to the hospital. However, despite that, his defense wasn't exactly improving. He managed 47 errors in the games that he played at shortstop.
The Great
In the 1927 World Series, the Yankees faced the Pittsburgh Pirates. Koenig felt they were just as good as the Cardinals the year prior, but Koenig responded, hitting .500/.500/.611 in 18 at bats. This included 9 hits and 2 strikeouts. Most importantly, there were no errors by Koenig whatsoever! The Yankees, as many people know, swept the Pirates in 4 games, but the vital moment came in the 4th game. Tied 3-3, Johnny Miljus walked Combs, Koenig laid down a bunt that he ran out for a single. After a wild pitch, both advanced, then Babe Ruth walked to load the bases. After Lou Gehrig and Bob Meusel struck out, Mijus threw another wild pitch away from Johnny Gooch and Combs scored, winning the series.
So, what were the changes that Koenig made? Coach Art Fletcher gave new instructions to Koenig in how to help his defense. Critics had a great time going after Koenig during 1926, and as writer George Moriarty noted, Koenig lacked gameness. Moriarty felt that Koenig was a victim of circumstances with only an obvious fault. Playing shortstop, Koenig bobbled too often at critical moments and he felt that Koenig had a weak heart without a better idea. Moriarty noted that Koenig could do anything else just as well as any other shortstop, but he could not seem to hold on to balls and commonly bobbled them, causing the Yankees to lose some games.
Fletcher noted that Koenig was fighting ground balls. When he would run to go after a ground ball, his arms would be stiff, bring them forward in a rigid pattern and force them onto the ball. By doing this, this would cause him to commonly bobble the ball. Koenig was told by Fletcher to do the opposite, make his arms and wrists both relaxed and bring them backwards with the ball. Doing this, Koenig could give with the impact and grip onto the ball because there would be no tension in his hands. Following these suggestions by Fletcher, Moiarty noted that Koenig had become a star on his way because of a simple suggestion from a former star.
Wrapping It Up
While Mark Koenig does not get the same amount of stardom that Babe Ruth, Lou Gehrig and Bob Meusel get in the Murderer's Row of 1927, he deserves a lot of credit for being one of the ground layers for those players along with Earle Combs. Koenig would play for the Yankees until 1930, but the defense didn't improve that much. In 1929, the same season that Miller Huggins died unexpectedly, Koenig developed a chronic eye problem. The Yankees traded him and Waite Hoyt to the Detroit Tigers in 1930 for Ownie Carroll, Harry Rice and Yats Wuestling (the second shortstop to wear No. 2).
The Tigers figured if Koenig wore glasses, he would improve. However, it did not and they decided they would turn Koenig into a pitcher. This also failed. In the first inning, Koenig gave up six runs to the White Sox. He managed to go the next five innings cleanly, but caved again in the 7th when he gave up four more. By 1932, Koenig ended up in the Pacific Coast League, where played well. The Cubs picked him to replace Billy Jurges after Chicago showgirl Violet Popovich Valli shot him in the hand. That year, he faced his former Yankee team in the World Series and was cheated out of money from the losing Cubs. Jumping to the Giants, Koenig made the World Series once more in 1936 against the Yankees, which the Yankees also won. Koenig headed to San Francisco and played for the Mission Reds, but left at the end of the season.
Koenig made it well in San Francisco, operating gas stations and acting in a few biopics about Ruth and Gehrig. However, he also turned into a recluse, keeping in touch with his some of his teammates. In 1987, Lowell High School gave a rare honor to Koenig, giving him his high school diploma 66 years after leaving the school for Moose Jaw. After the death of Ray Moreheart in 1989, writers flocked to Koenig, the last living survivor of the 1927 team. On April 22, 1993, Koenig died from cancer in the city of Willows, California at the age of 88.
When Derek Jeter's number 2 is retired by the Yankees, keep in mind the man who started the pseudo-tradition of Yankees shortstops wearing the number. Is Mark Koenig the greatest ever? No way. That role is reserved purely for Jeter, but you can make an argument that Koenig at least deserves a top five position for his offensive prowess.