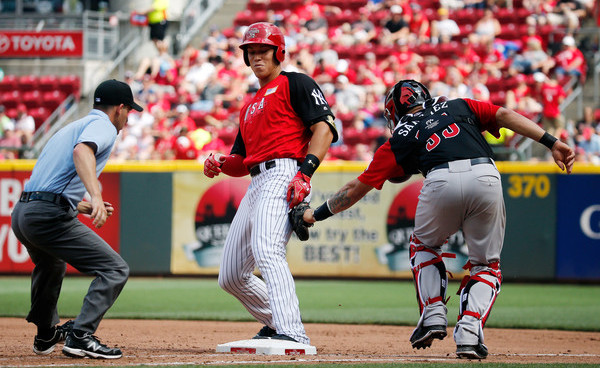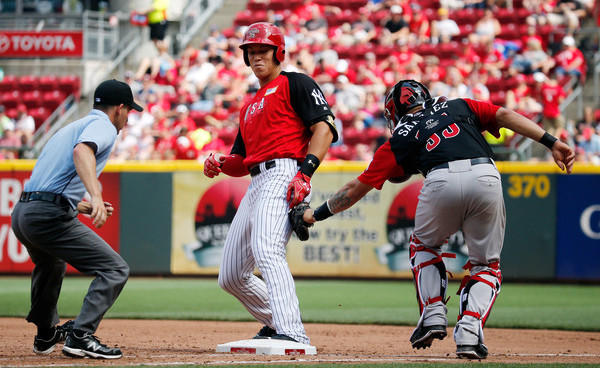 We are now firmly in preseason prospect ranking season, and earlier this week Baseball Prospectus teased their annual by posting their top 101 prospects list. You can see the PDF right here. The whole thing is free. No subscription required. Dodgers SS Corey Seager claims the top spot and is followed by Twins OF Byron Buxton and Nationals RHP Lucas Giolito in the top three.
The Yankees have three players on the top 101: OF Aaron Judge (No. 18), SS Jorge Mateo (No. 65) and C Gary Sanchez (No. 92). Judge is the fifth outfielder on the list, behind Buxton, Rangers OF Nomar Mazara, Padres OF Manuel Margot, and Rangers OF Lewis Brinson. Sanchez is the fifth catcher behind Cubs C Willson Contreras, Athletics C Jacob Nottingham, Phillies C Jorge Alfaro, and Pirates C Reese McGuire.
"Judge should make his debut in the Bronx sometime in 2016, but it feels like a man of his proportions and potential needs a nickname. For opposing pitchers he might very well be 'Judge Dredd,' or when he fires one back up the box, 'Judge Holden,'" said the write-up. I agree, Judge needs a good nickname. Judge Dredd is a little too obvious though. Nicknames have to come organically. You can't force 'em. We'll come up with a good one in due time.
As for Mateo, the write-up says he is "an 80 runner fully capable of stolen-base titles" while adding he "offers a potentially solid glove at shortstop as well." As with any 20-year-old speedster in Single-A, the question is whether his bat will play and allow him to reach base often enough to raise hell. "The bat is still quite raw," said the report. "But he can challenge the old adage that 'you can't steal first.' Every ball in play is a potential single, and every ball up the alleys a potential triple."
Sanchez "took steps forward on both sides of the ball in 2015, and the plus power and plus-plus arm that have kept him on every new iteration of this list are still very much present," according to the BP crew, who noted this was Sanchez's sixth year on the BP 101. Geez. It figures to be his last, however. Sanchez has the inside track on the backup catcher's job, and even if he doesn't find himself on the Opening Day roster, a midseason call-up feels inevitable.
Judge, Mateo, and Sanchez represent the crown jewels of the Yankees' farm system along with RHP James Kaprielian. Those four are clearly the top prospects in the system. There's a pretty significant gap between them and everyone else. Judge, Mateo, and Sanchez should appear on all top 100 lists this spring and Kaprielian might sneak one on or two as well.