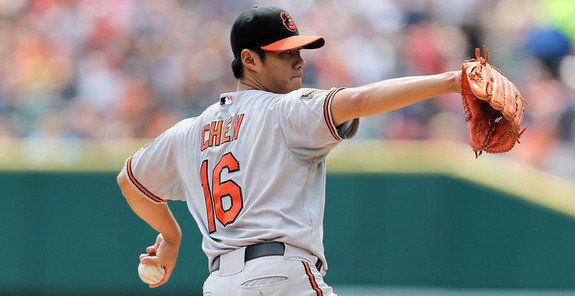 One of the few remaining quality free agent starters is off the board. The Marlins have agreed to a five-year contract with former Orioles southpaw Wei-Yin Chen, according to multiple reports. The contract includes a vesting option for a sixth year and an opt-out after year two.
The deal is worth $80M and it'll be interesting to see the breakdown. The Marlins have a history of backloading their big free agent contracts then trading the player one year later. Carlos Delgado ($4M of $52M in year one before being traded), Jose Reyes ($10M of $106M), and Mark Buehrle ($6M of $55M) all got caught up in that scheme.
The Yankees were said to be monitoring the market for Chen earlier this offseason — here's our Scouting The Market post — though they were never seriously connected to him at any point. Story of the offseason, basically. The Yankees haven't been seriously connected to any significant free agents this winter.
With Chen off the board, the top unsigned free agent starters are Yovani Gallardo and Ian Kennedy, both of whom rejected the qualifying offer. Doug Fister, Tim Lincecum, and Cliff Lee are the top reclamation projection arms. Meh.
The Marlins have a protected first round pick (seventh overall), so the Yankees won't move up in the 2016 draft due to the Chen signing.
Update: Chen will make $6M in 2016 and $14M in 2017, then $60M over the final three years. So yeah, they heavily backloaded the deal again.