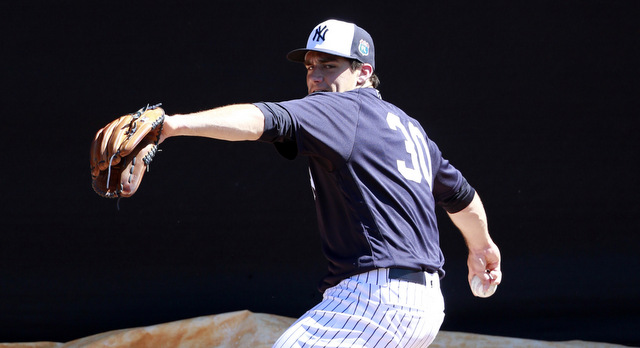 The 2015 season was something of a developmental year for Nathan Eovaldi. The Yankees acquired him from the Marlins expecting him to hold down a regular rotation spot, and he did that, but they also wanted pitching coach Larry Rothschild to tinker with some things in hope of getting Eovaldi to the next level. His natural gifts are obvious. The results did not match though.
Last season's big project was the split-finger fastball. Eovaldi came over from Miami with a huge fastball — he threw the six fastest pitches in baseball among non-Aroldis Chapman pitchers in 2015 — and iffy secondary stuff, so the Yankees wanted to give him a swing-and-miss pitch. Rothschild had Eovaldi begin the season with a forkball just so he could get accustomed to the grip before shortening him up to a traditional splitter grip.
Once he switched to the splitter, the results improved greatly. The date of the switch is fairly obvious when looking at Eovaldi's velocity. In the middle of June the splitter/forkball (splorkball?) went from averaging 85.5 mph to 89.8 mph. The pitch added roughly 4 mph from one start to the next.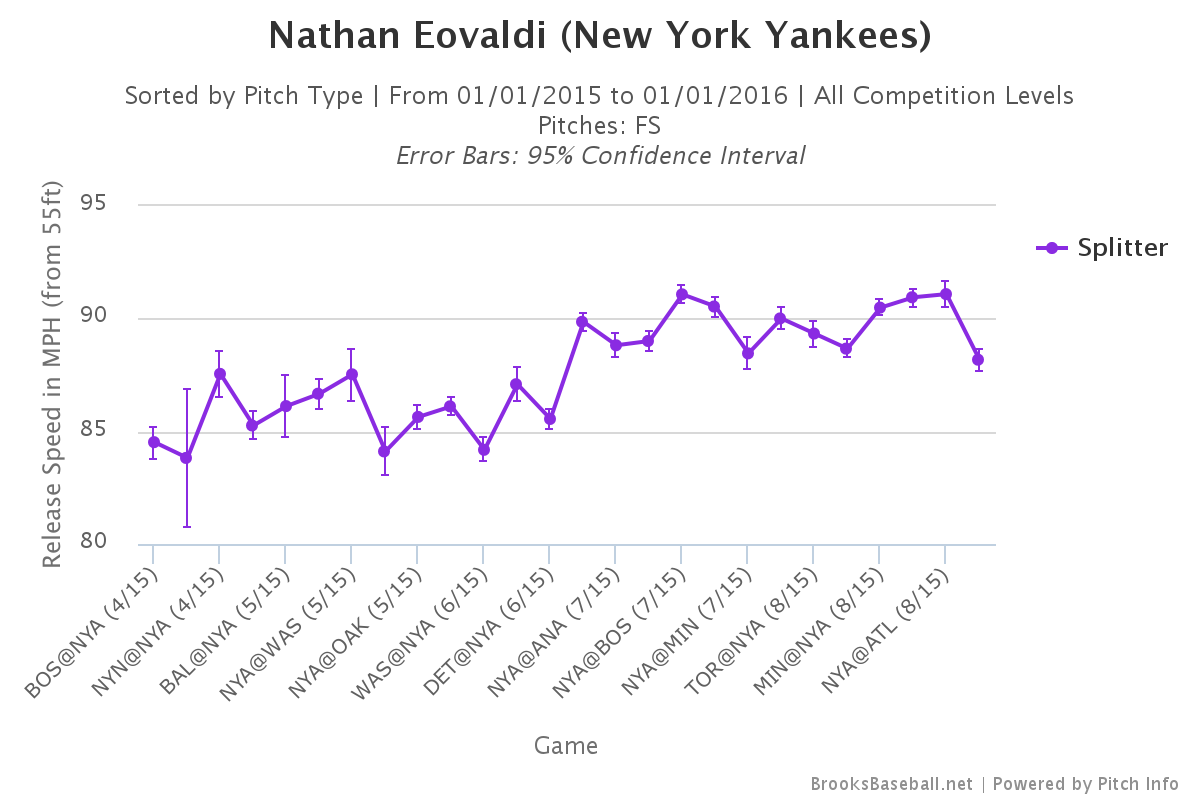 With the forkball grip Eovaldi had a 4.95 ERA (3.95 FIP) with a 15.8% strikeout rate and a 49.0% ground ball rate in 76.1 innings. With the splitter grip he had a 3.46 ERA (2.90 FIP) with a 20.2% strikeout rate and a 55.8% ground ball rate in 78 innings. The splitter changed everything. Eovaldi was comfortable throwing the pitch — he threw the forkball 10.9% of the time and the splitter 29.7% of the time — and his results improved considerably.
Having a full season of splitter grip Nathan Eovaldi in 2016 is pretty exciting. The development is not going to stop there through. Last week Eovaldi told Chad Jennings he intends to focus on his curveball this spring in an effort to add another reliable secondary pitch.
"Towards the end of the season last year I really developed pretty good control of my split," he said. "This offseason it's been great. I'm going to be using that more, of course. The fastball, too. Then, working on the curveball a little bit more, as well."
The splitter was a new pitch for Eovaldi. The curveball is not. He threw one as an amateur, he threw one in the minors, and he's thrown out throughout his big league career. Over the last four seasons Eovaldi has thrown the curve anywhere between 8.8% of the time to 9.4% of the time per PitchFX. He got one (1) strikeout on a curveball last season and it wasn't even that good of a pitch: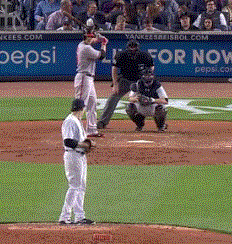 Chris Davis was looking for something else and Eovaldi froze him with a not great bender up in the zone. It's loopy and just sorta rolls in there. Hooray for the element of surprise.
Anyway, the curveball was clearly Eovaldi's fourth best pitch last season behind his fastball, splitter, and slider. It was his third best pitch until the split-finger knocked it down a peg on the depth chart. Given the results over the years, de-emphasizing the curveball is a smart move:
| | Velo | Whiff% | GB% | Opp. AVG | Opp. ISO |
| --- | --- | --- | --- | --- | --- |
| 2012 | 75.3 | 4.8% | 36.7% | .278 | .222 |
| 2013 | 78.3 | 6.6% | 68.2% | .310 | .138 |
| 2014 | 76.8 | 10.9% | 53.3% | .246 | .098 |
| 2015 | 76.2 | 6.8% | 50.0% | .286 | .107 |
| MLB AVG | 77.8 | 11.1% | 48.7% | .208 | .116 |
Eovaldi's curveball has not been an effective pitch at all. He's been able to get some ground balls with it, but the lack of swings and misses is a problem, as evidenced by the opponent's batting average against the pitch. The curveball used to be Eovaldi's third best pitch. Now it's his fourth. That's where it belongs.
Spring Training is the best time to toy with pitches and Eovaldi's smart to work on his curveball this spring. I do wonder whether the pitch is worth the effort, however. This is a pitch he's been throwing his entire career — we're talking hundreds of innings here — and Eovaldi has not yet been able to refine it to the point of reliability. Perhaps Rothschild can help. I guess we'll find out this spring.
The addition of the splitter was huge for Eovaldi last year because it gave him the swing-and-miss offering he desperately needed. It also knocked his slider down a peg, which is good, because his slider isn't great either. The split gave Eovaldi a legitimate put-away pitch. Here is what Eovaldi was worked with once he switched from the forkball grip to the splitter grip. League averages are in parentheses.
| | % Thrown | Velo. | Whiff% | GB% | Opp. AVG | Opp. ISO |
| --- | --- | --- | --- | --- | --- | --- |
| FB | 44.0% | 98.2 (92.4) | 7.3% (6.9%) | 44.1% (37.9%) | .262 (.271) | .094 (.180) |
| SPL | 28.7% | 89.7 (84.3) | 16.8% (14.9%) | 69.9% (47.8%) | .211 (.223) | .023 (.132) |
| SL | 19.6% | 85.4 (84.2) | 11.7% (15.2%) | 50.9% (43.9%) | .278 (.223) | .058 (.136) |
| CB | 7.8% | 76.9 (77.8) | 4.5% (11.1%) | 40.0% (48.7%) | .273 (.208) | .000 (.116) |
The splitter gave Eovaldi a bonafide above-average pitch. It got whiffs and grounders, and he threw it a lot. Perfect. His fastball was also a tick above average as well. Both his slider and curveball were below-average though, with the slider showing some more promise thanks to the ground ball ability.
Eovaldi's curveball wasn't good at anything. Didn't get grounders, didn't get whiffs, nothing. He didn't throw it much at all and for good reason. It's not a good pitch. I wonder if Eovaldi is best off scrapping his curveball entirely — or using it even less, maybe as nothing more than a surprise pitch he throws once or twice a game early in the count when hitters sit fastball — and focusing his efforts on his slider this spring.
The way I see, Eovaldi will primarily be a fastball/splitter pitcher going forward. Those are his top two weapons for pretty obvious reasons. He needs a third pitch, definitely, and his slider is ahead of his curveball. It is right now and has been his entire career. Remember, we're talking about a third pitch here. It doesn't need to be great, just something hitters respect. The slider is much closer to that right now than the curve.
There's nothing wrong with playing around with different pitches in Spring Training. It's the perfect time to do it. And who knows, maybe Rothschild will tweak Eovaldi's curveball grip and the pitch turns into a hammer. It's unlikely but stranger things have happened. Unless the curve does take a step forward these next few weeks, it's not a pitch worth emphasizing in the regular season. Stick with the fastball, splitter, and some sliders. The curve is trouble.