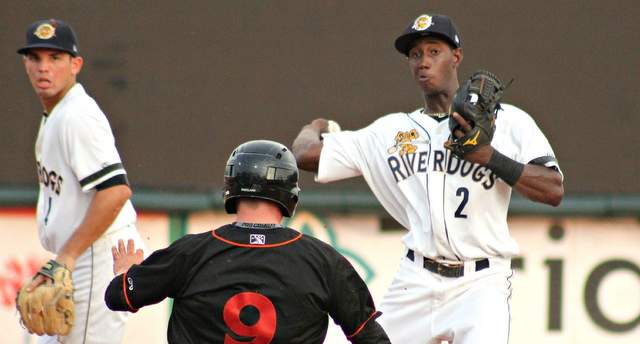 Prospect season continued last night as Baseball America announced their annual top 100 prospects list. Dodgers SS Corey Seager sat in the top spot — he was the No. 1 prospect on every top 100 list this year — with Twins OF Byron Buxton and Red Sox 2B Yoan Moncada behind him in the top three.
The Yankees landed three players on Baseball America's list: SS Jorge Mateo (No. 26), C Gary Sanchez (No. 36), and OF Aaron Judge (No. 76). Mateo is the highest ranked Yankees prospect* since Jesus Montero ranked third behind Mike Trout and Bryce Harper in 2011. Yes, that was a thing that happened.
* I'm not counting Masahiro Tanaka, who ranked fourth on the 2014 list. Tanaka was no prospect. C'mon.
Anyway, here is some really hardcore analysis of this year's various top 100 prospect lists. You're not going to find in-depth analysis like this anywhere else. Prepare to have your mind blown.
The Yankees have three top 60-ish prospects according to the consensus rankings and that's pretty cool, especially since Judge and Sanchez are in Triple-A and knocking on the door of the big leagues. Give me upper level prospects over kids in the low minors eight days a week and twice on Sundays.
In addition to the top 100, Baseball America also posted their farm system rankings a few days ago. The Yankees ranked 17th overall, up from 18th last year. They were 18th the year before that too. Considering Luis Severino and Greg Bird graduated to MLB in 2015, I'd say 17th is a nice step up.