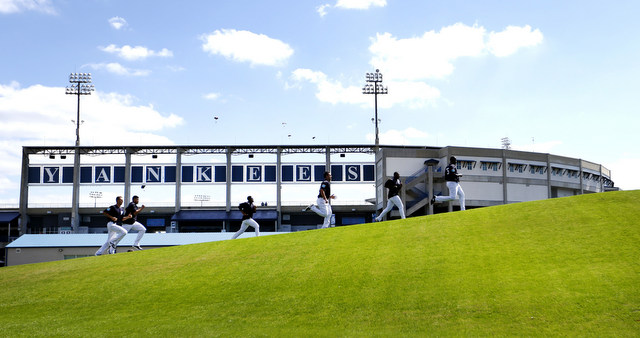 It was a pretty slow day down in Tampa — the pitchers are throwing every third day right now, so not much happened on the third day of workouts — though things will pick back up tomorrow, and again when position players report Wednesday. Here are today's photos and here are today's notes from Spring Training:
Recent non-roster adds Mark Montgomery and Kyle Haynes were the only guys to throw today. They faced hitters in live batting practice, so they're ahead of everyone else. The catchers hit and the other pitchers went through conditioning drills, including running up that new hill the team installed. Apparently Michael Pineda dominated the hill. [Chad Jennings]
Carlos Corporan confirmed he has a late-March opt-out in his contract. That's kind of a big deal. If the Yankees go with Gary Sanchez as their backup catcher, they figure to lose both Corporan (opt-out) and Austin Romine (out of options). I still think they should send Sanchez to Triple-A for the requisite 35 days to delay his free agency. [Jennings]
Here is the nightly open thread. The (hockey) Rangers and Nets are both playing tonight, and that's about it. Talk about whatever right here.