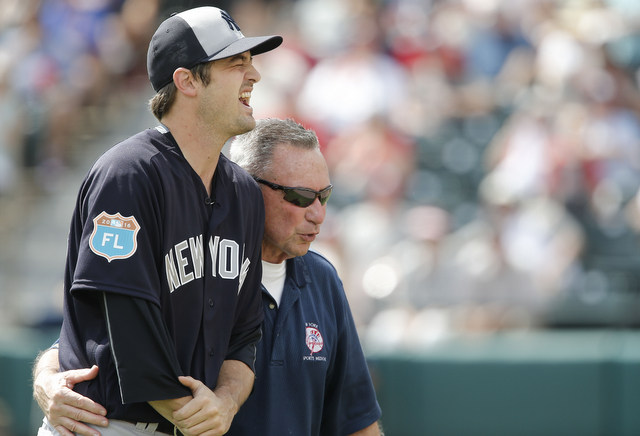 8:04pm ET: The CT scan showed a chip fracture in Miller's wrist, according to Curry. He'll visit a specialist to determine the next step. No word on a timetable for his return or anything like that.
6:17pm ET: NBC 11 managed to get video of the play. I can't get it to embed properly, so you'll have to click the link.
5:29pm ET: The x-rays came back negative, according to Jack Curry. The team has since confirmed the news. Hooray for that. The Yankees are still going to send Miller for a CT scan. That should happen soon.
3:34pm ET: The Yankees are calling it a bruised right wrist for now, says Bryan Hoch. Miller is heading for x-rays and a CT scan, because duh.
2:52pm ET: Andrew Miller left this afternoon's game after taking a line drive to the right wrist, according to the reporters in Florida. He slammed either his hat or glove down and walked right to the clubhouse. Yikes. The game is not being broadcast anywhere, so there's no video available.
This all just happened a few minutes ago, so the Yankees have not yet released any kind of update. I assume Miller's headed for x-rays and other tests as deemed necessary. He was hit in his non-throwing wrist, so I guess that's the silver lining. Hopefully his glove absorbed some of the blow.
The Yankees will be without Aroldis Chapman for the first 30 games of the season, so, needless to say, losing Miller for any length of time would be really bad. Dellin Betances could step in as closer, but who sets up? Suddenly the Yankees would be looking at Chasen Shreve and Bryan Mitchell in the eighth.
Anyway, stay tuned for updates, whenever they come. Hopefully Miller walks away with nothing more than a nasty bruise. Fingers crossed.