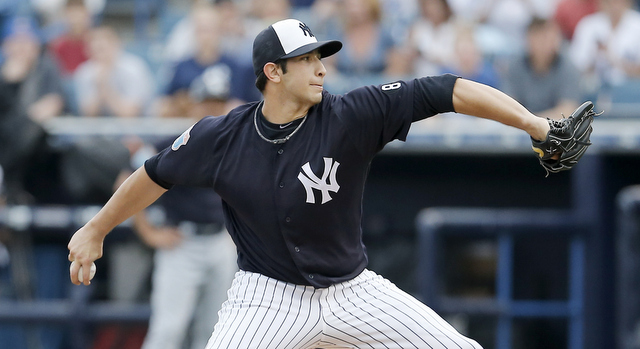 Earlier this morning the Yankees announced they have optioned left-hander Tyler Olson and right-handers Branden Pinder and Nick Goody to Triple-A Scranton. Pinder is the only moderate surprise. Olson started camp well but scuffled of late, and Goody served up three homers in the span of 24 hours earlier this week, so yeah.
Today's cuts leave four candidates for the Yankees' final two bullpen spots: righties Johnny Barbato, Luis Cessa, Anthony Swarzak, and Kirby Yates. Two of them will join Andrew Miller, Dellin Betances, Chasen Shreve, Ivan Nova, and Bryan Mitchell in the Opening Day bullpen. (Mitchell was told he made the team yesterday.) Here's a quick pros and cons list:
Barbato: Great camp (pro), out-pitch curveball (pro), zero MLB experience (con).
Cessa: Very good camp (pro), can go multiple innings (pro), zero MLB experience (con).
Swarzak: Mediocre camp (con), blah stuff (con), can go multiple innings (pro).
Yates: Very good camp (pro), big league experience (pro), historically homer prone (con).
That about covers it. Earlier this week I said I expected Barbato and Yates to get the final two bullpen spots and I'm sticking to that right now. I don't think Swarzak has much of a chance to make the roster, though Cessa definitely does. The question is do the Yankees want him in their MLB bullpen, or stretched out in Triple-A ready to start?
Either way, these last two bullpen spots are shuttle spots, meaning fresh relievers will be cycled in and out as necessary all year. Barbato and Yates may start the season in the bullpen, but the odds of them sticking through the end of April are small, nevermind sticking through the end of the season. That's the plan. That's the way the roster has been built.
Yesterday afternoon Joe Girardi said he hopes all the final roster decisions are made by tomorrow, and at this point I have to think the Yankees know who they're taking north in the bullpen. They have a game this afternoon and two split squad games tomorrow, but realistically, what could happen in those games to change their mind? Outside of injury, probably nothing. Not unless Swarzak shows up throwing 100 or something.
Following today's moves, the Yankees are down to 34 players in big league camp. It's really 31 players though because Mason Williams (shoulder), Greg Bird (shoulder), and Aroldis Chapman (suspension) aren't Opening Day roster candidates. Earlier today Girardi announced Ronald Torreyes has won the final bench spot, so the backup catcher's job — Austin Romine has that all but locked up — and the two bullpen spots are the only remaining unsettled roster spots.