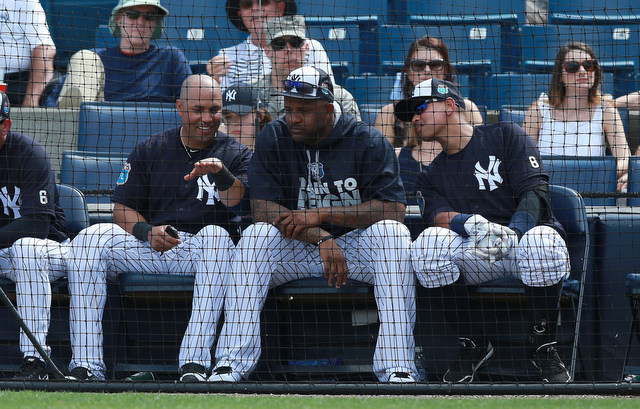 The Yankees had their first Spring Training off-day yesterday. They'll jump back into Grapefruit League play with a game against the Red Sox later tonight. That will in no way be blown out of proportion, I'm sure. Anyway, I have some thoughts.
1. We've reached the dog days of March. The novelty of baseball being back has worn off and most of the top prospects have been reassigned to minor league camp. Now we're just going to watch a bunch of big league players go through the motions and get ready for the upcoming season, which can be rather tedious. The grind has officially begun. Spring Training is too long — Eno Sarris (subs. req'd) spoke to a bunch of players (and non-players) and most agree Spring Training could be shorter — but it's long out of necessity. Starting pitchers need time to get stretched out and it's also good for players to have a chance to heal up from any nagging spring injuries. Twenty days to Opening Day. It's so close and yet it feels so far away.
2. I'm not surprised the Yankees pulled the plug on Starlin Castro at third base, but I am surprised they ended the experiment so soon. He never did appear in a game at the hot corner. All he did was take some grounders at third during infield practice. This makes me wonder if Castro needs more work at second base than the Yankees realized. He is new to the position, so it would be completely understandable. Castro couldn't have possibly learned all the nuances of second base in the 258 innings he played at the position last year. I'm guessing the third base experiment is on hiatus and not over completely — what are the chances we hear about Starlin possibly playing third next spring? 98%? — but clearly the Yankees weren't comfortable moving forward with it at this time. That seems like a smart move. Asking Castro to learn his second new position within an eight-month span could have been overwhelming.
3. It's still possible the Yankees will go outside the organization for a backup third baseman — I could totally see a shuttle reliever for an out of options infielder trade going down on, like, April 3rd — but right now things are looking pretty good for Rob Refsnyder in terms of making the team. He's actually played more innings at third base (23) than second (17) this spring, and only Chase Headley (33) and Deibinson Romero (24) have played more innings at the hot corner in Grapefruit League games. (Romero was reassigned to minor league camp Sunday.) There's still enough time for someone like Pete Kozma or Ronald Torreyes to win a bench job, though they do seem to be long shots. Refsnyder looks like the guy right now. Kinda weird how the Yankees steadfastly refused to call up Refsnyder last summer despite Stephen Drew's long periods of nothing, yet now had him change positions as a way to improve his chances of being on the Opening Day roster.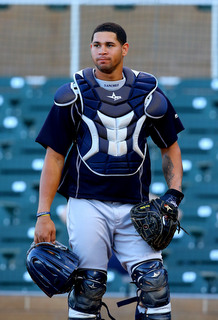 4. Right now I think the backup catcher race is advantage Austin Romine. Joe Girardi has all but dismissed Carlos Corporan as a candidate, which surprised me, leaving Romine and Gary Sanchez. They've played the exact same number of innings behind the plate (26) but Romine has stood out more offensively, which he was going to have to do to win a roster spot. Sanchez literally doesn't have a hit yet; he's 0-for-10 with three walks and a strikeout. Romine is 5-for-14 (.357) with three doubles. In a way, Sanchez is making this easy for the Yankees. Five weeks in the minors delays his free agency another year, and sending him down to gain that extra year of team control would have been weird had he mashed in camp. I don't think the Yankees care too much about fan backlash or things like that, but at least now they can say they want Sanchez to play everyday so he can continue to work on things in Triple-A and have it be totally believable. Saying that when a guy hits .350 in camp is a little tougher to believe. We'll see. Lots of Spring Training left.
5. Jacob Lindgren was both the first 40-man roster player and first bullpen shuttle reliever to be reassigned to minor league camp this spring, and depending on how you want to look at it, the move could be telling or nothing at all. Lindgren is coming off elbow surgery, so the Yankees may want him to take it slow in minor league camp, where he won't experience the same pressure to win a roster spot. At the same time, non-roster guys like Diego Moreno, Richard Bleier, and Tyler Cloyd are still in big league camp, and whatever innings they throw are innings Lindgren could be throwing. It's not like those guys are serious candidates to make the Opening Day roster. Lindgren's overall Grapefruit League numbers are ugly — he had one disaster appearance followed by two scoreless innings — but I don't think the stats had anything to do it. Lots of guys have hideous numbers right now. I think sending him out was simply an indication the Yankees don't believe Lindgren is ready to help at the big league level right now. Relievers can get by with bad command — none of the big three relievers have even average command — but they usually can't get by with bad control, and right now Lindgren has bad control. He has to work on that.
6. My most recent Opening Day bullpen prediction has already been blown up with Lindgren being sent out. So much for that. We know Andrew Miller and Dellin Betances will get two of the seven bullpen spots, and Ivan Nova will get one of the others as long as the five starters ahead of him stay healthy. Right now I have those four remaining bullpen spots going to Chasen Shreve, Bryan Mitchell, Nick Rumbelow, and Branden Pinder. Pinder replaces Lindgren from my original projection and gets the spot over Nick Goody and Johnny Barbato, mostly based on seniority. He threw the most innings and had the most up-and-down trips among the shuttle guys last year. Nova and Mitchell give the Yankees two long men, which will come in handy early in the season as the Yankees ease their starters into things. Shreve is pretty much a lock at this point thanks to his excellent Grapefruit League showing and overall body of work last year. The Rumbelow and Pinder spots are shuttle spots. They might be on the Opening Day roster, but that doesn't mean they'll stick around very long. Besides, one is keeping the seat warm for Aroldis Chapman. The bullpen competition will be a year long adventure.