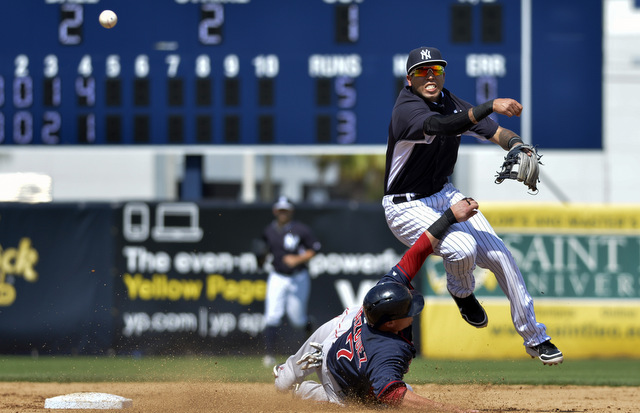 It has been six years since the Yankees selected shortstop and Rochester native Cito Culver with their first round pick in the 2010 draft (32nd overall), and since then he's lost his prospect status because he's been unable to develop offensively. Culver is a career .228/.306/.313 (80 wRC+) hitter in over 2,600 minor league plate appearances. Baseball is hard.
There has been some speculation — from fans, mostly — the Yankees may soon try Culver on the mound since his has a strong arm and the bat isn't developing. The team has no plans to do so, however. Here's what farm system head Gary Denbo told Chad Jennings earlier this week:
"No," Denbo said (when asked about moving Culver to the mound), without hesitation. "No, he's a valuable guy. It's difficult to find guys with his defensive abilities, so he's got value as a player that can move around the field and play defense for us. Overall, his value eventually will be determined by how well he makes these offensive adjustments."
Culver, now 23, did pitch back in high school. In fact, I remember when the Yankees drafted him, his MLB.com draft video was him pitching, not playing shortstop. I can't find the video now, unfortunately. (UPDATE: Commenter ZachA found the video. Here it is.) Here's a snippet of Baseball America's pre-draft scouting report (subs. req'd):
Culver's best tool is his arm, which rates as a 65 on the 20-80 scouting scale. Some scouts report seeing him up to 94 mph off the mound, but he has no interest in pitching.
The hitter-to-pitcher conversion is fairly common — current Yankees farmhand Luis Cessa and ex-Yankee Esmil Rogers are converted shortstops — and it's really never too late to make the transition. Former outfielder Jason Lane made the transition at 35 and actually reached the big leagues as a pitcher, so there's no such thing as too late.
The Yankees have a full infield at Triple-A Scranton, so it seems like the best case scenario for Culver this year is being Tyler Wade's double play partner at Double-A Trenton. That will only happen if the team decides to give Abi Avelino more time in High-A, however. Denbo called Culver an "Infield 5 player," which sounds like a nice way to say utility infielder.
Culver will be a minor league free agent after the season, and middle infielders are always in demand, so I'm sure he'll find another job somewhere around the league next winter. Can he reach the show as an infielder? It seems unlikely. I wonder if Cito will decide at some point to give pitching a try in hopes of reaching the show. Right now though, that is not the plan, so another year on the infield it is.