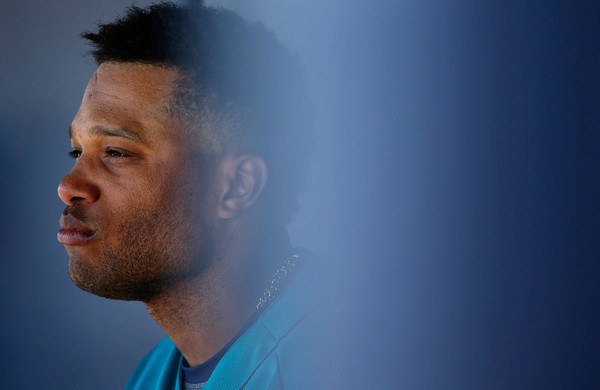 Following that disappointment of a road trip, the Yankees are returning home today for a nine-game homestand. It begins this afternoon with the first of three against the Mariners. Seems like they're seeing Seattle much earlier than usual, no? I can't remember the last time the Mariners were in the Bronx in April. (I looked it up. It was 2014, but at the very end of the month.)
What Have They Done Lately?
The Mariners have lost six of their first nine games this season, and prior to winning their last game, they had lost five straight. They've been outscored by six runs in those nine games. Seattle has scored three runs or fewer in six of their nine games. The more things change, eh?
Offense & Defense
Seattle has scored 32 runs in their nine games, and they rank 12th out of the 30 clubs with a perfectly league average 100 wRC+. They're completely healthy on offense too. No one on the DL and no one even day-to-day at the moment. I'm going to do this thing with the ZiPS projections one last time because the season is still young.
2016 Stats to Date
2016 ZiPS
C Chris Iannetta

5-for-22 (.227), 1 HR, 0 SB, 4 BB, 7 K
.215/.333/.358 (98 wRC+), 9 HR, 1 SB
1B Adam Lind

2-for-21 (.095), 0 HR, 0 SB, 0 BB, 8 K
.253/.326/.392 (99 wRC+), 11 HR, 0 SB
2B Robinson Cano

7-for-37 (.187), 5 HR, 0 SB, 3 BB, 7 K
.287/.345/.447 (118 wRC+), 19 HR, 5 SB
SS Ketel Marte

5-for-29 (.172), 0 HR, 0 SB, 2 BB, 7 K
.263/.307/.359 (86 wRC+), 5 HR, 22 SB
3B Kyle Seager

5-for-33 (.152), 1 HR, 0 SB, 6 BB, 8 K
.257/.326/.438 (112 wRC+), 22 HR, 7 SB
LF Nori Aoki

10-for-36 (.278), 0 HR, 0 SB, 0 BB, 4 K
.269/.328/.352 (93 wRC+), 5 HR, 13 SB
CF Leonys Martin

8-for-27 (.296), 1 HR, 1 SB, 3 BB, 10 K
.249/.299/.372 (86 wRC+), 8 HR, 22 SB
RF Nelson Cruz

8-for-35 (.229), 2 HR, 0 SB, 4 BB, 4 K
.263/.327/.494 (126 wRC+), 31 HR, 4 SB
DH Franklin Gutierrez

3-for-15 (.200), 0 HR, 0 SB, 3 BB, 6 K
.238/.294/.417 (97 wRC+), 11 HR, 2 SB
BENCH
C Steve Clevenger

0-for-7 (.000), 0 HR, 0 SB, 0 BB, 1 K
.248/.300/.335 (77 wRC+), 4 HR, 0 SB
1B Dae-Ho Lee

3-for-13 (.231), 2 HR, 0 SB, 0 BB, 3 K
N/A
IF Luis Sardinas

3-for-13 (.231), 2 HR, 0 SB, 0 BB, 3 K
.235/.265/.295 (54 wRC+), 2 HR, 12 SB
OF Seth Smith

4-for-15 (.267), 1 HR, 0 SB, 5 BB, 3 K
.245/.335/.414 (109 wRC+), 11 HR, 0 SB
Smith and Gutierrez actually platoon at DH. Why they're not playing those two in right field and Cruz at DH, I'll never understand. Seager enjoys hitting in Yankee Stadium. He's 16-for-57 (.281) with four homers in 14 games in the big ballpark in the Bronx. I thought those numbers would be much better. Seager always seems to rake whenever the Mariners come to town.
Cano is off to a slow start in terms of batting average, but he already has five homers in nine games. Last year he didn't hit his fifth homer until his 75th game. I'm telling you, Robbie's going to have a huge year and finish in the top three of the MVP voting. Well, maybe not top three, the voting is weird as hell, but I think he's going to have a monster bounceback season. He's looked locked in since the start of camp.
New GM Jerry Dipoto focused on improving his team's defense over the winter, though they remain a bit questionable overall. Cruz is a disaster in right and Lind/Lee is a DH at first base. The numbers do not love Cano at second, though after watching him all those years in New York, I'd be surprised if he's suddenly bad there. Here is Sean Dolinar's neat defensive visualization: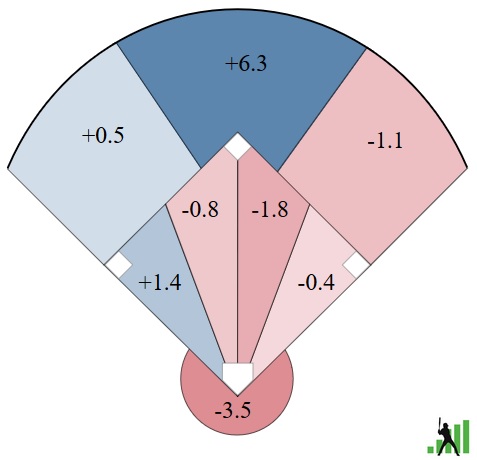 I'm not sure I buy those numbers on Marte and Cano. Everything else passes the sniff test though. If anything, Seager is being underrated.
Pitching Matchups
Friday (7pm ET): RHP Luis Severino (vs. SEA) vs. RHP Nathan Karns (vs. NYY)
The Yankees saw a good bit of Karns last season, when he was with the Rays. Tampa traded the 28-year-old to the Mariners for Brad Miller and Logan Morrison — those two are a combined 4-for-58 (.069) so far this season — in the very first deal of the offseason. Karns had a 3.67 ERA (4.09 FIP) in 147 innings last season, though only his strikeout rate (23.4%) was above average. His walk (9.0%), grounder (41.8%), and homer (1.16 HR/9) numbers left something to be desired. He did have a negligible platoon split, however. Karns works with a 92-94 mph fastball, and his go-to offspeed offering is a low-80s power curve. He also throws a mid-80s changeup. Karns allowed four runs in five innings against the A's last week, in his only start of the season to date.
Saturday (1pm ET): LHP CC Sabathia (vs. SEA) vs. RHP Felix Hernandez (vs. NYY)
Well would you look at that, Felix Hernandez is going to pitch against the Yankees. That guy never seems to miss a series against the Yanks. Felix, 30, actually has his worst season in several years last year, pitching to a 3.53 ERA (3.72 FIP) in 201.2 innings. His peripherals — he had a 23.1 K%, 7.0 BB%, 57.2 GB%, and 1.03 HR/9 — were very good in the grand scheme of things, but they were also his worst rates in years. Hernandez, who managed to lose a one-hitter on Opening Day (lol Mariners, lol), might actually be declining a bit. He's still great, obviously. But there are some signs of slippage. These days he operates with a sinker right around 90 mph, and an array of secondary stuff that includes an upper-80s changeup, a mid-80s slider, and an upper-70s curveball. When he's on, Felix is as good as it gets. I don't care how many possible signs of decline exist. This dude is tough.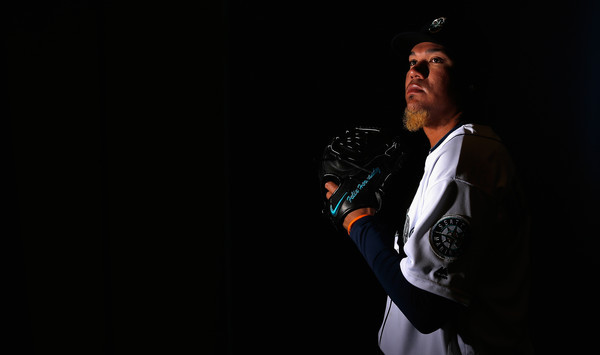 Sunday (1pm ET): RHP Masahiro Tanaka (vs. SEA) vs. RHP Hisashi Iwakuma (vs. NYY)
The 35-year-old Iwakuma seemed like a nice value free agent this past winter, but then the Mariners slapped the qualifying offer on him, and he failed his physical with the Dodgers, so that was that. Seattle took him back on a one-year contract with a pair of vesting options. Iwakuma had a 3.54 ERA (3.74 FIP) in 129.2 innings a year ago, and he did it with excellent walk (4.1%) and grounder (50.4%) rates. His strikeout rate (21.5%) was average, and his homer rate (1.25 HR/9) was very high considering he plays his home games in Safeco Field. Iwakuma has a small platoon split because his knockout mid-80s splitter is a true equalizer. He sets it up with upper-80s four-seamers and sinkers, and he'll also mix in a few low-80s sliders and low-70s curves. Iwakuma is definitely not a power pitcher. He's made two starts this year, allowing two runs in five innings and three runs in six innings, both against the Rangers.
Bullpen Status
Dipoto remade his bullpen over the winter, most notably trading away closer RHP Carson Smith (to the Red Sox for Wade Miley) and setup man RHP Danny Farquhar (to the Rays in the Karns deal). He filled in the gaps with some free agents and minor trades. Most notably, he dropped two years and $10M on ex-Marlins closer Steve Cishek, who was a reclamation project this offseason. Here are the bullpen.
| | 2016 Stats to Date | 2016 ZiPS |
| --- | --- | --- |
| RHP Steve Cishek | 5 IP, 2 H, 1 R, 1 ER, 1 BB, 5 K | 3.50 ERA (3.14 FIP), 23.8 K%, 8.7 BB% |
| RHP Joaquin Benoit | 2 IP, 0 H, 0 R, 0 ER, 3 BB, 3 K | 3.28 ERA (3.73 FIP), 23.9 K%, 8.3 BB% |
| RHP Tony Zych | 6 IP, 4 H, 3 R, 3 ER, 2 BB, 10 K | 3.51 ERA (3.23 FIP), 23.4 K%, 5.4 BB% |
| RHP Nick Vincent | 5 IP, 2 H, 1 R, 1 ER, 1 BB, 4 K | 3.22 ERA (3.07 FIP), 26.8 K%, 7.5 BB% |
| RHP Joel Peralta | 4 IP, 2 H, 2 R, 2 ER, 1 BB, 3 K | 3.82 ERA (3.46 FIP), 24.0 K%, 6.0 BB% |
| LHP Mike Montgomery | 5 IP, 6 H, 4 R, 4 ER, 2 BB, 6 K | 4.63 ERA (4.43 FIP), 15.9 K%, 8.8 BB% |
| LHP Vidal Nuno | 3 IP, 3 H, 1 R, 1 ER, 0 BB, 3 K | 4.56 ERA (4.42 FIP), 19.2 K%, 5.9 BB% |
The Mariners have yet to record a save this season. They've blown some saves, but they haven't gotten a save yet. Cishek is the closer for the time being with Benoit setting him up. Zych is the young hard-throwing stud who everyone expects to be the future closer.
Neither Montgomery nor Nuno are a true left-on-left matchup guy. They're both former starters who have been used as long men in the early going. Peralta spent all those years with the Rays, though his days of being an effective late-inning reliever are over. He turned 40 in March and gets by on guts and guile these days.
The Mariners had an off-day yesterday because they were traveling east from Seattle, so their bullpen is pretty fresh. Outside of Zych, there's not much "wow" factor in this bullpen. Check out the status of Joe Girardi's bullpen at our Bullpen Workload page. The 'pen is in good shape heading into the series.