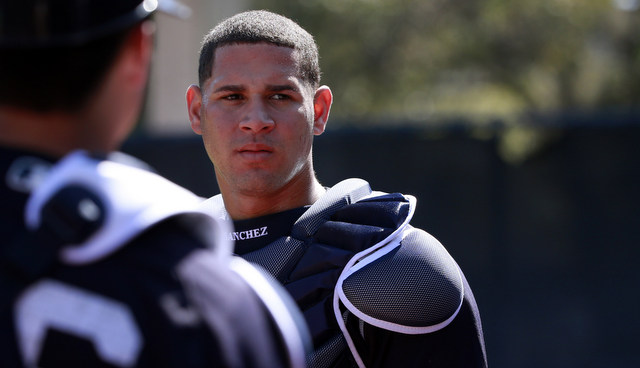 7:12pm: Sanchez has a non-displaced fracture of his right thumb, the Yankees announced. He will be re-evaluated in two weeks. Sucks.
1:53pm: Top catching prospect Gary Sanchez has a "crack in his thumb," Brian Cashman confirmed to Shane Hennigan this afternoon. Sanchez is heading to New York for further evaluation. He took a foul tip to the hand during Triple-A Scranton's game last night.
Sanchez, 23, is hitting .297/.340/.536 (155 wRC+) with six homers in 34 games with the RailRiders this year. He made a one-game cameo with the big league team earlier this month. It goes without saying a thumb injury is a pretty big deal. If you can't hold the bat or grip the ball properly, you're kinda useless on the field.
Austin Romine, who has played well in limited time as Brian McCann's backup, won't have to look over his shoulder for a little while now. Sanchez has been waiting in Triple-A and is clearly part of the team's long-term plans behind the plate. It's only a matter of time until he begins an apprenticeship under McCann.
For now all we can do is hope the injury is not severe and will only sideline Sanchez for a few weeks or even a few days. He's a young man who is still working on his defense, and he can't do that if he's injured.