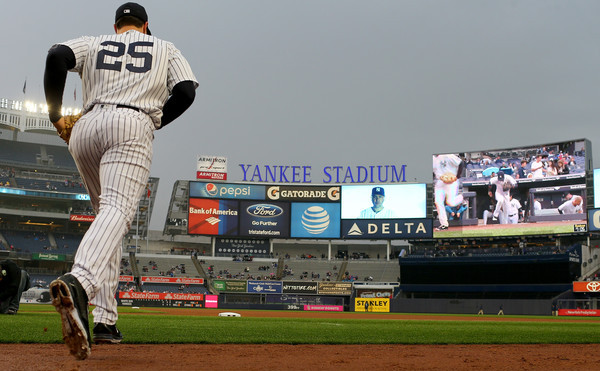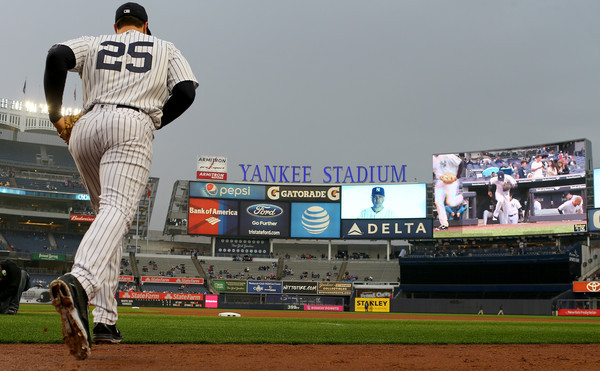 State of the Union
It's mid-May and I'm still not entirely sure what to make of this Yankees' season. Logic tells me that I may have overrated this team in the offseason. Emotion tells me that it's still early enough that they can make a run. But then I think, "What would that run be to?" I've harped on this point a lot recently, but I think the roster and the team are at the point where missing the playoffs and getting a higher-end draft pick might make more sense. If that happens, I hope there is a sell-off of assets. Neither one of these things is likely to happen as that's just now how the Yankees operate. But with some solid core pieces in place for next year–Didi Gregorius, Starlin Castro, Dellin Betances, Brian McCann, (a hopefully healthy) Greg Bird, Brett Gardner–a high draft pick and some prospect rewards for tradeable assets could go a long way in securing the team's future just a little bit more.
The McCannibal
Speaking of Brian McCann, he represents a bit of a contradiction in my mind. I generally disliked the post-2013 spending spree that brought in McCann and his free agent classmates Jacoby Ellsbury and Carlos Beltran. But that dislike has a lot more to do with Taco and Carlos than it does with McCann. McCann has been quietly very good with the Yankees. Since joining the team, he leads all catchers in home runs with 53. He's also fourth in fWAR (6.0), behind leader Buster Posey (12.2); Jonathan Lucroy (8.2); and Russell Martin (7.8). The team may have been disappointing in that stretch, but McCann is not among the reasons for disappointment.
The Gary Sanchez Thing
Obviously, Gary Sanchez was sent back down thanks to the roster crunch created by Luis Severino's sudden injury. It seemed he was only going to be up for two days to face Chris Sale and Jose Quintana anyway, but it still felt like a tease. And isn't that so fitting for Gary Sanchez's career? This has nothing to do with Sanchez's personality or even his performance, which has always been good. I remember reading about him on this very site way back when; he's 23, but it seems like he's been around forever–because he has. When is his time finally going to come? Will it be next year? The year after? I still have faith that this guy can and will contribute to the Yankees, but I'm finding it so hard to see a spot for him unless the Yankees really commit to platooning him and McCann next year. That could actually be a good way to ease him in. Then, if/when Alex Rodriguez retires, Sanchez can take the lion's share of the catching duties while McCann sees more time at DH, and maybe even first.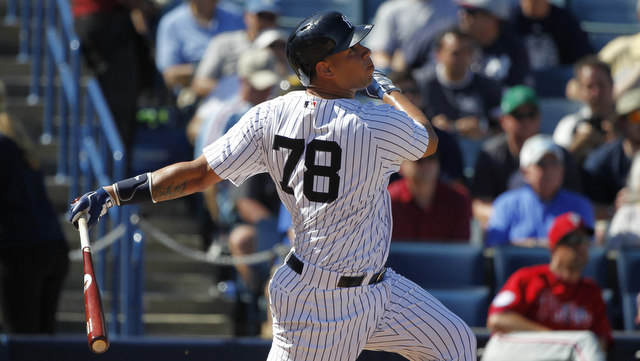 Speaking of prospects…
I'm a fan of Brian Cashman's. I think he's done a really great job in running this team; it's hard to argue with about 20 straight winning seasons and only two non-playoff seasons, three if you don't like to count the play-in game. But where do we draw his line of responsibility, so to speak, for the Yankees' general failure with regards to developing players? No, that's not all in his hands, but he's still in charge. This isn't to say the Yankees have been a total bust with regards to prospects–just look at the Chicago White Sox's roster for proof of that. But the lack of big-time contributions from homegrown players is shocking. Of course, a team shouldn't have homegrown players simply for the sake of having them, but something more than Brett Gardner and Dellin Betances would be nice, no?