Big mailbag today. Sixteen questions and 15 answers. I started answering and just didn't stop. Anyway, use the RABmailbag (at) gmail (dot) com email to send us any questions.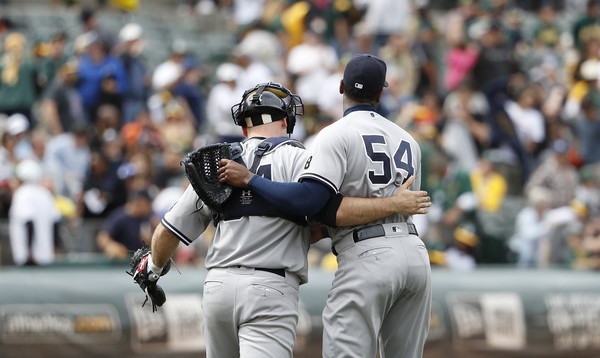 Daniel asks: I know your preference is to trade Chapman before the deadline regardless of whether the Yankees are in in the hunt for a playoff spot. But what if they ARE in the hunt AND the dominance from the bullpen is just too much to sell away. Is there any chance the Yankees would explore an extension with him so he doesn't hit free agency? And if so, what would such a deal look like? I just think It's too much to pass up on, and with the free agent starter field being so thin, why not accentuate that strength for more years to come?
Unless the Yankees pay tippy top dollar, I would be surprised if Aroldis Chapman passed on free agency at this point. He's so close and he's in position to set a new record contract for relievers. (Jonathan Papelbon's four-year, $50M deal is the current record.) Also, I don't think the Yankees are going to pay top dollar for two relievers, especially since they're trying to get under the luxury tax threshold.
They could always sign Chapman and trade Andrew Miller, that's a perfectly viable baseball strategy, but I personally don't want Aroldis on the team much longer because of the off-the-field stuff. That's my opinion and you're welcome to feel differently. When you have a rental reliever this valuable, I say turn him into some future assets, especially when you're like the Yankees and not a slam dunk World Series contender. If this team was rolling to a division title and an October force to be reckoned with, then keeping him would make more sense. That's not the case.
Damian asks: Do you think draft picks will ever become a tradeable commodity?
Yes, with restrictions. I don't think they'll make every draft pick tradeable — why wouldn't you ask for, say, a 35th round pick to be kicked into every trade? — so maybe it'll only be the first two or three rounds. Or maybe the first ten rounds since those are the pick tied to the bonus pool. The 12 Competitive Balance Lottery Picks are tradeable right now and that feels like test case. MLB wants to see it went with those less valuable picks.
I have no idea how teams would value high picks. Is the No. 1 pick equivalent to an elite prospect? I don't think it should be since the elite prospect is closer to the big leagues and has (presumably) had success in pro ball. There's less mystery involved with a top prospect. I'm hopeful more draft picks will be made tradeable with the upcoming Collective Bargaining Agreement, but I'm also not going to hold my breath.
Jackson asks: If you're a GM and I give you a choice of selecting either Moncada off the Sox system or Mateo off the Yankee system, which one do you take and why? Is it a close call, or a no brainer?
Yoan Moncada and it's a no-brainer for me, sorry. Jorge Mateo has the better speed tool and he's a better defender at a more premium position, but Moncada has better pure hitting ability and more power potential. Their numbers at the same level (High-A) are actually comparable this year …
Mateo: .312/.372/.518 (165 wRC+) with five homers and 15 steals
Moncada: .312/.442/.484 (165 wRC+) with three homers and 29 steals
… and they were born a month apart, so the numbers tell you they're similar, but Moncada's hitting potential is much greater. The Yankees really, really, really screwed up with Moncada. They could have had a star-caliber middle infield prospect for nothing but cash. Yuck. They're going to regret not pursuing him more aggressively for a long time. The Yankees could have had Moncada and Mateo.
Steve asks: Assuming the qualifying offer is the same as it currently is in the new collective bargaining agreement, do the Yankees make Nova a qualifying offer if he continues to pitch well?
My quick math puts the QO at $17.1M this coming offseason and boy that is a ton of cash. Ivan Nova would have to continue pitching at this level — 2.74 ERA (4.61 FIP) with a 17.4% strikeout rate, a 4.4% walk rate, and a 62.0% ground ball rate — all season for the Yankees to seriously consider making him the QO. Nova won't get $17M+ annually as a free agent put he'd likely get more total money if he finishes the season the way he finished 2011 and 2013. Let's check back in a few weeks. Right now the answer is clearly no. That might not be the case comes September.
Stan asks: Would you give Eovaldi the Ian Kennedy contract right now? 5 years 70 mil for a guy who would at least provide 180 IP of 4.20-4.50 era seems to be the going rate.
That's probably what it would take right now, or thereabouts. Nathan Eovaldi's probably going to end up with something like $8M to $10M through arbitration next year, so five years and $70M puts him at $10M in 2017 plus $15M annually for the four free agent years. Eovaldi is six years younger than Kennedy and if he continues to pitch well this summer, his numbers will be better than Kennedy's were last year. I'd do it. It feels like Eovaldi is only going to get more expensive from here on out.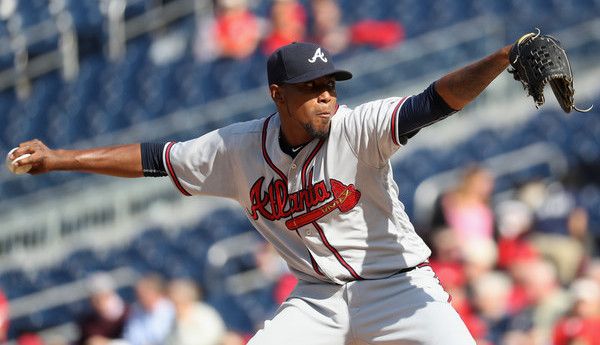 Nick asks: What is your take on what it would take to get Teheran in a trade? Would it be worth it at all to tap into some of the Yankees middle-IF depth in the system and/or do you think one of the "big" prospects ie Sanchez/Judge/Sev/Bird would need to be included in such a trade?
My policy: never go after young Braves pitchers. They all seem to break down. Kris Medlen, Mike Minor, Jair Jurrjens, Brandon Beachy, Horacio Ramirez, the late Tommy Hanson … they all fell apart a few years into their careers. Alex Wood had some forearm problems earlier this year and just had to have a start pushed back too. Pitchers break. It happens. The rate at which it happens to young Braves pitches is alarming.
Teheran is only 25 and he is signed affordably for another few years, so on paper he's someone anyone would want to acquire. He struggled last year (4.04 ERA and 4.40 FIP), but his 2016 numbers (2.57 ERA and 3.46 FIP) look like his 2013-14 numbers (3.03 ERA and 3.58 FIP), so that's encouraging. The Braves got a haul for Shelby Miller and I assume they'll look to get a haul for Teheran too. Multiple top prospects plus secondary pieces, which means Mateo and Aaron Judge would have to be on the table. I say stay away. Don't trust those Braves.
Ryan asks: With the Pirates having Glasnow and Taillon almost ready what are the chances they could make Cole available this winter? And what would the Yankees offer for him? Thanks.
This winter is probably too soon, but yes, I think the Pirates will eventually put Gerrit Cole on the trade market. He's a Scott Boras client and it's going to take a massive contract to sign him long-term, and Pittsburgh just doesn't have that kind of money. Cole can't become a free agent until after the 2019 season, so there's no rush right now. It'll probably another two years until the Pirates think about putting him on the trade market, and when that happens, yes the Yankees should be all over him. For now they'll keep Cole and try to win with him. He's a huge part of their success (duh).
Sean asks: At the end of the year, who leads the team in HRs?
Carlos Beltran leads the team with ten homers right now and Brian McCann is second with six. Alex Rodriguez getting hurt and Mark Teixeira being awful means the Yankees have been short on power all season. Even though Beltran has a nice head start, I'll say McCann leads the team in dingers when it's all said and done. I feel better about him staying healthy and in the lineup all season, plus there's a non-zero chance Beltran finds himself elsewhere at the trade deadline.
Stephen asks: It seems that with Chapman here games end one of two ways-either all 3 of our studs go 7-8-9th, or they are all in need of rest and we don't get any. Would it make more sense to split them up a bit-Say Chapman be Closer #1, Miller #2, and Betances in super high leverage 8th innings?
I don't think the Yankees are good enough to do that. They need all the wins they can get, and if that means using all three guys in one game, so be it. They're not in position to start planning one or two or three days down the line. They're not good enough to take their foot off the gas. Ideally, yes, using only two of three each day would be a great idea. The Yankees can't afford to do that though. Wins are too precious already.
Dan asks: Since defensive shifts seem to hurt LHBs more than RHBs, do you think we'll eventually see guys who are pull hitters batting right handed only rather than switch hit, or is the platoon advantage too great?
Josh asks: Have you ever heard of a Switch Hitter becoming solely a Righty or Lefty Hitter later in their career? Can you imagine Tex moving to be only a Righty?
Might as well lump these two together. My guess is the platoon advantage is too great to change sides because of the shift. There are way more right-handed pitchers than left-handed pitchers, so switching to right-handed only means you're getting way more at-bats with the platoon disadvantage. Remember, these guys have been switch-hitting for a long time, so most of them have never faced pro caliber stuff from the same side of the plate. It's a much different look and it can be a difficult adjustment.
As for the second question, plenty of hitters have dropped switch-hitting later in their careers. Shane Victorino did it two or three years ago — he actually went back to switch-hitting briefly — and I remember Bobby Kielty batting right-handed exclusively at the end of his career. Fun fact: both Eduardo Nunez and Francisco Cervelli were switch-hitters in the minors. It wasn't working it so they stopped. Switch-hitting is a huge, huge advantage. Guys who drop it usually do it as a last resort to try to stay in the league. Teixeira has been awful this year, but I don't think he's at that point, not after the year he had last season.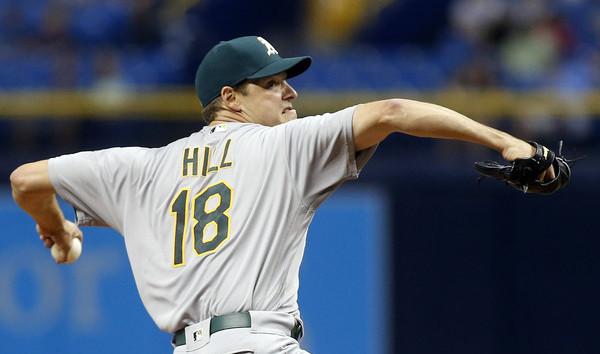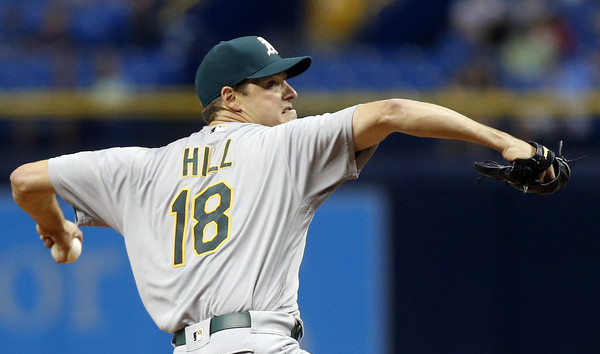 Ruby asks: If the Yankees are buyers, what do you see them pursuing? Rich Hill (with 20+ other teams)? A corner infielder who bats lefty? More bullpen depth? There doesn't seem like an obvious spot to make a big upgrade.
Hill is going to be the rental pitcher every team goes after. My guess is he winds up on the other side of the bay with the Giants. The Yankees need like three bats. They really do. But where can they put them? Third base, okay, but Chase Headley's not going anywhere, so they have to figure out how to make that work. First base is an option if Teixeira's neck injury lingers. Someone like David Freese could be the solution to provide corner infield depth.
If the Yankees do make a trade to add pieces at the deadline, I think they would prioritize players they could control beyond this year. Every teams needs pitching so of course they could target a starter. What about an outfielder? Beltran will be gone after the season and the Yankees could always clear another spot by trading Brett Gardner. The Yankees won't admit it but they're in a holding pattern until their big money deals expire. They didn't pursue upgrades aggressively in the offseason and I don't think they'll do so at the deadline either.
Rob asks: Every season we get a few rants from Michael Kay and company on YES about the need for a team error. Should that be a thing?
I feel like that's a bit of a cop out. What about half-errors? Say the shortstop bobbles the ball, rushes the throw, and the first baseman fails to make a makeable scoop. Why not give each player a half-error instead of giving one player the error or assigning a team error? Errors are kind of dumb and they're a bad way to evaluate defense, but players do care about them. Fielders don't like being charged with them and pitchers wish every hit was an error instead. A team error seems a little silly when most defensive plays involve three players or less.
Travis asks: Could the Yankees move Headley to 1B following Teixeira's departure and sign Martin Prado for 2-3 years to play 3B? The only 3B prospect close to the show is Andujar and he is 2-3 years away, right?
Eh, I'm not sure spending money on soon-to-be 33-year-old Prado is such a good idea. Does this question even get asked if Prado doesn't spend eight weeks in pinstripes? Also, moving Headley to first base means taking away pretty much the only thing he's good at these days (third base defense). The Yankees have to start getting younger. Have to. Signing Prado doesn't accomplish that. He's someone you sign if you're a team on the postseason bubble looking for an extra win or two. I don't think the Yankees are in that place right now.
Rubaiyat asks: There's apparently only 6 active players left who played during the 1990s (A-Rod, Beltre, Beltran, Colon, Ortiz and Pierzynski. Plus Joe Nathan is still kicking around). Who do you think lasts the longest among this group?
Adrian Beltre, definitely. Not only did he just sign an extension that runs through 2018, he's the only one of those guys who still contributes on both sides of the ball. That bodes well for his ability to stick around. I suppose Bartolo Colon could be one of those ageless guys who just keeps playing as long as someone will pay him, but I'd be surprised if he's still pitching come 2018. Beltre's the clear choice for me.
Conor asks: With Sanchez on the AAA DL for 2 weeks, is it possible for the Yankees to take him with them on their road trip? If it didn't break any rules, I'd do it so that he could watch McCann and Romine prepare, talk with Girardi and Pena, and generally get some more experience in the big league ballpark. Might make him a bit more relaxed when he's called up for good.
They'd have to officially call him up to do that, I believe. The Yankees (and some other teams) used to bring a few top prospects up in September and let them hang around the team without actually adding them to the roster. They'd go through workouts and all that stuff with the rest of the team, but they weren't allowed to be in the dugout during the game, so they'd go sit in the stands somewhere. MLB and MLBPA agreed to put an end to that. I guess they didn't want these kids coming up and going through all that without getting the benefits of being on the roster (salary, service time, etc.). Letting Gary Sanchez hang around with the team while on the DL would be pretty great, but I'm pretty sure they don't allow that kind of stuff.