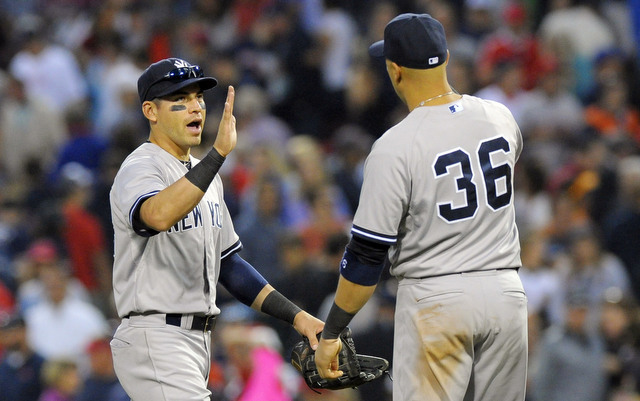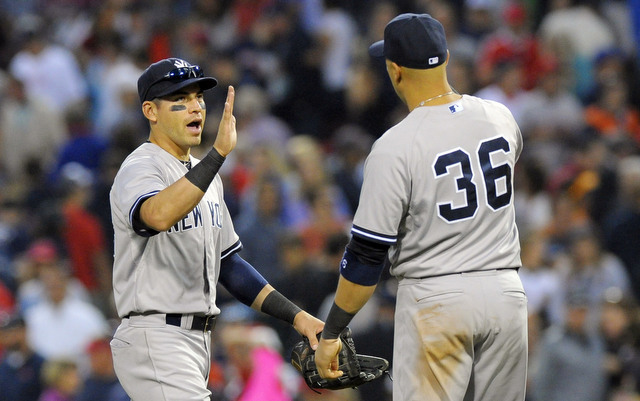 Eleven years ago the Yankees had a truly miserable start to their season. They opened the 2005 season by losing 19 of their first 30 games and falling nine games back in the AL East. Nine back after 30 games! Needless to say, fans were pretty uneasy because that slow start followed the 2004 ALCS collapse. It was not a good time around these parts. No siree.
The 2005 Yankees rebounded of course, winning 84 of 132 games following the 11-19 start. Two reasons they turned it around were a pair of early-May call-ups: Robinson Cano and Chien-Ming Wang. The Yankees shook things up and were rewarded when Cano and Wang had an immediate impact. Robbie hit .297/.320/.458 (105 wRC+) in 132 games and Wang had a 4.02 ERA (4.20 FIP) in 116.1 innings. They gave the team a real shot in the arm.
Getting Wang into the rotation was pretty easy because Jaret Wright got hurt. (Remember when Wright failed his physical and George Steinbrenner signed him anyway because he thought it would lure Leo Mazzone to New York? Good times.) Getting Cano into the lineup took more creativity. The Yankees moved Tony Womack to left field, Hideki Matsui to center field, and basically benched Bernie Williams, who was nearing the end of the line.
The 2016 Yankees, like the 2005 team, have gotten off to a terrible start. They're 8-15 overall and have lost 13 of their last 17 games. The AL East is much more competitive these days too. Back in 2005 it was the Yankees, the Red Sox, and a bunch of pushovers. Erasing that nine-game deficit was much easier. The current Yankees are six games back in the division with four good teams ahead of them. It'll be an uphill climb, that's for sure.
Given their sluggish start and the fact the Yankees have underachieved on both sides of the ball in the early going — the offense has been far worse than the pitching, but the rotation hasn't been all that good either — the team could use an early-May shake-up like the one the 2005 team received. The problem? The Yankees don't have a Cano and/or Wang waiting in Triple-A. There's not much depth at the positions of obvious need. Here are some shake-up ideas.
Give A Young Outfielder Regular Playing Time
If there's one thing the Yankees have in Triple-A, it's outfield depth. Both Ben Gamel (136 wRC+) and Aaron Judge (125 wRC+) are off to nice starts, though Slade Heathcott (41 wRC+) has mostly struggled. The Yankees also have Aaron Hicks at the big league level, though he hasn't played much for a variety of reasons. (Hicks may not seem young, but he's only a year older than Heathcott.)
Brett Gardner (110 wRC+) has been one of New York's most productive hitters in the early going. Jacoby Ellsbury (85 wRC+) and Carlos Beltran (91 wRC+) have not. Beltran has really struggled of late. He has a 16 wRC+ over the last two weeks. Yikes. Sitting Ellsbury and/or Beltran more often in favor of Hicks or Gamel or Judge or whoever is one way to change the lineup and get some young legs on the field.
I think the best way to go about this is to use a regular rotation that also includes Alex Rodriguez and the DH spot. Something like this, perhaps:
| | LF | CF | RF | DH |
| --- | --- | --- | --- | --- |
| Game One | Gardner | Ellsbury | Beltran | A-Rod |
| Game Two | Gardner | Ellsbury | Young OF | A-Rod |
| Game Three | Gardner | Young OF | Beltran | A-Rod |
| Game Four | Gardner | Ellsbury | Young OF | Beltran |
| Game Five | Gardner | Ellsbury | Young OF | A-Rod |
Ellsbury, A-Rod, and the young outfielder would be playing four out of every five games while Beltran is reduced to playing three times out of every five games, with only two of three starts coming in the outfield. Gardner stays in there full-time because, you know, he's actually been good this year. The Yankees reduced Bernie's playing time in 2005 and it's time to start thinking about doing the same with Beltran.
Calling up Gamel or Judge or Heathcott requires a roster move and cutting someone else loose, and it's a little too early for that, I think. I'd start by playing Hicks more often. No, he hasn't hit in the early going (-47 wRC+!), but it's 28 plate appearances in 23 games. This is a guy who hit .256/.323/.398 (97 wRC+) with eleven homers and 13 steals last year, and we've already seen the kind of impact he can have at defense.
Hicks is not going to get his bat going while sitting on the bench. He's been an everyday player his entire career. This bench thing is new to him. With two of three starting outfielders not really hitting and the team reeling, it's time to see what Hicks can do with regular at-bats. The Yankees need to figure out what they have in him.
Stick Headley On The Bench
I've defended Headley as much as anyone but I can't do it any longer. He's been atrocious this year, hitting .156/.267/.156 (24 wRC+) with nary an extra-base hit in 75 plate appearances. As Jared Diamond pointed out yesterday, Headley is only the 13th player in history to start May with a sub-.150 slugging percentage in at least 70 plate appearances. That's brutal.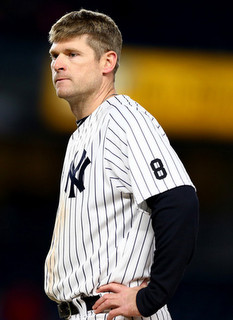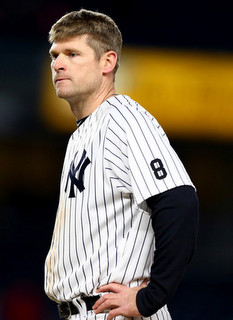 I don't care how good a player is on defense — Headley has rebounded quite well in the field after last year's error-fest — there is a minimum acceptable standard on offense and Headley is not meeting it. The Yankees can talk all they want about the quality of his at-bats or how close they think he is to snapping out of it. The bottom line is this is a results oriented business and Headley's results have been dreadful one month into the season.
The problem at third base is the Yankees don't have an obvious replacement. Womack stunk back in 2005 and Cano was the obvious candidate to take over. Who can replace Headley at third? Ronald Torreyes? Moving players with bench player skill sets into a full-time role usually turns out poorly. Rob Refsnyder? Pete Kozma? Donovan Solano? Solano is hitting .312/.341/.351 (100 wRC+) in Triple-A, you know.
Since no obvious replacement exists, I'd go with the highest upside candidate: Refsnyder. He's new to third base — he's played 153.1 career innings at the hot corner between Spring Training and Triple-A — and his defense is rough, but he might actually hit. Stick him at third, get three at-bats out of him, then pull for defense in the sixth-ish inning. When you hit as poorly as Headley has, you losing playing time. That's the way it should work.
(Yes, I know Refsnyder hasn't hit much in Triple-A this year. I'm not too concerned about that though. It's been cold in Scranton and he's spent a lot of time learning a new position. As long as he's healthy, I think he'll be fine.)
Play Ackley or Swisher?
One the biggest reasons the Yankees scored the second most runs in baseball last year were bounceback seasons from A-Rod and Mark Teixeira. A-Rod was suspended for the entire 2014 season and no one knew what to expect from him in 2015. Teixeira was terrible in the second half of 2014. He hit .179/.271/.302 (63 wRC+) with only five homers after the All-Star break that year.
Dustin Ackley hasn't played a whole lot this year (18 plate appearances!) because it's tough to get him into the lineup. He's stuck in the same role as Garrett Jones last year. Teixeira and A-Rod are not doing much damage right now — Rodriguez has looked much better of late, to be fair — and giving Ackley some of their at-bats could spark the offense. This would complicate the outfield plan outlined above. That's not worth worrying about right now.
The alternative here would be Nick Swisher, who owns a .340/.370/.540 (167 wRC+) batting line with three homers down in Triple-A. I can't say I put much stock in a 12-year veteran mashing minor league pitching though. Swisher has two bad knees and he's hit .204/.291/.326 (75 wRC+) in the big leagues the last two years. Call him up and I suspect you'll get closer to 2014-15 MLB Swisher than 2016 Triple-A Swisher.
This is where Greg Bird's injury really hurts. Calling up Bird to take at-bats away from Teixeira and A-Rod would be far more realistic and, likely, far more successful than the Ackley/Swisher plan. With those two you're just hoping small sample size success translates to long-term success. Ackley was terrible all those years with the Mariners before raking in pinstripes in September. Swisher was bad from 2014-15 and has had a few good weeks in Triple-A. That's all it is.
The Yankees have had some success turning veterans who looked washed up into useful players (see Chavez, Eric), so we shouldn't completely write off Swisher as a possibility. Either way, Ackley or Swisher, taking at-bats away from A-Rod or Teixeira is one potential way to inject some life into the offense. For what it's worth, I think this is the least likely suggestion in this post.
* * *
I'm not sure what the Yankees could do to shake-up the pitching staff other than maybe swap out some relievers. I guess they could replace Michael Pineda, CC Sabathia, or Luis Severino with Ivan Nova. My guess is Nova's going to end up making a bunch of starts at some point anyway. Point is, the Yankees have reached the point where some kind of change needs to be made. The problem is they don't have a lot of internal options. What you see is what you're going to get with this team.