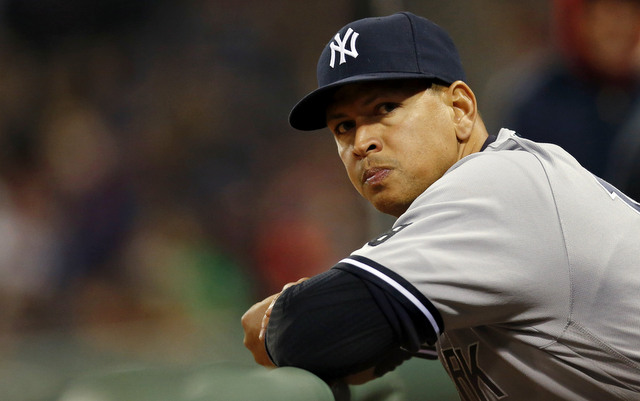 Once again, the Yankees had an off-day yesterday. It was their sixth in the first four weeks of the season. I'm not complaining though. I can't say I'm looking forward to watching this team these days. The Yankees begin a 20 games in 20 days stretch tonight, so prepare for a lot of baseball these next few weeks. Here are some stray thoughts.
1. A small little change I'd like to see: flip Jacoby Ellsbury and Brett Gardner in the lineup. Gardner is the better hitter and he's been getting on base way more often so far this season, so that right there is worth giving him more at-bats. It also frees Joe Girardi up to try some things with Ellsbury like a hit-and-run — or even the underrated run-and-hit — because he is the better contact hitter. And I suppose he would maybe see more fastballs as well. That couldn't hurt. I subscribe to the "your best hitter should bat second" theory but pretty much nothing the Yankees have been doing is working offensively, Sunday night notwithstanding. Giving Gardner more at-bats and trying to play a little small ball with Ellsbury could help them get out of their funk. It's not like it's going to hurt. The offense has been dreadful.
2. I'm not worried about Dellin Betances at all even with the three home runs allowed in his last three games. The homer Christian Vazquez hit was a terrible pitch. It was a fastball right down the middle, and based on how quickly he jumped on it, it seems clear Vazquez was sitting dead red. He got on it so quick I wonder if Dellin was tipping his pitches. As for the David Ortiz homer, I'm not even sure it came on a strike: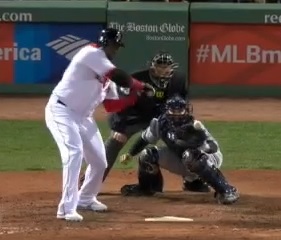 That's just straight up good hitting. Ortiz told reporters he was expecting a first pitch curveball, got the first pitch curveball, then reached out and drove it the other way. What can you do? Ortiz is going to the Hall of Fame — it's going to happen, don't act surprised — because of pieces of hitting like that. Mere mortals either take that pitch or swing through it. I have no reason to think Betances is hurt. (His velocity is fine.) I would run him right back out there in high-leverage spots like these last three outings didn't happen. This is just baseball being random as hell.
3. Aroldis Chapman will join the team in six days and I hope the Yankees are on the phone shopping him right now. His trade value can only go down as the season progresses. For starters, the sooner they trade him, the longer his new team will have him, and that's not insignificant. The Yankees could ask for more in return. Secondly, Chapman is already the best reliever in the world, so it's not like he can realistically improve his performance. And third, pitchers get hurt, yo. Making the qualifying offer and getting the draft pick after the season is a last resort in my opinion. Chapman is a Grade-A trade chip the Yankees have to cash in — the market for an elite reliever is huge, pretty much every team can use him — and the sooner they do it, the better. Even if they go out and win their next 20 games, trade him. Trade him trade him trade him. Trade. Him. Trade him.
4. We're still a long way away from serious talk about the Yankees being sellers, but if they do decide to take the plunge, one team to watch is the White Sox. They're playing well right now (18-8), they have an extra $13M burning a hole in their pocket thanks to Adam LaRoche, and they also have a clear need at DH. (They're playing Avisail Garcia and Jerry Sands at DH right now, so yeah.) The ChiSox also figure to have a sense of urgency too. They haven't been to the postseason since 2008 — only the Padres, Marlins, and Mariners have longer postseason droughts — and their best chance to win is right now, during Todd Frazier's last two years of team control and while Chris Sale, Jose Abreu, and Jose Quintana are cheap and in their primes. Chicago sure looks like a potential landing spot for Carlos Beltran or Mark Teixeira at midseason. Who knows, maybe the Yankees could pry righty Erik Johnson loose. That'd be nifty.
5. Yes, the Yankees do still have 139 games to play, but they are absolutely digging themselves a hole right now. Given their current 8-15 record, they will need to play .568 ball the rest of the way just to match last season's 87-75 record. That's a 92-win pace. They'll have to play at a 96-win pace to reach 90 wins. Here is how their postseason odds have changed over these first 23 games, via FanGraphs: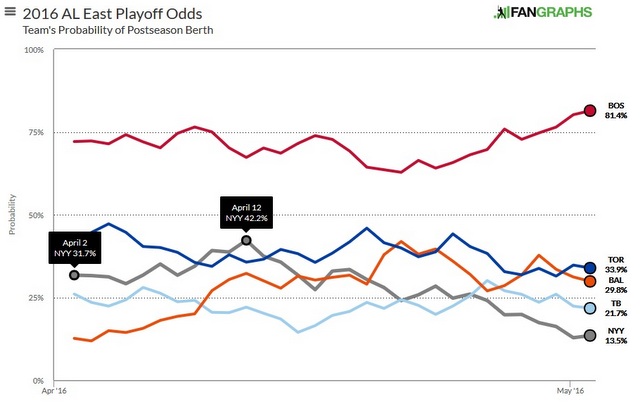 Only the Astros, whose postseason odds have nosedived from 68.0% on Opening Day to 26.5% today, have seen their playoff chances take a bigger hit than the Yankees so far this season. These losses are in the bank. The Yankees were going to need some things to break their way just to contend this season. Now they have a big uphill battle ahead of them. Not ideal!
6. The Yankees are struggling big time and when that happens, people talk about firing the manager. That's just the way it is around here. I get it. Firing Girardi solves zero problems in my opinion though. It would be a total scapegoat move. This isn't a Matt Williams with the Nationals situation, where the team is disappointing because the manager is borderline incompetent with his on-field decision making and the players are damn near mutiny in the clubhouse. If there's an issue with the players in the clubhouse, that's one thing. But firing Girardi because Betances gave up some ill-timed home runs and a bunch of aging sluggers aren't hitting only compounds the problem. The Yankees have been largely distraction free since Girardi was hired — it's still amazing to me all the A-Rod stuff blew over like it has — and canning him opens the door for chaos.
7. I have not stopped laughing at this since Sunday night (make sure you have the sound on):
That is damn good internet right there. Baseball is going to be so boring once A-Rod retires.