After three days and 1,216 picks, the 2016 amateur draft is finally over. The Yankees made 40 picks over the last three days and now we just have to wait and see how many they actually sign. Usually it's around 25-30. The signing deadline is Friday, July 15th this year, so a little more than a month away. You can see all of New York's picks right here. We've already reviewed Day One and Day Two. Now let's review Day Three.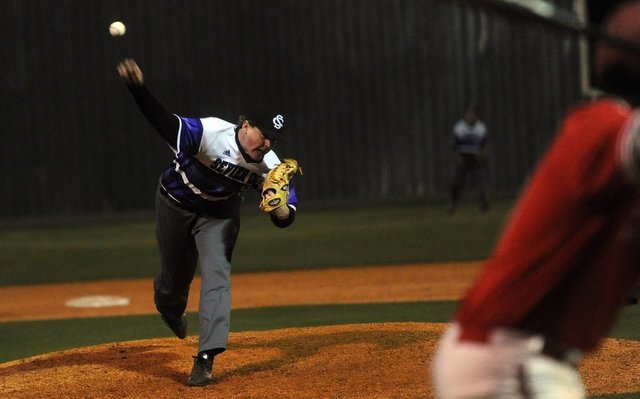 The Unsignable Prospect
The best prospect the Yankees drafted on Day Three is someone they almost certainly will not be able to sign: Tennessee HS RHP Zach Linginfelter (16th round). Linginfelter was a possible first round pick coming into the spring — MLB.com and Baseball America ranked him as the 98th and 107th best prospect available right before the draft, respectively — though his stock fell because he's basically unsignable. He's already said he's going to follow through on his commitment to Tennessee.
"The money didn't work out, and today I'm excited knowing where I'm going to go, and looking forward to playing at Tennessee," said Linginfelter to Chris Thomas, referring to bonus conversations he had with teams before the draft. "My stock kind of dropped this year. I had mono early, came out a little weak in the velocity. But in reality, I think if I go to UT and have two good years, I can come out (as a draft-eligible sophomore) and go higher in the draft than I would have this year."
So why did the Yankees draft Linginfelter if he's not going to sign? Well, why not draft him late? There's always a chance — however small it may be — he'll change his mind over the next few weeks and the two sides can work something out. Linginfelter has good size (6-foot-5 and 215 lbs.) and he sits in the low-90s when right, plus he has a breaking ball and a changeup. Never say never, but the odds of the Yankees signing Linginfelter are mighty small.
The Other Backup Plans
The Yankees spent Day Two getting their bonus pool situation in order so they can sign OF Blake Rutherford, their high profile first round pick. All indications are he will sign, but the team still needed a backup plan. Backup plans, really. Plural. Should Rutherford not sign for whatever reason, the Yankees will still have all the bonus pool money saved from rounds 2-10 available, and they'll need somewhere to spend it.
In addition to Linginfelter — Linginfelter is said to be seeking a substantial seven-figure bonus, more than the Yankees could afford if Rutherford doesn't sign — the Yankees selected six talented high school players who were considered tough signs on Day Three: Texas HS RHP Blair Henley (22nd), Colorado HS RHP Bo Weiss (29th), California HS LHP Miles Sandum (31st), California HS C D.C. Clawson (34th), Virginia HS RHP Zach Hess (35th), and Wisconsin HS RHP Nate Brown (40th)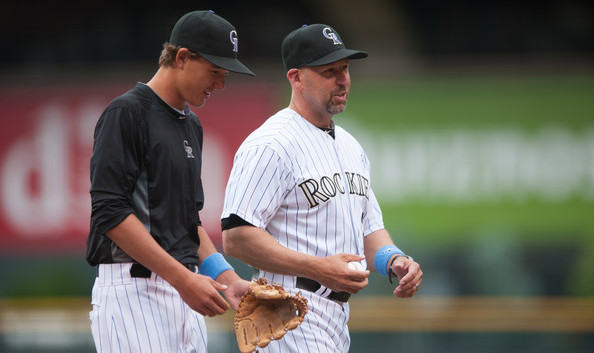 All six were considered Day Two prospects on talent. Hess and Weiss are the best prospects of the bunch and were candidates to go somewhere in the top five rounds. Hess is massive (6-foot-6, 220 lbs.) and he's run his fastball as high as 97 mph at times this spring. He also offers a hard slider. Weiss, son of Rockies manager Walt Weiss, has good control of a low-90s fastball and both a curveball and a changeup. Hess and Weiss are committed to LSU and UNC, respectively.
Clawson has benefited from extra exposure over the years — he's been teammates with prospects Rockies 3B Ryan McMahon and Phillies 3B Lucas Williams — and he's an outstanding defensive catcher by high school standards. He has the arm and blocking ability to stick behind the plate. Will he hit? That's the question. Henley and Brown are arm strength righties with three secondary pitches, all of which show promise but lack refinement.
Sandum's story is something else. He managed to rupture his bowels (ahhhhh) during a pregame workout early in the season, but was able to return after a few weeks, and he even managed to toss a no-hitter last month. Good gravy that sounds nasty. At his best Sandum is a command southpaw with an 87-91 mph fastball and a good curveball. The Yankees figure to try to sign these six guys anyway, though if Rutherford decides to go to school, they'll become the priority.
Power College Arms
The Yankees started Day Three by selecting two of the hardest throwing pitchers still on the board. Georgia LHP Connor Jones (11th) — not to be confused with Virginia RHP Connor Jones, who went 70th overall to the Cardinals — will sit 93-96 mph and throw a workable breaking ball. The problem is throwing strikes; he walked 37 in 74.1 innings with the Bulldogs this spring. Lefties who throw hard are a hot commodity, and few lefties in the draft can match Jones' raw arm strength.
South Carolina RHP Taylor Widener (12th) works in the 92-94 mph range and touches 97 mph even as a starter. His upper-80s slider is a put-away pitch as well, so if nothing else, Widener already has the stuff to serve as a power reliever at the next level. Elbow surgery last fall — it was surgery to treat a nerve issue, not Tommy John or anything like that — and knee injuries caused him to slip into Day Three.
"We're excited about, right from the start, Connor Jones is a left-hander who strikes guys out," said scouting director Damon Oppenheimer to Bryan Hoch. "Taylor Widener from South Carolina is a power arm guy, he's hit 97. We've got some athletes in there that we think can swing the bat. There's a bunch of them down here that we're excited about."
The Yanks also grabbed power arms in TCU RHP Brian Trieglaff (13th), Fullerton RHP Miles Chambers (20th), Louisiana Tech RHP Braden Bristo (23rd), and Gonzaga RHP Gage Burland (26th). Trieglaff, Chambers, and Burland are relievers. Bristo has a chance to start thanks to a deeper arsenal of secondary pitches.
Outfield Depth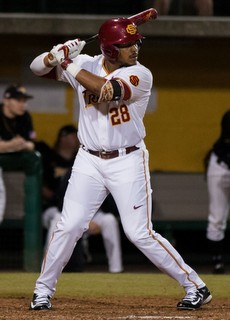 New York seemed to select an inordinate number of outfielders on Day Three — eight of their 30 picks were outfielders (they drafted four infielders total this year) — and why is that? Well, the lower levels of the minors are already loaded with infielders, and they have more on the way thanks to the 2014 international spending spree. Teams don't draft for need, but in the late rounds when you need to fill out rosters, you kinda have to.
The Yankees grabbed all sorts of different outfielders. They picked up burners, like Wagner OF Ben Ruta (30th) and USC OF Corey Dempster (37th). They also selected some brute mashers, like USC OF Timmy Robinson (21st), Maryland JuCo OF Joe Burton (24th), and Western Carolina RHP Bryson Bowman (33rd). Florida HS OF Jordan Scott (14th), Texas HS OF Evan Alexander (19th), and Florida HS Edel Luaces (25th) represent the raw prep outfielders.
Burton is the best prospect among the outfielders because he has very good bat speed from the right side and also a ton of natural strength. He hit .407/.514/.749 with 16 doubles, 16 homers, 37 walks, and 36 strikeouts in 62 games this spring. Burton is a huge guy — he's listed at 6-foot-4 and 240 lbs. on Harford Community College's official site — and is limited defensively in the outfield. His bat got him drafted for sure.
The Best of the Rest
Eastern Kentucky 3B Mandy Alvarez (17th) stands out for his strike zone knowledge and ability to have consistently tough at-bats every time up … Arizona HS RHP Juan Cabrera (32nd) is similar to current Yankees farmhand LHP Nestor Cortes as a command and control guy with crazy K/BB numbers (68/3 in 48 IP this spring) … Illinois HS C Sam Ferri (38th) might end up on the mound because his arm is so strong and his bat is such a question … Fordham RHP Greg Weissert (18th), LSU LHP Phil Diehl (27th), Stony Brook LHP Tyler Honahan (36th), and Wisconsin-Milwaukee RHP Brian Keller (39th) all have starter stuff but aren't hard-throwers. They'll be chewing up minor league innings for an affiliate soon.
* * *
I don't know if this was by design or simply coincidence, but the Yankees selected 14 high school players in this year's draft after selecting 14 in the last two drafts combined. Twelve of their 30 picks on Day Three were high schoolers, and while that doesn't sound like much, it really is. Day Three is often filled with cheap college players to fill out minor league rosters. We have to see how many of these prep players the Yankees actually sign, but it does seem like they're putting more faith in their player development staff's ability to turn these guys into big leaguers.