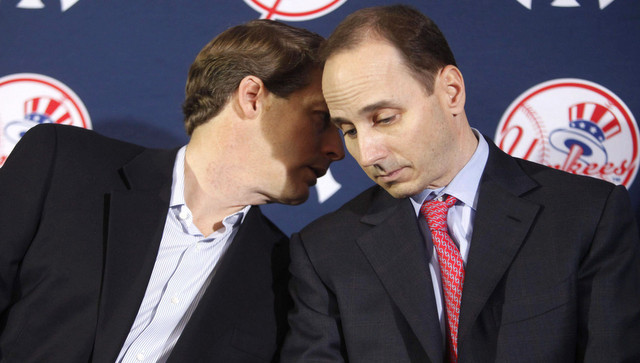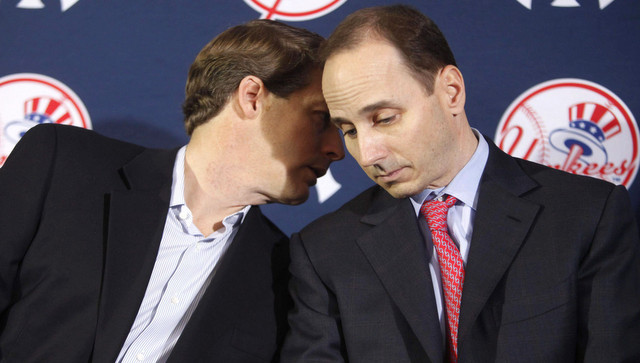 Even with yesterday's dramatic win, the Yankees came into today with a 35-36 record and a 12.6% chance to make the postseason, per FanGraphs. They're six games back in the AL East and 3.5 games back of a wildcard spot. Insurmountable deficits? Of course not. But the Yankees have their work cut out for them. No doubt.
Earlier this week both Hal Steinbrenner and Brian Cashman were asked about the state of the Yankees, and whether the club is leaning towards selling at the trade deadline. Here are their responses. First Hal, via Zach Braziller:
"I believe we're going to be right smack in the middle of it by the end of July," he said Monday at Cipriani in Midtown Manhattan at the annual Harlem RBI "Bids for Kids" fundraising dinner. "We'll have to see at the end of July, like we always do. We'll take a look at everything.
Steinbrenner said something similar last month, when the Yankees looked way more helpless than they do right now. They've at least reached .500 a few times in recent weeks. Now here's what Cashman had to say, via Chad Jennings:
"Listen, we're not going to be a seller unless ownership green-lights that," Cashman said. "So I don't have any number in my head. I'll have an honest dialogue with ownership every step of the way as I always do. If we feel at a date in the future that that's a necessity, then trust me, I'll recommend it, and they'll make a decision based on their comfort level … I'm always a brutally honest person. If I see things, I'll always communicate honestly with ownership to the best of my abilities. Again, we're in June, so right now it's not the conversation we're having."
Interestingly, Cashman also ducked questions about whether he's ever recommended selling to ownership in previous years. It has long been rumored the baseball operations folks pushed to trade Robinson Cano once they realized re-signing him after the 2013 season was going to be impossible, but ownership wouldn't give the thumbs up. Who knows whether that is true. Anyone, I have some things to say about Hal's and Cashman's comments.
1. What did you expect them to say? I mean, seriously. Even if the Yankees were 100% committed and ready to sell right now, Hal and Cashman would still tell reporters they're not planning to sell. I don't think the Yankees are ready to sell now, but what the hell do I know? Either way, there is nothing to be gaining by declaring yourself a seller. You end up killing your own leverage by making it known you're ready to move players. The Yankees are going to insist they are not sellers right up until the second they actually sell.
2. Winning helps them as sellers, you know. Selling is a weird concept and frankly, most of us have never experienced it as Yankee fans. If you want the Yankees to sell, you want them to keep losing so they decide to take the plunge and actually sell. At the same time, winning and staying in the race does give the team some extra leverage.
If the Yankees are, say, two games out of a wildcard spot on July 31st, they could at least give off the impression that they're willing to keep guys like Aroldis Chapman and Carlos Beltran and have it be believable. That won't happen if they're something like seven games back and six teams ahead of them. Yes, losing a lot may convince the team to sell. That's usually how it works. But if the Yankees do decide to move guys like Beltran and Chapman, winning a few games wouldn't be the end of the world either.
3. It's possible to both buy and sell. Cashman made an interesting comment the other day about the Yankees possibly being buyers and sellers. Those can be considered conflicting ideas, but they're really not. At the end of the day the goal is to improve the team, and both buying and selling are steps toward achieving that goal.
It would be possible for the Yankees to move someone like Beltran for prospects at the deadline while also moving some young players for help elsewhere on the roster. Maybe a Triple-A outfielder and a lower level prospect for a young big league pitcher. See what I mean? They'd be selling Beltran and buying a young arm. It doesn't have to be buy or sell. They can do both.
* * *
The buy or sell question is not going away, not unless the Yankees go on an insane run and find themselves firmly in the postseason picture come the end of July. That's the only way they could ever become clear cut buyers this season, and let's be honest, that's just not going to happen. The Yankees haven't given us any reason to think they're capable of going on a run like that.
So Hal and Cashman can expect more questions about selling in the coming weeks and we should expect more of the same answers. We'll look at everything at the end of July, blah blah blah, yadda yadda yadda. The Yankees really have perfected the art of saying a lot of words while saying nothing at all. Ultimately, the decision rests with ownership. Cashman can recommend selling and I don't think he'd have any problem doing so. The question is whether Hal & Co. will bite the bullet and give the okay if the team is still on the fringes of the postseason picture.