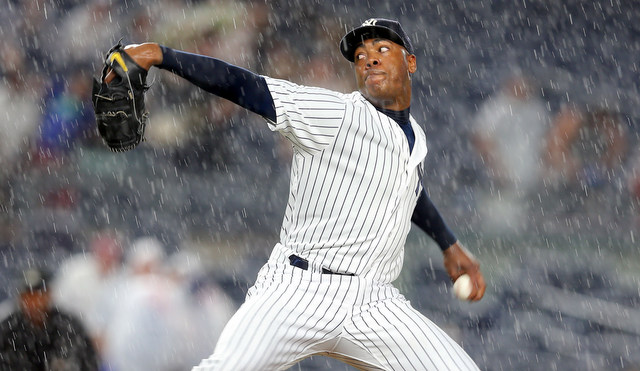 According to Buster Olney (subs. req'd), Aroldis Chapman is one of several pitchers the Marlins have "talked about internally" leading up to the trade deadline. Miami is very much in the postseason race — the Marlins and Dodgers are essentially tied for the second wildcard spot — but the Marlins definitely need some pitching help to stay in the hunt the rest of the way.
I don't know why, but Chapman has always struck me as someone destined to play for the Marlins at some point. You know how some guys just seem to fit certain teams? No? Maybe I'm crazy. Anyway, Chapman to the Marlins is definitely something that passes the sniff test, especially since Miami is known to swing a blockbuster trade from time to time. I have some thoughts on this.
1. So what do the Marlins have to offer? The Marlins are one of the best player development organizations in the game, but their farm system is rather thin at the moment. Their No. 1 prospect is rehabbing from Tommy John surgery, their No. 2 prospect stabbed a teammate, their No. 3 prospect is on the DL, and their No. 4 prospect is the guy who got stabbed. Yeah. Here is MLB.com's top 30 Marlins prospects for your perusal.
Given the state of Miami's system, I wonder if the Yankees would instead target players on their big league roster. The Marlins were very open to trading Marcell Ozuna over the winter, but he's broken out in a big way this season (152 wRC+), so I doubt he'd be on the table for Chapman. Derek Dietrich maybe? He can hit (123 wRC+ since the start of 2015) and play multiple positions (first, second, third, left). The Marlins are short on pitching, so they're probably not willing to move a young arm like Adam Conley. It could be tough to match up for a Chapman trade.
2. What about expanding a Chapman deal into something bigger? Now we're talking. Chapman for Ozuna might not work, but what about Chapman and, say, Michael Pineda and Jorge Mateo and Aaron Hicks for Ozuna and Conley? Yes, my trade proposal totally sucks. You catch my drift though. There is definitely the potential for a Yankees-Marlins swap to grow into something bigger with multiple players going each way. That sure would be fun. It's been a while since the Yankees made a good ol' fashioned blockbuster with multiple big names going each way.
3. The Yankees need the Nationals and Mets to continue to sputter. The Nationals crushed the Mets last night and now have a 3.5-game lead over the Marlins and 4.0-game lead over the Mets in the NL East. Washington has won only three of their last ten games though, and the Mets have dropped six of ten as well. Neither club is playing all that well while the Marlins have won seven of their last ten games.
The Nats and Mets will play six more times between now and the All-Star break, and the best thing for the Yankees would be those clubs beating up on each other and keeping the NL East race nice and tight. The Marlins need to stay in the race too, otherwise paying big for a rental like Chapman won't make much sense. Added bonus: the Nationals struggling could increase their urgency to pick up another reliever. Point is, the tighter the NL East race, the more likely it is these clubs will have to make a move, and that's good for the Yankees.
* * *
The Yankees aren't in sell mode right now and I get it even though I don't necessarily agree with it. They are only three games back of a wildcard spot, after all. (Three games back with six teams ahead of them, but I digress.) If they do decide to sell, Chapman figures to be first to go, and the Marlins are a logical destination. Could the Yankees and Marlins find common ground? It might be tough because Miami's farm system is thin. They might not be willing to trade away players from their MLB roster while still in the race.